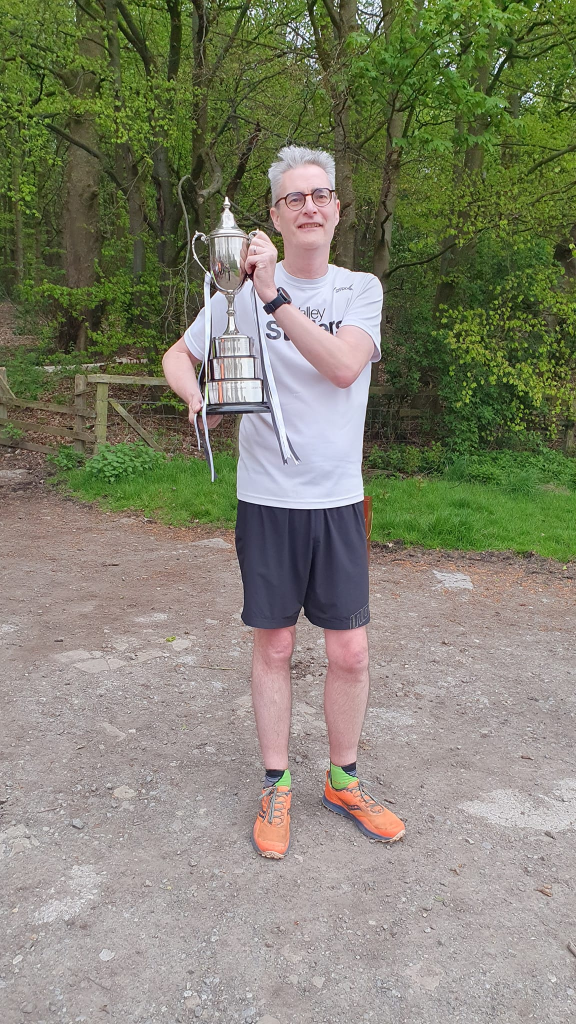 We held the Spring Handicap at Harewood on the evening of Thursday 4th May. The event was well attended with a good mix of runners from the intermediate and advanced groups. Although is was a chilly evening for those marshalling and timekeeping, the rain held off and the runners had warmed up well by the time they returned to the finish after all those hills.
Congratulations to Neil Sedgley who won the Handicap trophy, James Tarran for running the fastest time and Rachel Davidson, who was the fastest female. Alex Kelly arrived back in first position but couldn't win the trophy because he didn't have enough recorded runs to create an accurate handicap time.
Many thanks to all the people who volunteered to help with marshalling and time keeping and to Bob Jackson who calculated the handicap times and results.
Our next handicap will be July 20th. Hope to see lots of you there. In the meantime, keep entering those races and Parkruns and building up your handicap time!
| Finish pos | Name | Gun time | Start time (Handicap) | Run Time | Run Pos | GP pts |
| --- | --- | --- | --- | --- | --- | --- |
| 1 | Alex Kelly | 0:53:00 | 0:19:15 | 0:33:45 | 3 | 98 |
| 2 | Neil Sedgley | 0:57:18 | 0:13:15 | 0:44:03 | 17 | 87 |
| 3 | Richard Irvine | 0:58:48 | 0:25:15 | 0:33:33 | 2 | 99 |
| 4 | Matt Sedgley | 0:59:06 | 0:23:30 | 0:35:36 | 7 | 95 |
| 5 | Melissa Jones | 0:59:48 | 0:20:45 | 0:39:03 | 12 | 98 |
| 6 | Nick Smith | 0:59:50 | 0:24:45 | 0:35:05 | 5 | 97 |
| 7 | Leila Kara | 1:00:15 | 0:16:15 | 0:44:00 | 16 | 97 |
| 8 | Richard Adcock | 1:00:29 | 0:21:00 | 0:39:29 | 13 | 90 |
| 9 | Caroline Robson | 1:00:37 | 0:02:00 | 0:58:37 | 24 | 90 |
| 10 | Ethan O'loughlin | 1:00:53 | 0:25:45 | 0:35:08 | 6 | 96 |
| 11 | James Tarran | 1:00:56 | 0:28:00 | 0:32:56 | 1 | 100 |
| 12 | Tahir Akhtar | 1:01:05 | 0:19:00 | 0:42:05 | 15 | 88 |
| 13 | Vicki Johnstone | 1:01:28 | 0:16:45 | 0:44:43 | 18 | 95 |
| 14 | Rachel Davidson | 1:01:32 | 0:26:45 | 0:34:47 | 4 | 100 |
| 15 | Jon Jackson | 1:01:52 | 0:24:15 | 0:37:37 | 9 | 93 |
| 16 | Ian Lenihan | 1:02:03 | 0:21:45 | 0:40:18 | 14 | 89 |
| 17 | James Forbes | 1:02:13 | 0:11:45 | 0:50:28 | 22 | 84 |
| 18 | Graham Pawley | 1:02:32 | 0:24:30 | 0:38:02 | 11 | 91 |
| 19 | Roy Huggins | 1:02:38 | 0:25:00 | 0:37:38 | 10 | 92 |
| 20 | Vernon Long | 1:02:55 | 0:25:45 | 0:37:10 | 8 | 94 |
| 21 | Pascale Fotherby | 1:03:24 | 0:14:45 | 0:48:39 | 20 | 93 |
| 22 | Bob Jackson | 1:04:31 | 0:15:00 | 0:49:31 | 21 | 85 |
| 23 | Jade Beale | 1:04:56 | 0:13:30 | 0:51:26 | 23 | 92 |
| 24 | Leroy Sutton | 1:08:23 | 0:21:30 | 0:46:53 | 19 | 86 |