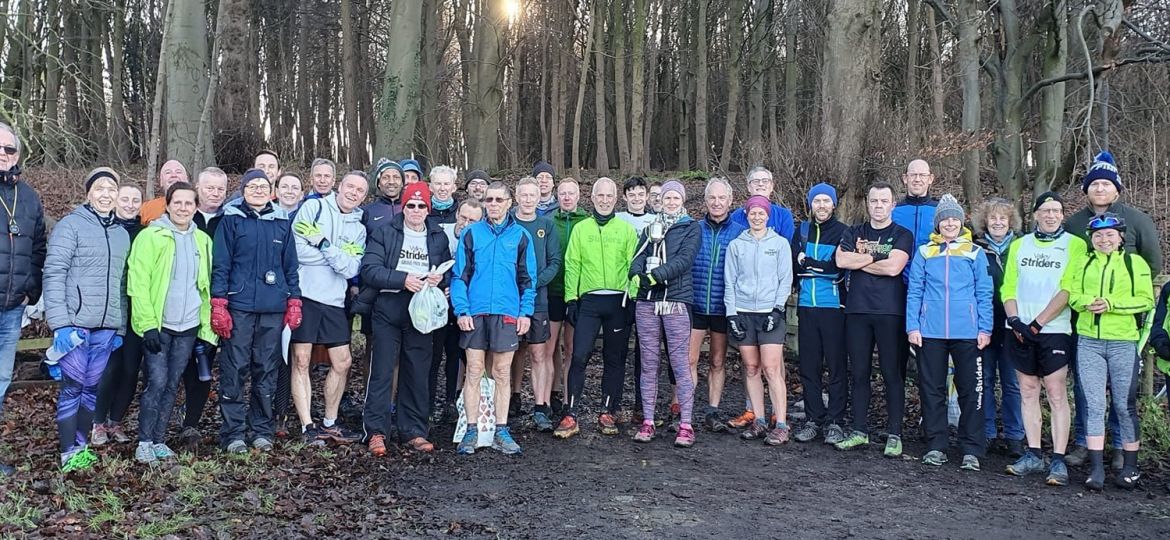 We had a beautiful but decidedly chilly morning for the first handicap race of the year. 33 striders tackled the scenic path around Harewood House, dodging walkers, cyclists and horses on their way. First to arrive back, and the trophy winner, was Elaine Craiggs. Congratulations to her and also to Dave Middlemas, who had the fastest run, completing the course in 30:40.
Many thanks to everyone who ran and those who volunteered with marshalling and timekeeping. A full set of results can be viewed below.
Our next handicap will be in May. Details to follow.
Winter Handicap Results 2 January 2023 (Harewood Circuit 4.8 miles)
| Finish pos | Name | Start Mark | Finish time | Run Time | Run Pos | GP pts |
| --- | --- | --- | --- | --- | --- | --- |
| 1 | Elaine Craiggs | 0:07:15 | 0:58:02 | 0:50:47 | 31 | 90 |
| 2 | Dave Middlemas | 0:27:45 | 0:58:25 | 0:30:40 | 1 | 100 |
| 3 | Rebecca Segal | 0:16:00 | 0:59:24 | 0:43:24 | 21 | 96 |
| 4 | Jon Jackson | 0:23:30 | 0:59:45 | 0:36:15 | 7 | 94 |
| 5 | Mick Tinker | 0:14:30 | 0:59:53 | 0:45:23 | 23 | 82 |
| 6 | Matt Sedgley | 0:23:30 | 1:01:01 | 0:37:31 | 10 | 93 |
| 7 | Alan Hutchinson | 0:19:00 | 1:01:02 | 0:42:02 | 20 | 84 |
| 8 | Paul Fotherby | 0:26:45 | 1:01:03 | 0:34:18 | 4 | 97 |
| 9 | Andy Mace | 0:12:15 | 1:01:10 | 0:48:55 | 30 | 78 |
| 10 | Paul Grave | 0:29:15 | 1:01:20 | 0:32:05 | 2 | 99 |
| 11 | Neil Sedgley | 0:13:30 | 1:01:28 | 0:47:58 | 26 | 80 |
| 12 | Liz Adams | 0:24:45 | 1:01:58 | 0:37:13 | 9 | 99 |
| 13 | Paul White | 0:18:45 | 1:02:13 | 0:43:28 | 22 | 83 |
| 14 | Kat O'Mahony | 0:26:00 | 1:02:18 | 0:36:18 | 8 | 100 |
| 15 | Keith Brewster | 0:21:45 | 1:02:22 | 0:40:37 | 18 | 86 |
| 16 | Sean Cook | 0:27:05 | 1:02:23 | 0:35:18 | 5 | 96 |
| 17 | John Hussey | 0:20:45 | 1:02:28 | 0:41:43 | 19 | 85 |
| 18 | Leila Kara | 0:16:15 | 1:02:36 | 0:46:21 | 24 | 94 |
| 19 | Steph Gledhill | 0:22:45 | 1:02:47 | 0:40:02 | 16 | 97 |
| 20 | Richard Irvine | 0:26:45 | 1:02:54 | 0:36:09 | 6 | 95 |
| 21 | James Tarran | 0:29:00 | 1:03:04 | 0:34:04 | 3 | 98 |
| 22 | Mike Furby | 0:25:15 | 1:03:24 | 0:38:09 | 11 | 92 |
| 23 | Pascale Fotherby | 0:14:45 | 1:03:26 | 0:48:41 | 28 | 91 |
| 24 | Roy Huggins | 0:24:15 | 1:03:30 | 0:39:15 | 15 | 88 |
| 25 | Nick Smith | 0:25:15 | 1:03:36 | 0:38:21 | 12 | 91 |
| 26 | Vicki Johnstone | 0:15:45 | 1:03:44 | 0:47:59 | 27 | 93 |
| 27 | James Forbes | 0:12:15 | 1:03:50 | 0:51:35 | 32 | 77 |
| 28 | Bob Jackson | 0:15:30 | 1:04:19 | 0:48:49 | 29 | 79 |
| 29 | Paul Smith | 0:26:45 | 1:05:14 | 0:38:29 | 13 | 90 |
| 30 | Tim Straughan | 0:26:45 | 1:05:36 | 0:38:51 | 14 | 89 |
| 31 | James Slater | 0:26:00 | 1:06:03 | 0:40:03 | 17 | 87 |
| 32 | Tim Towler | 0:21:00 | 1:07:44 | 0:46:44 | 25 | 81 |
| 33 | Graham Ford | 0:16:30 | 1:09:12 | 0:52:42 | 33 | 76 |