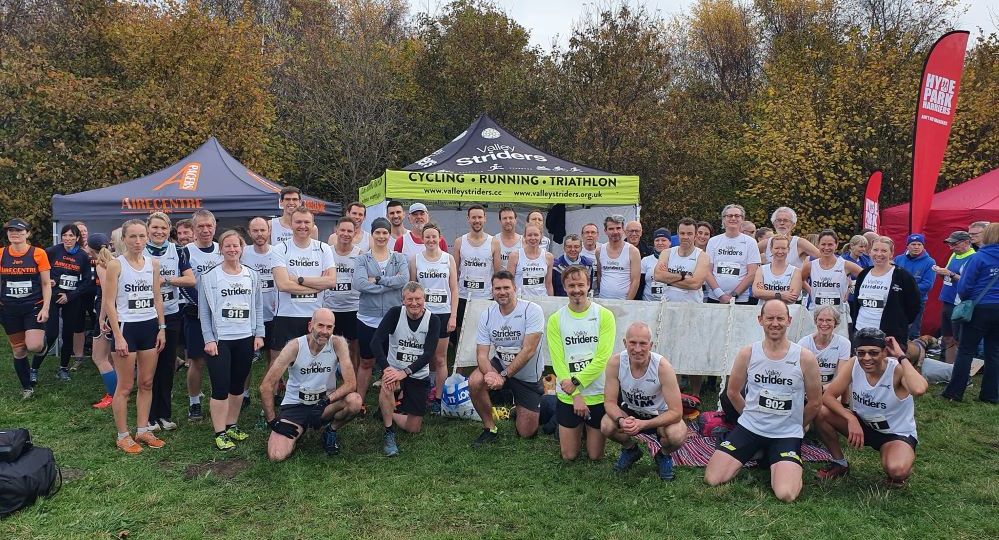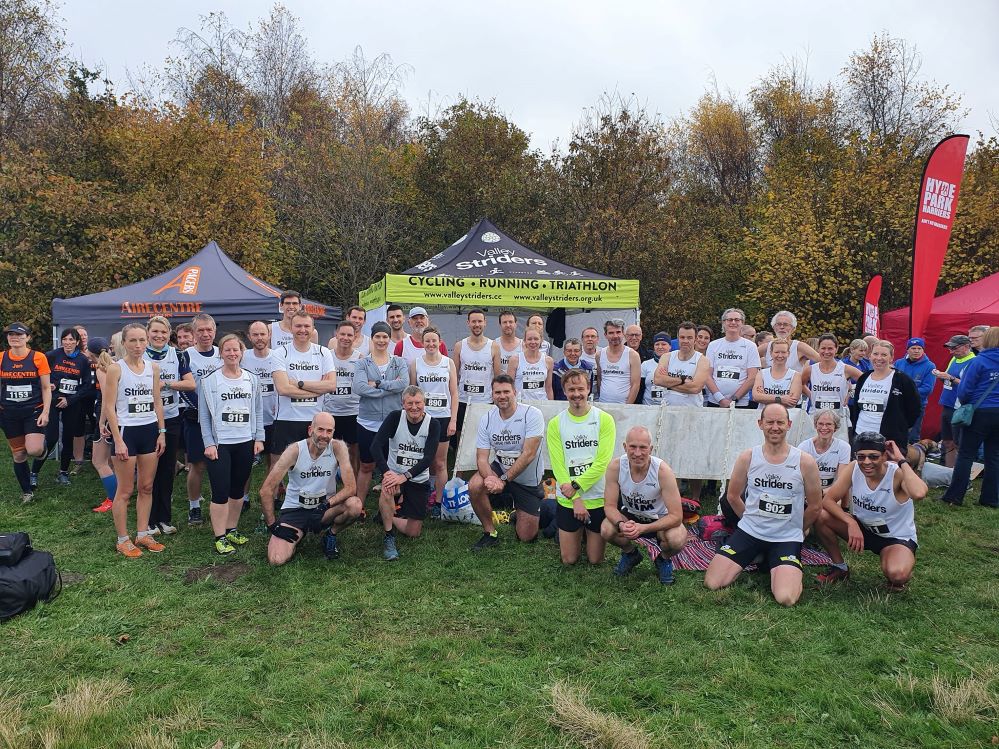 Last Sunday, 14th November, saw the long awaited return of the PECO cross country league. Striders turned out in force at Middleton Park on a fine morning for running, with mild temperatures, decent conditions underfoot and the usual PECO atmosphere. A slight mishap in the first lap led to everyone running slightly further than advertised (especially the faster runners) but the results stand. Well done to our ladies who top both the First Division and the Vets Premier, whilst the men stand in 6th place in the Premier and 3rd in the Vets Premier.
Full team standings can be found on the PECO website https://pecoxc.co.uk/pages/race1.html, and individual results are at Racebest https://racebest.com/results/x8c66?.
The race was also part of the Grand Prix (https://www.valleystriders.org.uk/run/competition/grand-prix), with a total of 47 runners picking up points and Daniel Grant the fastest Strider taking the maximum 100 points. See table below for Striders' results and GP points. The next PECO race is Sunday 5th December at Temple Newsam and we hope to see another good turnout there. Thanks as always to Kathy for the team photo.
| Position | Name | Contest | Time | GP Points |
| --- | --- | --- | --- | --- |
| 8/452 | Daniel Grant | SNR M | 0:31:46 | 100 |
| 39/452 | John Shanks | SNR M | 0:33:42 | 99 |
| 45/452 | Daniel Fisher | SNR M | 0:33:51 | 98 |
| 78/452 | Gary Mann | SNR M | 0:35:02 | 97 |
| 102/452 | Danny Murray | SNR M | 0:36:04 | 96 |
| 13/345 | Samantha Harris | SNR F | 0:36:07 | 95 |
| 106/452 | Paul Smith | SNR M | 0:36:15 | 94 |
| 117/452 | Tim Straughan | SNR M | 0:36:30 | 93 |
| 17/345 | Laura Duffield | SNR F | 0:36:48 | 92 |
| 22/345 | Katherine O'mahony | SNR F | 0:37:19 | 91 |
| 165/452 | Simon Vallance | SNR M | 0:37:33 | 90 |
| 172/452 | Adam Parton | SNR M | 0:37:50 | 89 |
| 178/452 | Ian Sanderson | SNR M | 0:37:59 | 88 |
| 179/452 | James Tarran | SNR M | 0:38:02 | 87 |
| 35/345 | Rachel Bentley | SNR F | 0:38:37 | 86 |
| 196/452 | Jerry Watson | SNR M | 0:38:45 | 85 |
| 197/452 | Mats Vermeeren | SNR M | 0:38:50 | 84 |
| 37/345 | Holly Blackwood | SNR F | 0:38:51 | 83 |
| 209/452 | Sean Cook | SNR M | 0:39:19 | 82 |
| 210/452 | Mike Powell | SNR M | 0:39:22 | 81 |
| 226/452 | Dinesh Kaulgud | SNR M | 0:40:03 | 80 |
| 53/345 | Chloe Hudson | SNR F | 0:40:08 | 79 |
| 59/345 | Steph Gledhill | SNR F | 0:40:44 | 78 |
| 248/452 | Graham Pawley | SNR M | 0:40:51 | 77 |
| 249/452 | Richard Adcock | SNR M | 0:40:55 | 76 |
| 259/452 | Andrew Stoneman | SNR M | 0:41:25 | 75 |
| 75/345 | Rachel Davidson | SNR F | 0:41:29 | 74 |
| 264/452 | Sean Fitzgerald | SNR M | 0:41:33 | 73 |
| 79/345 | Liz Adams | SNR F | 0:41:37 | 72 |
| 88/345 | Philippa Trevorrow | SNR F | 0:42:18 | 71 |
| 108/345 | Sue Sunderland | SNR F | 0:43:05 | 70 |
| 307/452 | Chris Sawyer | SNR M | 0:43:30 | 69 |
| 309/452 | Jake Towler | SNR M | 0:43:35 | 68 |
| 315/452 | Keith Brewster | SNR M | 0:43:51 | 67 |
| 332/452 | Michael Robins | SNR M | 0:44:36 | 66 |
| 345/452 | Tim Towler | SNR M | 0:45:23 | 65 |
| 180/345 | Liz Ball | SNR F | 0:47:48 | 64 |
| 389/452 | Michael Brough | SNR M | 0:48:37 | 63 |
| 396/452 | Ken Fox | SNR M | 0:49:12 | 62 |
| 233/345 | Jane Fontana | SNR F | 0:50:23 | 61 |
| 234/345 | Becca Keevash | SNR F | 0:50:25 | 60 |
| 250/345 | Bethany Lovell | SNR F | 0:51:26 | 59 |
| 423/452 | Bob Jackson | SNR M | 0:53:20 | 58 |
| 430/452 | Neil Sedgley | SNR M | 0:55:25 | 57 |
| 299/345 | Becky Murray | SNR F | 0:55:54 | 56 |
| 310/345 | Sally Merchant-Edge | SNR F | 0:57:46 | 55 |
| 439/452 | Philip Lim | SNR M | 0:57:48 | 54 |