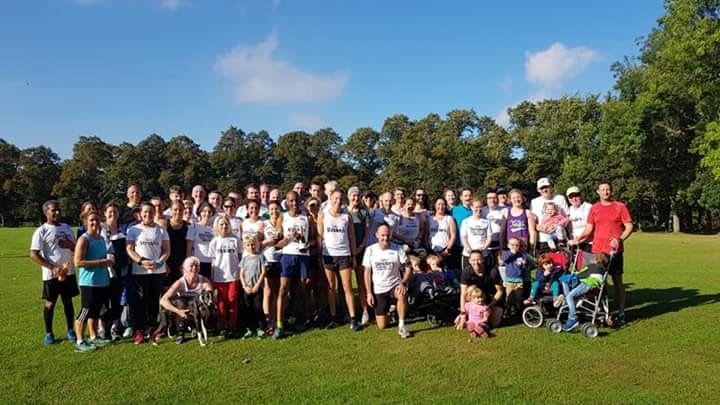 It's the 17th October 2009, the day Roy's life changed forever, like many of us who have caught the parkrun bug.
Roll forward 9 years and 11 months, over 50 Valley Striders joined the Woodhouse Moor Parkrun starting line alongside Roy to celebrate his 500th parkrun.
Sam Dooley, parkrun ambassador did a great speech for Roy which included Roy's average parkrun time of 19:23 and the interesting statistic that if Roy ran all his parkruns in one go he'd just be finishing in a week's time.
Roy has stood on the Woodhouse Moor parkrun start line 490 times and is a true local runner with all parkruns being in Leeds, the other 10 being Roundhay (4), Temple Newsam (4) and one each for Armley and Potternewton.
As well as it being a beautiful day for running with glorious sunshine Roy treated everyone to sandwiches, cake and drinks (some of us even got some champagne which was a great taster for Reims).
The parkrun was also part of Valley Striders Grand Prix competition, the 3rd Grand Prix Race this week. Results and Grand Prix points are below.
| Pos | parkrunner | Time | Age Cat | Age Grade | Gender | Gender Pos | Club | Note | Total Runs | GP Pts |
| --- | --- | --- | --- | --- | --- | --- | --- | --- | --- | --- |
| 3 | Gwilym Thomas | 00:17:50 | VM40-44 | 78.90% | M | 3 | Valley Striders AC | PB stays at 00:16:44 | 210 | 100 |
| 13 | James Tarran | 00:19:02 | VM50-54 | 78.70% | M | 11 | Valley Striders AC | PB stays at 00:17:41 | 372 | 99 |
| 14 | Tim Straughan | 00:19:04 | VM50-54 | 79.90% | M | 12 | Valley Striders AC | PB stays at 00:17:53 | 350 | 98 |
| 15 | Ian Sanderson | 00:19:05 | VM45-49 | 76.10% | M | 13 | Valley Striders AC | PB stays at 00:18:13 | 409 | 97 |
| 30 | Adam Parton | 00:19:55 | VM45-49 | 73.50% | M | 27 | Valley Striders AC | PB stays at 00:18:59 | 345 | 96 |
| 31 | Myra Jones | 00:19:58 | VW35-39 | 75.10% | F | 4 | Valley Striders AC | New PB! | 227 | 95 |
| 35 | Roy Huggins | 00:20:08 | VM55-59 | 77.00% | M | 31 | Valley Striders AC | PB stays at 00:17:49 | 500 | 94 |
| 46 | John Shanks | 00:20:35 | VM35-39 | 64.50% | M | 42 | Valley Striders AC | PB stays at 00:17:45 | 113 | 93 |
| 47 | Sean Cook | 00:20:36 | VM35-39 | 64.40% | M | 43 | Valley Striders AC | PB stays at 00:19:59 | 216 | 92 |
| 48 | Sarah Graham | 00:20:37 | SW30-34 | 72.10% | F | 5 | Valley Striders AC | PB stays at 00:18:35 | 105 | 91 |
| 50 | Sean Fitzgerald | 00:20:40 | VM35-39 | 65.10% | M | 45 | Valley Striders AC | PB stays at 00:18:53 | 241 | 90 |
| 59 | Kevin Mcmullan | 00:21:12 | VM50-54 | 70.10% | M | 53 | Valley Striders AC | PB stays at 00:18:33 | 61 | 89 |
| 70 | Tony Mills | 00:21:41 | VM45-49 | 67.00% | M | 63 | Valley Striders AC | First Timer! | 22 | 88 |
| 73 | Sarah Mann | 00:21:47 | VW35-39 | 69.50% | F | 9 | Valley Striders AC | New PB! | 222 | 88 |
| 77 | Leroy Sutton | 00:21:53 | VM60-64 | 74.60% | M | 68 | Valley Striders AC | PB stays at 00:20:36 | 51 | 87 |
| 78 | Vernon Long | 00:21:53 | VM50-54 | 68.50% | M | 69 | Valley Striders AC | PB stays at 00:20:40 | 170 | 86 |
| 83 | Pip Trevorrow | 00:22:04 | VW40-44 | 71.30% | F | 11 | Valley Striders AC | New PB! | 18 | 85 |
| 85 | Sue Sunderland | 00:22:09 | VW55-59 | 84.00% | F | 13 | Valley Striders AC | PB stays at 00:21:22 | 310 | 84 |
| 88 | Steph Gledhill | 00:22:19 | VW40-44 | 68.90% | F | 15 | Valley Striders AC | New PB! | 274 | 83 |
| 96 | Michael Hall | 00:22:35 | VM35-39 | 59.10% | M | 80 | Valley Striders AC | PB stays at 00:19:19 | 210 | 82 |
| 103 | Sam Davison | 00:22:44 | SM30-34 | 56.90% | M | 86 | Valley Striders AC | PB stays at 00:21:28 | 42 | 81 |
| 109 | Holly Button | 00:22:50 | SW30-34 | 65.30% | F | 19 | Valley Striders AC | PB stays at 00:19:19 | 86 | 80 |
| 114 | Ripley Barclay | 00:22:57 | JM11-14 | 66.70% | M | 93 | Valley Striders AC | New PB! | 12 | 79 |
| 125 | Alex Watson-Usher | 00:23:13 | VW35-39 | 64.40% | F | 23 | Valley Striders AC | PB stays at 00:21:26 | 254 | 78 |
| 126 | Liz Adams | 00:23:13 | VW45-49 | 68.40% | F | 24 | Valley Striders AC | New PB! | 133 | 77 |
| 132 | Chris Sawyer | 00:23:32 | VM60-64 | 68.80% | M | 108 | Valley Striders AC | PB stays at 00:22:17 | 381 | 76 |
| 136 | Liz Reddington | 00:23:34 | VW55-59 | 78.90% | F | 26 | Valley Striders AC | PB stays at 00:23:03 | 123 | 75 |
| 144 | Richard Adcock | 00:23:40 | VM50-54 | 62.30% | M | 118 | Valley Striders AC | PB stays at 00:20:35 | 75 | 74 |
| 148 | Alfie Tyrrell | 00:23:43 | JM15-17 | 57.80% | M | 121 | Valley Striders AC | PB stays at 00:22:19 | 134 | 73 |
| 156 | Ken Fox | 00:23:55 | VM60-64 | 67.70% | M | 128 | Valley Striders AC | PB stays at 00:19:09 | 475 | 72 |
| 168 | Brian Tyrrell | 00:24:15 | VM60-64 | 66.10% | M | 135 | Valley Striders AC | PB stays at 00:24:12 | 193 | 71 |
| 171 | Ian Rosser | 00:24:18 | VM50-54 | 60.70% | M | 137 | Valley Striders AC | PB stays at 00:17:57 | 263 | 70 |
| 176 | Joel Giddings | 00:24:26 | VM45-49 | 59.40% | M | 141 | Valley Striders AC | PB stays at 00:17:57 | 468 | 69 |
| 198 | Andy Mace | 00:24:59 | VM45-49 | 58.60% | M | 156 | Valley Striders AC | First Timer! | 38 | 68 |
| 200 | Brigit O'Sullivan | 00:25:03 | SW20-24 | 59.10% | F | 43 | Valley Striders AC | PB stays at 00:25:00 | 22 | 67 |
| 207 | Paul Sanderson | 00:25:17 | VM50-54 | 59.30% | M | 164 | Valley Striders AC | PB stays at 00:22:43 | 50 | 66 |
| 210 | Vicki Johnstone | 00:25:22 | VW45-49 | 65.30% | F | 45 | Valley Striders AC | New PB! | 211 | 65 |
| 248 | Ewan Reid | 00:26:25 | JM10 | 64.40% | M | 189 | Valley Striders AC | First Timer! | 5 | 64 |
| 249 | Carol Reid | 00:26:26 | VW35-39 | 57.30% | F | 60 | Valley Striders AC | First Timer! | 6 | 63 |
| 252 | Bob Jackson | 00:26:29 | VM65-69 | 65.10% | M | 192 | Valley Striders AC | PB stays at 00:20:11 | 51 | 63 |
| 292 | Lisa Jones | 00:27:39 | VW45-49 | 58.60% | F | 74 | Valley Striders AC | New PB! | 23 | 62 |
| 301 | Zoe Nicholson | 00:27:45 | VW40-44 | 55.40% | F | 77 | Valley Striders AC | First Timer! | 12 | 61 |
| 308 | Neil Sedgley | 00:27:49 | VM50-54 | 54.30% | M | 229 | Valley Striders AC | New PB! | 50 | 60 |
| 309 | Robert Hamilton | 00:27:50 | VM50-54 | 54.70% | M | 230 | Valley Striders AC | PB stays at 00:17:28 | 44 | 59 |
| 325 | Leila Kara | 00:28:03 | VW55-59 | 63.70% | F | 87 | Valley Striders AC | New PB! | 14 | 58 |
| 330 | Sally Merchant-Edge | 00:28:11 | VW45-49 | 58.80% | F | 91 | Valley Striders AC | New PB! | 46 | 57 |
| 360 | Andrew Wicks | 00:28:45 | VM50-54 | 53.00% | M | 257 | Valley Striders AC | PB stays at 00:19:28 | 112 | 56 |
| 384 | Julie Mcgurk | 00:29:27 | VW55-59 | 60.70% | F | 115 | Valley Striders AC | PB stays at 00:24:58 | 31 | 55 |
| 385 | Hannah Corne | 00:29:27 | VW35-39 | 51.40% | F | 116 | Valley Striders AC | PB stays at 00:18:50 | 156 | 54 |
| 400 | John Wallace | 00:29:54 | VM50-54 | 50.60% | M | 275 | Valley Striders AC | PB stays at 00:18:58 | 156 | 53 |
| 419 | Neil Hall | 00:30:17 | VM35-39 | 44.10% | M | 285 | Valley Striders AC | PB stays at 00:24:34 | 238 | 52 |
| 454 | Caroline Tolan | 00:30:58 | VW45-49 | 52.90% | F | 154 | Valley Striders AC | PB stays at 00:25:21 | 131 | 51 |
| 574 | Rebecca Bibby | 00:38:53 | VW35-39 | 38.60% | F | 230 | Valley Striders AC | PB stays at 00:28:45 | 40 | 50 |
NB website admin humbly apologises for the delay in publishing this post…