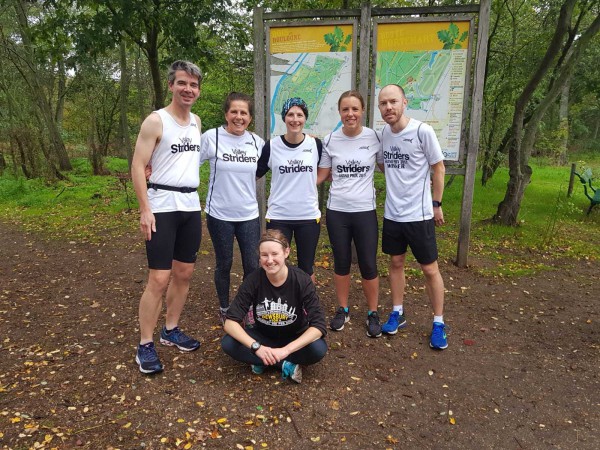 As a prelude to the VS autumn tour, a number of Striders decided to do a bit of international parkrun tourism in Paris. Bois de Boulogne park is a large woodland area a few miles east of central Paris, more akin to Hampstead Heath than Hyde Park. It's home to the Stade de France, Longchamps horseracing course, Roland Garros tennis club and Paris' original parkrun.
It's fair to say that parkrun hasn't really taken off in France yet, with only two in Paris and six overall. Despite this being the 189th event at Bois de Boulogne, only 63 ran and that was mainly made up of ex-pats and tourists from more 'enlightened' countries. Which is odd, as there was no shortage of other runners in the park.
An ominously grey morning saw six Striders assemble at the start (Liz and James gave up their parkrun to sort out our onward travel arrangements to Reims, disrupted by an unannounced train strike!). The race director gave a very impressive bi-lingual run briefing, switching from French to English and back again in mid-sentence. Particular emphasis was given to the fact that this was a run, not a race, as you need to submit a medical certicate signed by your doctor to participate in any race in France. It was a three lap course on tarmac and good paths, with a slight climb to finish each lap. Navigation was straightforward, with enough signage and marshals to keep you on the route and avoid mistakenly following some random runner through the woods.
Any thoughts of gentle pre-marathon bimble went out of the window when I realised the lead group was going relatively slowly and I latched on for the first lap. Not possessing a sprint finish, I made my move on the second climb, just pausing long enough to let them to read the list of previous 'tour' destinations on the back of my vest. The psychology paid off and I clung on to win… sorry, finish first. Leila wasn't hanging around either, recording her first p.b. of the weekend.
Unfortunately the train strike put paid to our plans for a leisurely post-parkrun breakfast and we all had to dash off to pack and panic about missing registration for the Reims races. However, we can all confirm that it was a nice, friendly event, well worth the 20 minute metro ride from central Paris. So, if you find yourself on a romantic break in Paris in the future – don't forget your barcode!