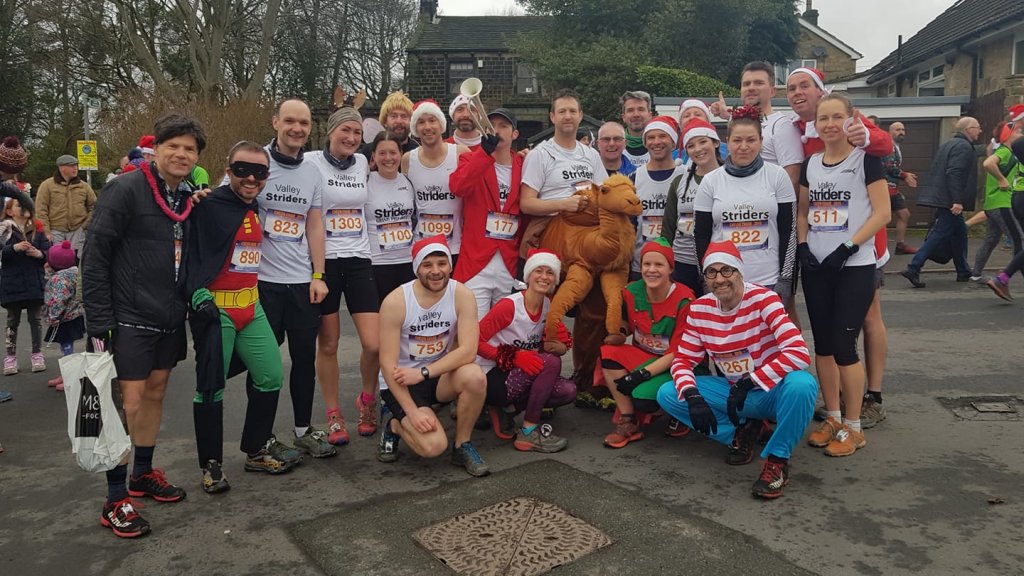 Grand Prix 2019
 The prizes for the Grand Prix 2019 were awarded at the Valley Striders Christmas Party. 51 runners completed 8 or more events and we saw 1064 individual participations in Grand Prix events over the year. Race winners were John Hobbs – Apperley Bridge Canter and Matt Hallam Guisley Gallop, Baildon Boundary Way and Eccup 10 miles. Fantastic achievements. Congratulations go to
John Hobbs – Overall male winner, M35 and winner of Group A (800 points)
Matt Hallam – first M senior (795)
Ian Sanderson – first M45 and winner of Group B (774)
Myra Jones – Overall female winner, first F35 (759)
Mark Farrell – winner of Group C (739)
Amanda Spencer – first F45 (731)
Ken Fox – first M55 (721)
Sue Sunderland – first F55 and winner of Group D (717)
Chris Sawyer – winner of Group E (669)
Andy Mace – winner of Group F (661)
Rachel Waters – first F senior and winner of Group G (631)
Their names have been added to the winners lists here.
Grand Prix 2020
The Grand Prix 2020 is up and running with the following events already completed: Chevin Chase, PECO race no. 2 Middleton Park, the Club Winter Handicap and the Yorkshire Cross Country Championship. If you have not been able to take part in any of these don't worry there are still plenty of events to enjoy through the year. Your best 8 results will be selected to make up your points total from 5 of the 7 categories shown in brackets.
The following make up the list for 2020 in date order where known and have all been added to our calendar:
PECO race no.2 Middleton Park (cross country) 15/12/19
Chevin Chase (Fell & Trail) 26/12/19
Winter Club Handicap (handicap) 29/12/19
Yorkshire XC championship (cross country) 04/01/20
PECO race no.3 Crimple Valley (cross country) 19/01/20
Dewsbury 10k (short) 02/02/20 09.00
PECO race no.4 West Park Leeds (cross country) 09/02/20
5k Evensplits series (short) best time from all 2020 races (first race Wednesday evening 26/02/20).
PECO race no.5 Roundhay Park (cross country) 01/03/20
International Women's Day Run (short) 08/03/20 *
20 mile March events (long) – best time from Spen 20 15/03/20, East Hull 20 22/03/20 and any other 20 mile race in March
Baildon Boundary Way Half Marathon (long) 05/04/20 09.30
Guiseley Gallop (F&T) 12/04/20 10.30
Vale of York 10m (medium) 19/04/20 09.30
Three Peaks (long) 25/04/20  (also in Fell Championship)
London Marathon (long) 26/04/20 (entries closed)
Leeds Half Marathon 10/05/20 09.30
Ilkley Trail race (F&T) 25/05/20 (also in Fell Championship)
Apperley Bridge Canter (F&T) 28/05/20
Wharfedale Half Marathon (long) 06/06/20
Otley 10m (medium) 10/06/20
Kettlewell Anniversary Fell Race 11/06/20 (also in Fell Championship)
Pudsey 10k (short) 21/06/20
Hyde Park mile (short) ??/06/20 – (best time from this and Golden Mile to count)
Eccup 10m (medium) 28/06/20
Danefield Relay (F&T) 30/06/20  (also in Fell Championship)
Golden mile (short) ??/09/20 – (best time from this and Hyde Park mile to count)
Vale of York Half Marathon (medium) 13/09/20
Rombalds Romp fell race (F&T) 27/09/20 (also in Fell Championship)
West Yorkshire Cross Country race no.1 (another WYCC race will be selected if the date clashes with another GP event)
Palma Mallorca Marathon 11/10/20 **
Palma Mallorca Half Marathon 11/10/20 **
Leeds Abbey Dash 10k (short) 25/10/20
Guy Fawkes 10m (medium) 01/11/20
Tadcaster 10m (medium) (provisional depending on PECO race dates which will take priority in event of a clash)
Peco race 1 date TBA
* This race is a bonus extra event for ladies only within the 5k series.
** Please note the Valley Striders Autumn Tour to Palma 11/10/20 Marathon (long), Half Marathon (medium). This is a very popular tour to which all members and their guests are welcome. Please check the Marathon web site and look out for club updates on this tour.
Additionally the Club Handicap races all count within the VS Handicap category and the date of the Spring race will be announced nearer the time. Four parkruns will be included in the 2020 series. Suggestions of venues are welcomed for all 4 (spring etc). Please email [email protected].
Notes for Juniors
The races included in your membership package are
Kirkstall 29/09/19
All Peco races
Peco Relays 31/03/20
Meanwood Trail junior races 05/20
Pudsey junior races (held alongside 10k) 21/06/20
Eccup junior races (held alongside 10 mile) 28/06/20
Golden Acre relays 07/20