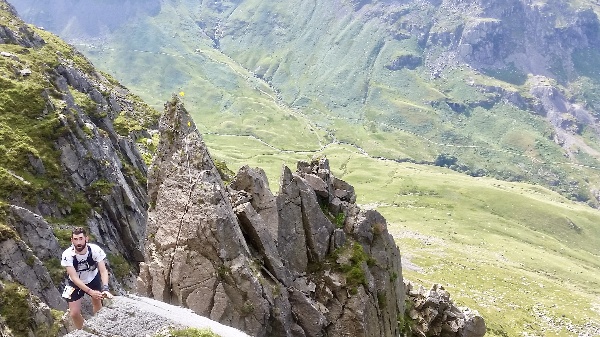 Pinnacle Ridge Extreme Race Report
13 July 2019
Lake District Sky Race
18 miles and 8000ft of ascent.
Held on the same day as the Lakes Sky Ultra and both starting and finishing in the grounds of Patterdale Hall at the far top end of Ullswater. The two races are sister events organised by Mountain Run. It was the inaugural running of this event and created by Mountain Run's Director Charlie Sproson to compliment the longer (60K) and more established LSU. All the serious climbing/scrambling was taken out of the LSU to make it a more runnable accessible event, and that gave Charlie free rein to include as much scrambling terrain as was feasible on the Helvellyn Massif to create the PRE.
I was looking for something to do on my birthday and was very tempted by Wasdale Fell Race until I happened on this event. With Wasdale being a fair bit longer but a similar height gain I concluded they both set the same level of challenge taking into account the greater technical difficulties present on the PRE course. So with Wasdale 4 hours away and Patterdale 2 hours away from home I swapped fell racing for sky racing for my birthday weekend.
There's none of the stress of navigating, sometimes present in the longer fell races, even with a field of less than 40 as it's flagged to International Skyrunning Standards (which I believe means a flag at least every 25 metres). The grade 2 scramble Brown Cove Crags and the grade 3 Pinnacle Ridge are also provided with ropes and climbing guides to offer assistance with route choice and holds if needed. Switch the brain off and enjoy the mountain running!
This course was a 'Tour de Helvellyn' with steep, sharp, knobbly knobs on! Namely Brown Cove Crags, Swirral Edge, Striding Edge and Eagle Crag. For good measure the finale was a full frontal ascent of St Sunday Crag through bilberry bushes (bilberries were delicious!) to reach the grade 3 scramble Pinnacle Ridge. Normally I would waltz up something like this without much thought but my legs were so trashed and cramping up by this point that I was mightily relieved to be able to use the fixed daisy chain ropes to drag myself up over the exposed pinnacles. Now the dash for home! Hardly! 38 minutes of stumbling cramp compared to the 18 minutes taken by the winner Rob Sinclair.
So I finished in 29th position out of 38 starters (just 2 retirements) with a time of 7hrs 25mins (was unrealistically anticipating sub 6hrs before I started).
Rob Sinclair was in a class of his own finishing in 3hrs 57mins, over 50 mins ahead of the second placed Ayron Comber. Ursula Moore was the First Lady, 8th overall in 5hrs 45mins. Rob was running for Team Mountain Fuel and there's the clue as to why I was so far behind. I should have bought more of the Mountain Fuel at registration rather than relying on the bilberries!
In conclusion a great course, well organised, fantastic event centre and very good value for money.
Finally if you can get through the entry vetting this is a good race to have on your CV for anyone keen to get into the Glencoe Skyline.