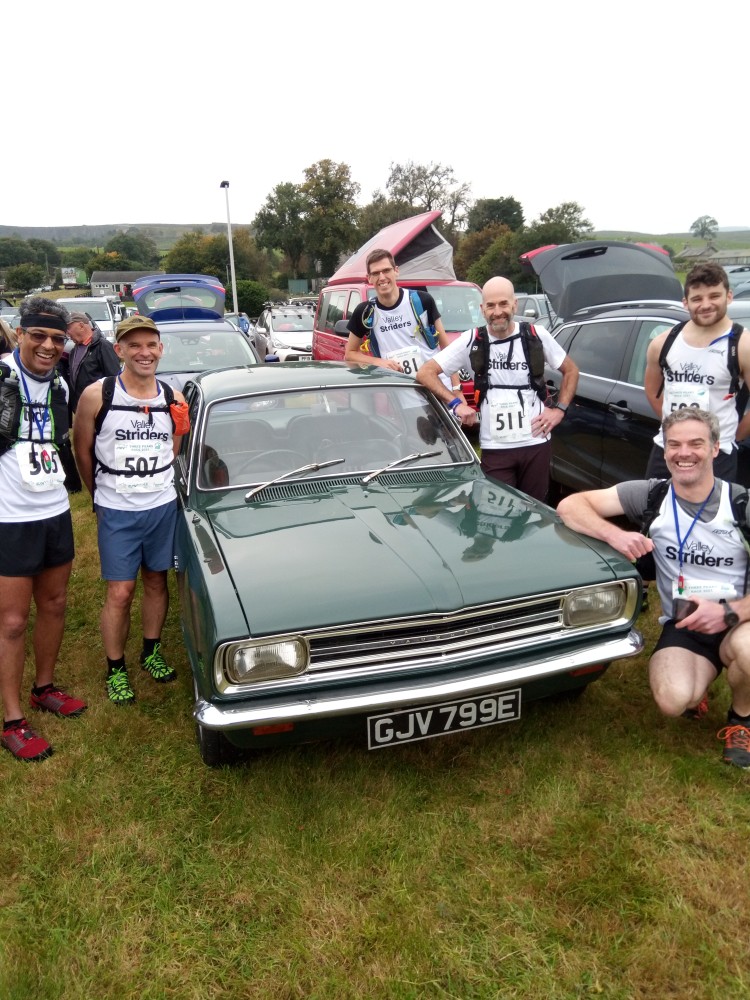 Quite literally, an up and down day for the Striders crew at Saturday's Three Peaks Race. Thanks to everyone for pulling together to make the best of the day. It was a memorable one, at least. In summary:
Top of the bill, Ross took a nasty fall off the summit of Ingleborough, gashing his knee and requiring a rescue & hospital visit. All the best to Ross & Bec for the recovery. Big kudos to the Cave Rescue Organisation who carefully and diligently brought their casualty off the mountain safely. It's so easy to take mountain rescue teams for granted, but just this one rescue took the equivalent of 30 volunteer hours – see more and support their work at https://cro.org.uk/. Thanks also to Kathy, Tim, Dinesh & Mats who accordingly changed their plans at short notice.
Well done Tim, Ronan, Mick, Simon & Mark for completing the course successfully, in tricky conditions. It's a race with 2 challenging cut-offs so to complete is a real achievement. Placings & times:
108th: Tim Straughan MV50 – 4:12:32
200th: Ronan Loftus M – 4:36:51
213th: Simon Vallance MV50 – 4:38:44
220th: Mick Loftus MV50 – 4:40:30
341st: Mark Farrell MV40 – 5:08:50
416 finishers
Well done Dinesh for getting through the first cut-off (Ribblehead) before being timed out at Hill Inn. Still a great long run and good experience for future attempts.
Respect also to Mats for comfortably making the Ribblehead cut-off before sensibly retiring rather than aggravating a dodgy knee. Good to give it a try.
Thanks also to Graham, Sam, Eirik, Matt & Aileen for providing support at the start/finish and on the course. Thanks particularly to Eirik for nobly stepping in and consuming Ross's beer in his absence 🙂
Finally, cheers Mark for driving up in the coolest motor in the car park and giving Striders a bit of retro gloss.
Phew, did I miss anything/anyone?
Presuming the idea of long-distance fell racing still appeals…. it's all on again in 6 months' time, 30th April, with entries open in February. Next obvious qualifying AL race is the Tour of Pendle on 20th November, another challenging route in potentially wintry conditions.