Race Report from the Very Back of the Pack – 
Saturday 1 June – 
Starts from sea-level at Aber and finishes on the top of Snowdon. 
20 miles and 8000ft of ascent.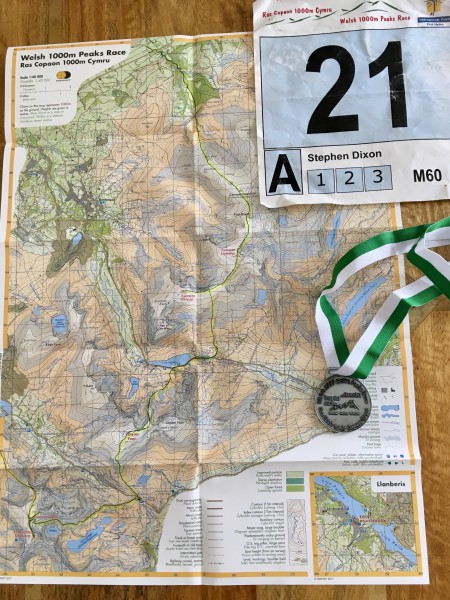 This was the 49th running of this event so you'd expect a very clear trod along the race line to have formed by now. It was clear from a recce of the first half three weeks earlier that this was not the case so good navigation or following a good navigator would be quite useful. More of this shortly!
It's a quirky sort of event being linear and with the option of setting off 90 minutes earlier than the 'Fell Race', aimed at walkers and runners not confident of meeting the 8 hour cut off for the event. This was the challenge event. Interestingly Lizzy Hawker, famous for her many victories in the Ultra Tour of Mont Blanc, allegedly chose the challenge event thinking she would not have the necessary experience to be accepted to run the Fell Race. She won the Challenge event of course. And for those not wanting such a long day out, there are further options of a shorter Fell Race or Challenge Event starting from Ogwen. You can also enter as pairs in either challenge events.
I entered, in my naivety, the Long Fell Race! I was in good West Yorkshire company with Mick and Ronan Loftus, Simon Vallence and Mike Roberts of Fellandale, all making a weekend of it. Coaches from the event centre at Llanberis set off at the civilised time of 8am for the race start at 9am. Even before leaving the village, I was struggling to maintain contact with the pack of about 80 plus runners as we made the steady climb up into the drizzling rain clouds shrouding the hill sides immediately above the impressive Aber Waterfall. The warning from the Race Director that this weather will be favouring those with navigation skills was ringing in my ears!
To be fair I felt a little out of my depth on this one and started to fret about cut off times at the two valley checkpoints. I ticked off the the first two 1000 metre peaks Carnedd Llewelyn and Carnedd Daffyd and dropped down to the Ogwen Valley CP with over an hour to spare! A little bit more relaxed as I ran besides the busy A5 I 'tucked' in behind a runner I'd been following for the last hour or so, confident that with no mishaps I'd be on for my sub- 7hr target. I hadn't reccied this section up over Glyder Fawr but was fairly certain I needed to take a diagonal line from the car park at Llyn Ogwen, ascending to Llyn Bochlwd and thence access the Gribin Ridge that takes you up to Glyder Fawr.
The path was easy to identify and I got my 'head down' to work my way up to the top, keeping an occasional eye on the runners in front. I was soon disconcerted to see the two runners I could see take a steeper path up to the left! I thought it was wrong but stupidly I followed! They were too far ahead to shout out to question their route choice so I continued to follow. I looked back and saw that 3 other runners were following me too so this put my mind at rest somewhat. But not so at rest not to look at my map to identify the lake off to my right hundreds of feet below me! With a horrible realisation I identified it as Llyn Bochlwd and that meant I was high up on the western slopes of Tryfan and the ridge in front of me was Bristly Ridge leading up to the wrong Glyder!!!
I could now see the shapely ridge of Gribin way off in the distance! The direct approach without losing too much height was pathless and boulder strewn and I wasn't too sure if my line would take me above or below the Checkpoint on the ridge. I'd now resigned myself for a time out at Pen-y-Pass but plodded on anyway to eventually gain the ridge below the Checkpoint! I estimated I'd lost about 45 minutes with that blunder but the marshals were encouragingly optimistic that I'd make the 6hr cut off at Pen-y-Pass! At this point another runner, Fred, caught up with me and it seems he'd made the same mistake but we were both a bit embarrassed to discuss it too much! Gribin Ridge was fun to climb but with increasing height came the cloud and uncertainty as to where the heck Glyder Fawr was! It was shortly after 2.15pm that I bagged that 3rd 1000 metre peak and I was praying that I was able to find the right descent line to PyP.
My prayers were answered and after an enjoyable descent on grassy trods I found myself on the Pyg Track climbing up to Snowdon and Carnedd Ugain with 15 minutes to spare. The track was not particularly pleasant, being very busy with walking parties going both up and down but at least I knew I could put my map away now. It was the usual crowded scrum to reach the summit cairn so very pleased there was no queue for me at the finish dibber a few feet below in a time of 7:33:35. It didn't even cross my mind to join the queue to touch the summit but thanked the lovely marshals manning the finish and started my 5 mile run back down to Llanberis to the event centre for soup, cake and presentations. So slow that I missed the beginning of the presentations but quick enough not to be tempted to make the same mistake to follow that runner in front taking the Snowdon Ranger Path!
Simon, Ronan and Mick had obviously been in a completely different race to me having finished 2 hours ahead, all three closely grouped together high up in the field. Ronan I think was very pleased to get the scalps of both his dad and Simon. Mike was an hour in between us.
All in all it was a great experience and I'm certainly not put off doing this one again!
It's the 50th running of this race next year and it would get my vote for the Striders Camping Weekend 2020.
1st Neal Hockley Eryri Harriers 4:13:10
1st Lady (6th overall) Tessa Strain Hunters Bog Trotters 4:33:28
26th Ronan Loftus 5:23:42
28th Simon Vallence 5:26:27
38th Mick Loftus 5:43:09
69th Mike Roberts Horsforth Fellandale 6:44:15
77th Stephen Dixon 7:33:35
79 finished out of 84 starters
Out of interest, the winner of the challenge event finished in 5hrs 30mins!!!