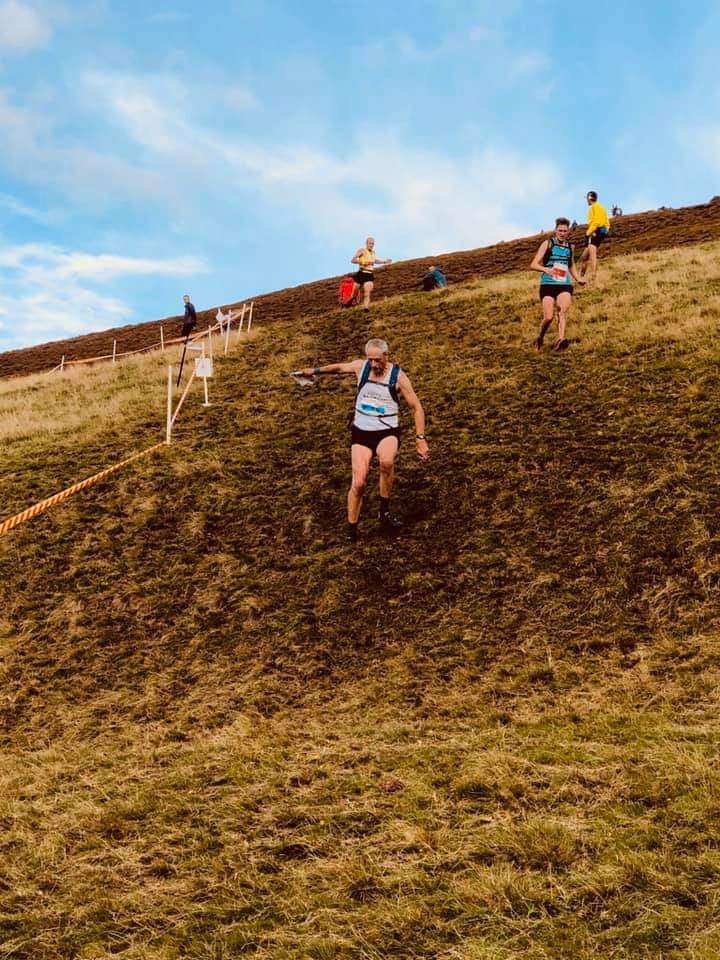 The final VS Fell Champs table is now published. We've been running far and wide and the league features a mammoth 63 races this year. Much of this expansion is due to the tireless efforts of our VS ambassador to the Lake District, Dave Middlemas, who was our most prolific competitor with 15 races under his belt. The range of events is revealed in the spread of race winning times: from a brisk 11 minutes 45 seconds at King of the Castle to a gruelling 6 hours 58 minutes at Old County Tops. In total 48 men and 18 women scored points in the league.
Congratulations to our champion man Jon Pownall who regained his title and with it the coveted trophy. In second place was AS expert Dave Middlemas with Fell Captain Ross Bibby in a very close third. We then had a strain of V50s (that's a collective noun I've just invented!) finishing in close order: Messrs Vallance, Loftus, Webb and Jones. Mark Farrell, Steve Dixon and Dinesh Kaulgud completed the top 10 with all having five scoring races.
In the ladies' league the top points scorer was Kim Spence, followed by Jenny Hall, Amanda Seims and Sarah Smith, and they all completed five scoring races. Under the rules you need to complete races in all three categories (Short, Medium and Long) to demonstrate the versatility required of a champion and on that basis Jenny is a deserving winner of the ladies trophy for the first time. Well done.
The top individual race score this year was Jon's 105.0 at Ilkley Moor, followed closely by Ross's 104.9 at the same event (must have been a tense finish). In the ladies' league Kim had the top score of 91.0 achieved with a 5 hour 57 minute time at the Old Crown Round on the Caldbeck Fells. Second highest score was an excellent 90.0 by Katherine O'Mahony at Ilkley Moor.
Well done everybody who ventured onto the fells this year and thanks to all the race organisers. The 2020 league runs from 1 December so you can start scoring points before 2020 even arrives.
The final league table can be found below.
https://www.valleystriders.org.uk/wp-content/uploads/2019/04/VSFC-Latest-Standings.xlsx