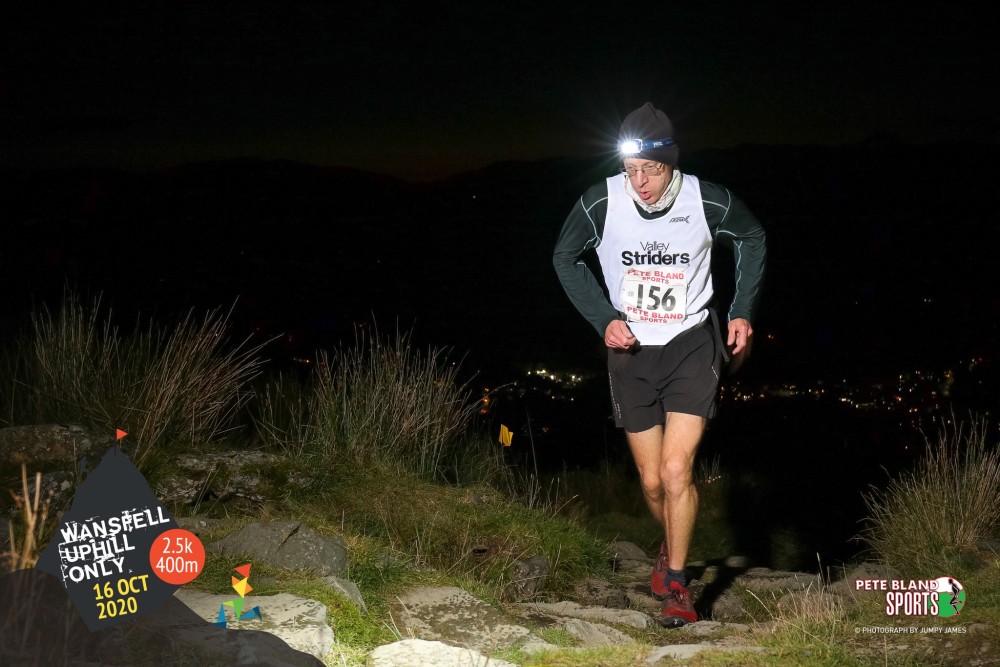 On Friday, I ran my first race since March – an uphill-only time trial in the Lake District, from Ambleside town centre to the top of Wansfell – 2.5km with a climb of 400 metres. This was one of the first fell races to get a post-COVID go-ahead, so I was interested to see how it was going to be organised, and what the experience of doing a relatively low-key race might be like in the "new normal".
Entry was online in advance for £10, with a max. of 240 runners each choosing a start time in a 2-hour window between 18.00 and 20.00, on a first-come-first-served basis. So potentially a runner going off every 15 seconds. By the time I entered, the earliest slot available was 19.18, which meant I was going to be running the whole way in the dark (the early runners were going to catch the last of the daylight).
I usually see doing fell races as a thinly-veiled excuse for having a nice day out in the countryside, so the plan for Friday was to leave Leeds after lunch, arrive mid-afternoon for a gentle recce of the route (in daylight!), then back for fish & chips no later than a couple of hours before the race. As it turned out, Ambleside town centre was heaving at 2pm (a bit perplexing to be anywhere crowded at the moment) so I had to drive a mile back to the lakeside to find a parking space. Didn't matter though – the weather was fine and I had plenty of time to divert to see Stockghyll Force waterfall before slowly walking up the fell. The race route started with a bit of road, followed by stone steps all the way to the top at a pretty consistent gradient – so no major issues, but good to know in advance. At the top I was rewarded with a spectacular view down the length of Windermere. Rather than just return the same way, I made a loop by descending via Skelgyhll Wood back to the chippy by the lakeside and a spectacular sunset over the water.
It was nearing race-time now and I had more luck finding a parking space in the town centre – always good to be parked close-ish to the start as last-minute kit decisions/requirements are quite common in fell races, as is extreme weather. From the comfort of the car I could see a line of head-torches snaking up the fell in the fading light, and even check the early times on the live results page. We'd been encouraged not to pick up our race number too early, or congregate at the start, so it was after 7 that I left the car, having guessed (correctly, as it turned out) that we wouldn't need any more kit than a jacket, headtorch and buff/mask. Although this was clearly not a conventional "start" as we know it, it was nice to see folk in race-numbers around and a few "Caution Runners" signs up, so it all felt kind of race-like.
I eventually got to the start area about 5 minutes in advance, thinking I would be called to come forward on the dot of 19.18…. so it was a little bit of a surprise to be ushered to the start line straight away. I think this was because only 147 runners (out of the maximum 240) actually started, so there was some flexibility – indeed, it didn't feel like there were too many people milling around. Well, at least I didn't have to stand there getting cold – the barcode on my number was scanned and I was on my way. Headtorch on almost immediately and into my own bubble of light. Plenty of marshalls on the course, so no chance of going wrong, and some nice encouraging comments from those already finished coming back down. Although it got progressively cooler on the climb it never got uncomfortably so. Just steady progress towards the top, punctuated by a couple of flashes from the race photographer's camera bulb, which provided the picture attached. A few more lights and voices suggested the top was finally at hand. A second scan of the barcode, and the slightly strange sensation that your time is up on the results page immediately, known to folk down there but not to you. A chatty jog with other runners following a separate flagged route back to the start, and a third and final scan of the barcode to confirm safe arrival back in civilisation.
By the time I was back at the car all the results were in – I was 54th out of 147 in a time of 19:22, which I was pretty happy with. The fastest time was by international athlete Jacob Adkin in 13:53 – unthinkably fast, and almost a minute quicker than second place. But I did win a £20 voucher as a spot prize, which was some consolation!
Overall then, a fun mini-adventure, and although it inevitably lacked some of the social buzz of previous racing, it all felt appropriate-enough in these COVID times. That was helped by the organisation – pre-entry, time trial format, specific start times, barcode scanning, live results. Well done to Duncan + team at Ambleside Mountain Cup. It will be interesting to see if this is the template for future events. Many fell races (including some famous events going back hundreds of years) have traditionally been organised on a very low-tech basis – entry on the day, paper entry forms, cash payment, stopwatch timed, handwritten results on a board etc. I hope that such events can find a way to keep themselves going in these changing times.