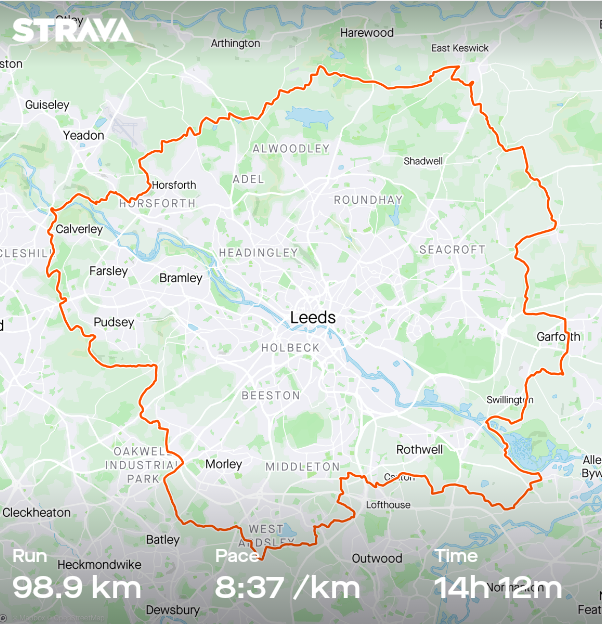 Yesterday I completed a full circuit of the Leeds Country Way (LCW), so thought I'd share my experiences in case they're useful for anyone daft enough to try the same.
The run had been a long time in planning. I moved to Woodlesford in January 2020, and a glance at the map revealed the LCW to be the obvious "adventure on the doorstep". I started recceing the route and thinking about how to approach a full circuit. Of course, COVID intervened and by the end of the year the best I could do was do this write-up of various ideas, without having managed to complete the full round – https://meanwoodrambler.com/2020/12/26/leeds-country-way-in-a-day/
After a quiet Jan and Feb, I finally managed to get some miles under my belt in March, and settled on how to approach an LCW attempt. The plan was to run solo, travelling as light as possible. Whereas in more remote areas you are more likely to carry all your kit and/or enlist a support team, I thought it may be possible to get round Leeds on my own, with less gear and by picking supplies up en route. Generally, I don't really like running with weight on my back and faffing about with loads of stuff. The minimalism became increasingly obsessive – I got the whole route "in my head" so I wouldn't have to take maps; I thought I could get round in 14 hours of daylight so wouldn't need a head-torch; I located every shop/refreshment stop either directly on or close to the route. In the end, when I set out yesterday, I carried just phone, keys, debit card and running wallet in my pocket.
Having decided on buying food en route, I realised – if starting from home – I'd be better travelling anticlockwise. Otherwise I'd be left with a big section towards the end between Golden Acre and Barwick with no shops. It seemed to make more sense to cover this section when I was relatively fresh, and make the most of the more frequent shops of the southern half when I'd really need them.
Eventually, after all the planning, you just have to pick a day and give it a go. Ideally, I'd have a picked a slightly warmer day than yesterday, but the forecast ahead was for more bright and breezy days with temps in single figures. At least the wind had died down a bit, and no likelihood of that crazy hail we had on Tuesday.
So, a 10 minute walk from home at first light for a 6am departure from Swillington Bridge. It was bloody freezing – minus 3 – so it was hat, gloves and leggings. I did consider wearing my warmest running top, but was concerned about over-heating later in the day, so opted for a medium-warmth one. Light running jacket on top, and buff (doubling up as face-mask for shops).
I started out very cautiously, conscious of the distance ahead, but before long realised it was no good, I was going to have to speed up to get warm. I knew it was crazy to be running at this pace so early on but had no choice. At 9am I got to the A61 at Harewood and hit the first "wall" of the day. The stretch to Golden Acre became a slow hobble and I started wondering if it was sensible to go further.
The hour between Harewood and Golden Acre did have one advantage though. It meant I arrived at the Golden Acre café right on 10am – opening time – and after coffee and flapjack the world seemed a better place. Realised the best thing to do was just keep moving and see how things go. I got into a pretty good walking rhythm and just pressed gradually on. At midday – 6 hours in – I got to the psychological half-way mark of Apperley Bridge. On previous recces, I'd headed up to the station and got the train home from here, so it was good to be able to ignore that option this time and head into unknown territory.
Next stop was the McColl's store in Thornbury, where I was revived by a bottle of my latest favourite-thing – kefir, a probiotic yoghurt drink. Generally, my tummy's not been quite right since a course of antibiotics last year, but things seemed to be holding up today. Always a tricky balancing act on these longer ventures – getting the vital nutrition in without feeling sick (or suffering problems further down). The kefir enabled a brief jog down Pudsey Beck, but mainly it was still all walking. At least the temps had warmed up, and I prayed they would not dip back below freezing, necessitating the kind of running that I was increasingly incapable of.
The walk up Cockersdale was one of the best bits of the round. Some warm sunshine; a very pleasant wooded valley with a meandering beck; many families out with kids playing in the stream. Although there was still a long way to go, I realised I'd now come so far that I couldn't really back out now, and one way or another I was probably going to get round. Soon after, there was the bonus of the newly-opened garage by the roundabout in Gildersome, and I gratefully took the opportunity to "refuel".
Wish the positivity had continued….. but it turned out the next section was the toughest stretch of all. Well, I had been on my feet for 11 hours, temps were falling and still over 10 miles to go. Realised I would have to throw caution to the wind and hope the Tesco Express at East Ardsley would serve up some appetising options to stuff down my throat. At this point, if a taxi had pulled up I would have gladly got in it…. in reality it was a pack of cheese sandwiches, some Soreen slices, a banana and a whole carton of oat milk (!), consumed on a park bench in the freezing cold to the bemusement of a gang of local kids. I just sat there and waited for the grub to do the trick. When it didn't straight away, I hobbled off in the vain hope of getting warm and keeping stiffness at bay. Miraculously, a mile later, it all just kicked in and I ran for a couple of miles through Thorpe and into Robin Hood a much happier bunny.
I was very much on the home straight now – down trails I regularly run along from home. Managed to avoid the obvious temptation near Royd's School of just shortcutting a mile home…. rather than completing the last 3 miles of the LCW. Checking the watch it was getting pretty late now – half 7 – and the light was fading. Didn't really fancy a run in the dark at the end, so geared myself up for a final effort. Turning the corner onto the river at Mickletown, with just a mile left, really took the weight off my mind. That last mile was a breeze, and I was almost sprinting towards the end, as if the hours of discomfort previously had never happened. I arrived back at Swillington Bridge at 8.12pm, in the same murky light I'd set off in 14 hours 12 minutes earlier. The second half had taken me 2 hours longer than the first! The elation was slightly delayed by having to tackle the 10 minutes up the hill home….
Just a few reflections on how it all went. Somewhere near Scarcroft I bumped into fellow Strider Sara out on a walk – hadn't seen her since before COVID. It was very nice to say hello, albeit briefly, and I realised it gave me a real boost. Did make me think that although planning a solo venture is an interesting challenge, having company on the day could make it much more fun and help you get round.
Re my "lightweight" approach, obviously I got round, so to some extent it "worked". But perhaps I was a little fortunate that things largely fell into place. In the main, the refreshment stops came at the right time, and there were enough suitable food & drink options available. But no doubt things would have been more comfortable if I'd been able to refuel exactly when I needed to. Perhaps I should have taken a few snacks and used the refreshment stops as supplementary, rather than completely relying on them? Also, with kit, I was fortunate the temperature didn't drop more in the evening (or conversely, climb more in the afternoon). And I only just got back before it got dark. Again, it may have been handy carrying a few extra items, or having a support team alongside or at road crossings.
Generally, it's already feeling very satisfying to have achieved something so long in the planning. The full LCW is quite an adventure on our doorsteps in Leeds, and if anyone else wants to give it a go I'd be happy to offer any tips and support.
But no doubt it's a big physical and logistical challenge. I had to be pretty-single minded to get round, put the obvious discomforts to the back of my mind, and there wasn't much time for taking in the scenery, photos etc. Ideally, running should be as much about the doing as the achieving. Perhaps it's easy for me to say this, given that in 2019 I lived in the Lake District and spent much of the year scrambling up mountains, taking in the spectacular views from the top and launching into thrilling descents back down. Having now boxed-off the LCW, and after a year of being locked down in the city, I'm looking forward to getting back to fells more in 2021.
Notes:
Food & drink (all purchased en route at these refreshment stops):
• Barwick Stores – packet of flaked almonds, bottle of juice
• Golden Acre Café – coffee, flapjack, can of water
• McColl's, Thornbury – bottle of kefir, apple
• Spar Garage, Gildersome – bottle of juice, bottle of water
• Tesco Express, East Ardsley – pack of cheese sandwiches, 2 slices Soreen, 2 bananas, carton of oat milk, 3 extra strong mints.
Shoes:
• Inov-8 Roclite 290
Strava link:
• https://www.strava.com/activities/5086810944