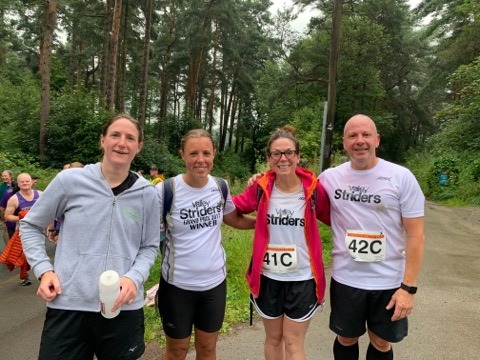 Conditions at Friday's Washburn Relays were very different to those at Golden Acre earlier in the week, but thankfully the torrential rain did ease slightly during the race. The race takes place around Swinsty and Fewston reservoirs and consists of 3 different legs (Leg 1 – 3.02 miles, Leg 2 – 4.01 miles and Leg 3 – 3.3 miles).
We had three teams in action; men's, ladies and mixed team. Our men's team (Jonathan Young, Matt Hallam & Daz Hibberd) got off to a fantastic start with Jonathan leading the race at the end of leg 1. The course record breaking Roundhay Runners team took the lead during leg 2 and Harrogate Harriers had a strong final leg runner who pushed our men's team into third place. It was still a great result with a number of strong teams taking part.
Our ladies team (Alex Watson-Usher, Myra Jones & Hannah Corne) finished runners up to Roundhay Runners in the ladies competition and were 29th overall. Alex's sat nav chose an interesting off road route to the start of the race but she recovered well and got the team off to a strong start, coming in as the 3rd placed ladies team. Myra was able to catch and overtake the Pudsey Pacers Ladies team and Hannah maintained a comfortable gap on the final leg, running exactly the same time as the Pudsey Pacer leg 3 runner.
For our mixed team, relay team regular Leila Kara was joined by relay debutants, Alison Eaves-Lai and Andy Mace. Leila got the team off to a great start, ensuring there were a few mixed teams for Alison and Andy to battle with on the final two legs. The handover between Alison and Andy was so efficient that it was missed by the race recorders! Andy brought the team home with an impressive sprint up the final hill, holding off a challenge from another mixed team from Kirkstall and securing 55th place overall.
Due to the less than ideal conditions and being under constant attack from hungry midges, it wasn't really the night for a full squad photo but pictured are the leg 2 and 3 runners for the ladies and mixed team.