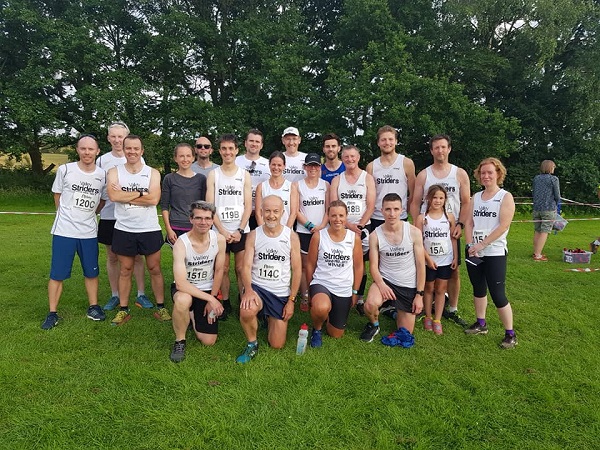 Nine Valley Striders teams took part in the first of two relays this week at the Golden Acre Senior relay on a warm and sunny Tuesday night. Valley Striders Dream Team (Matt Hallam, Andy Bennett and Jonathan Young) were the highest placed Valley Striders team on the night, finishing 3rd overall.
We had two junior teams producing very impressive performances in the senior race and both finished runners up in their categories. The mixed team of Tally, Jamie and Alfie were the second highest placed Valley Striders Team in 27th place and the junior girls (Annabel, Josie and Sofia) had a good battle with our oldest team – VS Supervets 180 (John Wallace, Tim Towler and Bob Jackson). Our junior girls finished in 96th place whilst our vets team narrowly missed out on a top 100 finish, in 103rd place.
An enthralling battle took place between four of our teams who all finished within a 2 minute window. There was plenty of switching of placings during the legs but a very strong final leg from Chris Walker moved VS 1 Star (Richard Adcock, Ian Sanderson and Chris) into 46th place. Also making it into the top 50 were the mixed team – A Lass, Smith and Jones (Samatha Harris, Paul Smith and Graham Jones). After a last minute change to the starting line up Valley Striders Z Listers (James Tarran, Sean Fitzgerald and Sean Cook) finished in 51st place and in 53rd place and runners up in the Ladies Vets competition were 5 Eyed Striders (Hannah Corne, Myra Jones and Liz Adams).
The award for our most randomly named team must go to Fells, Gels and Sausage rolls (Becky Murray, Richard Clough and Elaine Craiggs), finishing in 130th place. We're unable to confirm how many of the items included in their team name were consumed during the race.
Thanks to Kathy for the photo and for managing to get so many of us in the same place at the same time!