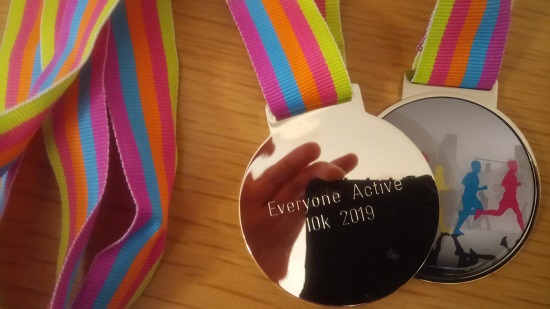 'Twas the Ninth of Joon and another year went by where I wasn't seen gannin' alang the Scotswood Road. Whilst the Blaydon Race proved the most popular race in North East England this weekend, I opted instead for a fast 10K in Redcar. The third in a series of six Coast Road races hosted by New Marske Harriers & A.C, the course was identical to its very popular sibling, the Mermaid 10K, which is a fast, flat course with PB potential held on Good Friday. However, as is the same with any coastal race, conditions on the day could either be spot on or be whipped away with any hint of a sea breeze.
Upon opening the car door, a monotonal 'hmm' said it all. The day was bright and warm, but an intermittent strong wind seemed to dash any hopes of a good time. Though, feeling on form, I decided to focus on the race itself and achieving a good position.
Numbers were picked up on the day from The Mermaid Stonehouse Pub and the start was a stone's throw from registration. A slightly bizarre start: located amongst the semi-detached houses on a quiet residential street, the chip timing strip was still being assembled at 10:00am. Runners were warming up and down the street, which was lined with parked cars. Swathes of colours representing clubs from South Durham, Middlesbrough and North Yorkshire were out in force. The race began at 10:15am and the first 2km was reminiscent of the VS Tuesday sessions in winter. At 1km, I passed the lady in front of me and became aware that I was holding onto the first lady's position. The course then followed the Coast Road out for another 3km, where at 5km I clocked 20:35, 5 seconds quicker than I was hoping for. Although a mainly out-and-back course, the course completed 2 laps of the Promenade at the furthest extent of the course. I snatched a glance at one of the corners to gauge how far second lady was behind – approximately 20 seconds or so. Reasonably confident I could hold her off for another 3km, I dug deep, knowing it was a straight stretch back along the Coast Road to the finish. Alas, my glance did not pick up on one lass from North York Moors, who passed me at exactly 8km with a teammate who was pushing her along. She comfortably passed and knew there was not much I could do. A quick glance over my shoulder with about 300m to go, I saw third closing the gap. I kicked, desperate not to give up second place, and finished 11 seconds ahead.
I finished in a time of 42:24, which I wasn't overly happy with, but a surprise second place – as opposed to the fifth-ish place I was expecting – made up for it, given that a strong cross-wind persisted, meaning runners never really received any respite or benefited from being pushed along in one direction. Unfortunately, due to problems with missing the courier the previous day, the organisers were still waiting on prizes, therefore no presentation took place. (Prizes are to be posted to respective winners.) The goody bag comprised a medal, bottle opener and a bottle of water, which is alright considering entries were £12.00 and the race was chip timed.
Following a natter with a few of the other finishers, I joined a friend in The Mermaid afterwards where many runners were already tucking into their Sunday roasts.
Results
Pos Name M/F Club Chip Time
1 Lewis Gamble-Thompson M New Marske Harriers 32:07
51 Catherine Mcshane F North York Moors 42:03
52 Rachel Bentley F Valley Striders A.C. 42:24
55 Caroline Teasdale F Crook & District A.C. 42:32
There were 214 finishers.