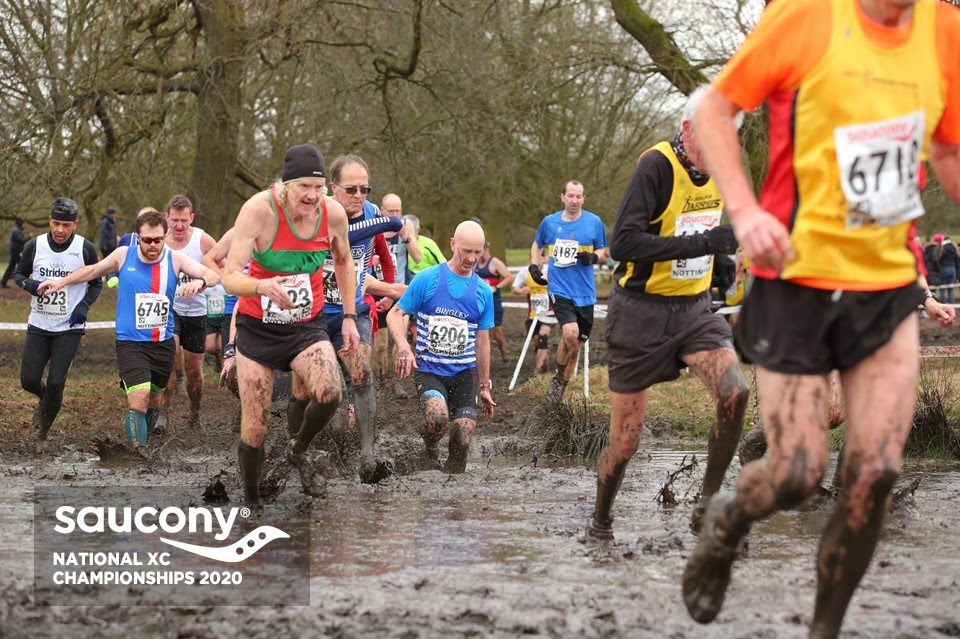 The highlight of the English cross country calendar is the Nationals. Last year the Nationals was in our back yard at Harewood house in Leeds but I could not run it because I was injured. This year, I was keen to run it and when Myra announced on Facebook that the club would pay the entry fee, I jumped at the opportunity.
Like all races, there is always a misplaced sense of optimism when I sign up for races and don't know what I'm getting myself into until after the race is over.
A few weeks before the Nationals we had storm Ciara and then storm Dennis which lashed the UK bringing havoc and destruction. I thought that the weather would get better after the storms but then checked the forecast the week before the race and found that Nottingham was going to be buffeted by strong winds of 40 miles per hour on the day of the XC. The gusts were predicted to ease up by 2pm as our Senior men's (SM) race was to start at 3:05pm.
On the Friday before the race, I was on facebook trying to sort out the logistics but found that due to injuries or other reasons many club members had dropped out of the Nationals. So finally it was only Jon Pownall, Gary Mann and myself in the Senior Men's race representing Valley Striders. Gary kindly offered me a lift and Jon was travelling earlier as Jenny was running the women's race.
It was only after I sat in Gary's car with my jacket on that I realised I had forgotten to apply any deodorant. So there I was sat in Gary's car sweating profusely and feeling absolutely mortified with myself. But Gary being a proper English gentleman did not mutter a word about my body odour or even wrinkle his nose once throughout the 80 odd mile journey – bless him.
During the car journey, we talked about races, running and training and more races, running and training all the way to Nottingham. As we were driving down, Jon messaged on Facebook that he had collected our numbers and timing chips.
Earlier in the day, I had read that the roads around the venue were jammed and it was taking an hour to get into the park and was worried that we would be late, but we were extremely lucky and got into the park without any delays.
At the park, I stood around and took in the surroundings. There were club runners everywhere I looked – many looking like racing whippets as they went about their warm ups. The mud underfoot felt soft and sloppy. I could see the spread of club tents which added colour to a somber grey skyline. The winds had died down as predicted.
I had brought my spikes and my fell shoes but during the journey Gary had convinced me to go with spikes.
My only worry was my spikes coming off in the middle of the race (which had happened in the Northern XC). But I had done some research on tying shoe laces and had learnt that using a heel lock lacing method helps in preventing a shoe from coming off.
So I did the loops of the last two lace holes and tied a heel lock on my shoes. I completed my warm up and then joined the massive throng of people towards the start line. There were around 1700 runners taking part in the Senior Men's Nationals. From the start line I could see the water which was pooled around 50 meters from the start line.
I stood at the start line and prayed that my shoes would not come off. I had seen videos of shoes coming off during the race and while it looks funny to the spectators, it is soul destroying for the runner.
I don't recall if there was a gun or a buzzer but in a chorus of beeps, we all set off like stampeding herd of wildebeest in the Masai Mara. The moment we reached the water there was a collective – "whoooooo" as everyone splashed through the water like toddlers enjoying running through a puddle. The ground was extremely soft.
I think the course may have been designed by a police interrogator – because it was designed for torture – small, medium, large and extra large laps of pure muddy torture.
The first lap was innocuous as there was a very small incline in it. But at the end of the first lap was the pond. The first time I came across the pond, I was excited and looked forward to wading across a muddy puddle. But when I went in and sank almost to my thighs, I felt sick. The smell was awful and the area after the pond was a proper quagmire.
I had started out with what I thought was a reasonable pace but I was already struggling within the first lap. My breathing was heavy, and I actually wished for my shoe to get stuck in the mud. Because if it did then it would give me an excuse to just stop and drop out of the race.
I knew that the course was long so I decided to pace myself (in other words, I just decided to run slowly). Not that I could run fast through the sludge. If ever someone mentions 'running through treacle', I know exactly how that feels.
The second lap takes you on a slightly longer circuit and then I came across the zone of the 'deathly sludge'. This was a small section packed with the stickiest and deepest mud possible. I came to a complete halt as I tried to navigate it. Each time my foot went in it made a 'chop' sound and then when I tried to pull it out it went 'glop'. The mud just grabbed your foot and refused to let go. I could see Stu (Roundhay runners) struggling through the section just in front of me. We must have looked like zombies caked in mud as we did this weird – put foot in and then try to pull it out dance while trying to balance ourselves.
After this section, I tried to overtake Stu by going to his left. I was not trying to avoid Stu but he talks a lot during races and usually I'm always at my limit when racing and can barely talk, so I thought, I will just try and slip away.
I thought I had gotten away when Stu shouted, 'Hi Dinesh, trying to get away.'
'No Stu,' I said heaving in a big breath. Someone then piped at Stu, 'we have earned our beer after this.'
'Huh. Sorry what,' said Stu. 'I said, we would have earned our beer after this,' repeated the runner. 'Ha ha, yes. In my last race, I had a beer mid race,' said Stu, his voice booming across the whole park. Suddenly Stu jumped and clapped his heels – he had spotted a photographer.
I wondered how he did it. Here I was just struggling to run and Stu was laughing, chatting, jumping and thoroughly enjoying himself.
On our next lap after again negotiating the sludge pit, we climbed up to the highest point of the course. I was slowly beginning to find my rhythm now and feeling a tiny bit of fun. Whilst my heart rate was still high, my breathing seemed to have settled itself and I was actually feeling ok with the world. My desire to inflict the utmost cruelty on the course designer was also ebbing away. It was as we were turning towards home on the large lap that the faster runners came through and began lapping us slower runners. I watched and marveled at the smoothness of the faster runners. I struggled through the mud, but these faster runners seemed to glide through it.
On the last lap, I tried to pick up the pace and began to pass a few people. It felt great but I also wondered if my initial pace was very slow. This is the thing about racing that bugs me. I'm never sure if I did give it my best or if I could have done anything differently. Every race, it is the same – Did I start too fast? Was I too slow in the middle bits? Did I leave anything in the tank?
As we came around to the finish, I tried to muster up a sprint but then was defeated by the sight of the deep muddy section right at the finish. I just 'chop', 'glop' and hobbled across the finish line and keeled over trying to catch my breath.
The positives from the race were that my shoe did not come off (so heel lock lacing worked) and I finished the race alive and in one piece.
After the race, I tried to remove my shoes but struggled to do it. It was difficult finding the laces through all the mud and gunk which had covered the shoe. Even after unlacing, the heel lock was so good that the shoe refused to come off. Somehow after a little bit of cursing and cajoling, I managed to remove the shoes and then walked painfully behind Gary to the car.
The moment we sat in the car, Gary said, 'wow! That mud stinks. Such an awful smell.'
I nodded my head – the smell was horrible.
Results
U15 boys
Jamie Walker – pos 219/364 – 00:20:16
Senior Women
Jihanna Bonilla-Allard – pos 201/911 – 00:41:54
Jenny Hall – pos 714/911 – 00:55:18
Senior Men
Jon Pownall – pos 481/1710 – 00:54:25
Gary Mann – pos 690/1710 – 00:57:43
Dinesh Kaulgud – pos 1523/1710 – 01:14:50