THIS POST IS NO LONGER CURRENT
A NEW POST "Junior Sessions at Leos 2021" will appear on the website soon
Tuesday Training Sessions are cancelled till further notice.
For information about this week's training from home session, please see this post Juniors Training From Home 2021
The following information is about the Covid-secure training sessions that we ran at Leos from June to December 2020.
Junior Sessions from Leos Spring 2021 – Rules, Dates, Sessions, Groups, Names
Training on Tuesday 5 January – names of leaders and runners are shown lower down this post.
But first, a CoVid announcement – IF we go into Tier 4, I believe we will still be able to continue our training sessions, BUT we will have to adhere strictly to the rules for Tier 4
We will practice the Tier 4 rules on 5 January. .
Absolutely no socialising before, during or after the sessions (other than in groups of 2)

Absolutely no inter-mixing of groups

Absolutely no touching of equipment (it is not feasible to sanitise 80 posts every 7 minutes)
Note to all leaders: Rather than handing you out a pack with a sheet for each activity (and it gradually getting wetter as the session progresses), instead I'll put an information sheet for each activity at the start of each activity. (but I will have some packs if you require one)
Booking for January is now open. If you've not filled in the January Survey and want to run on 12 January you must fill in the survey at the bottom of this post by Wednesday 6 January at 9pm.
Confirmation and booking process each week is as follows
I will publish groups and names (based on survey responses) by Friday noon

If you want a place you must confirm (via Facebook) by Monday 6pm (but preferably a lot earlier, PLEASE)

If you've confirmed your place but then need to cancel you can do so up to Monday 6pm with no penalty

I will publish the "final" list of groups and names late Monday evening

If you've confirmed your place but cancel after Monday 6pm you will have a lower priority for booking for the

following

week i.e. if your session is overbooked you won't get a place, but if a place then becomes free you will get it (although it may not be your preferred group)
If you've confirmed your place but cancel less than 30 minutes before the start of your session (or you just don't turn up), you won't get a place for the

following

week.
Cancellations should be by Facebook post or by text to my mobile if you're not on Facebook. Do not use email or Messenger to cancel.
General Information
This page contains the names of the junior members selected to attend each session and shows the group that they have been allocated to on that date and time.
Please email comments to [email protected]
On 23 June we had 3 groups (15 runners). For 30 June we added an extra group so had 20 runners. These 35 had been invited on the basis of number of training and competitions during lockdown. For 7 July we moved the session to 6:15pm and added an extra session at 5:30pm so we had 40 runners.
We then invited all members to fill in a survey/questionnaire regarding availability for for 14 and 21 July. We had 40 runners at each session; all who had filled in the survey got at least one of the two dates.
We then invited all members to fill in a second survey regarding 28 July and 4 and 11 August. We had 40 runners at each session; all who filled in the survey got at least two of the three dates (unless on holiday!).
The third survey was for 18 and 25 August and 1 September. We had 40 on 18 August. 25 August was cancelled.
On 1 September we had a trial with an extra session at 4:45pm, we also added an extra activity to give us a capacity of 75. This was successful.
During September/October we averaged 58 and the highest number was 66.
We will continue with this while the current government restrictions continue, but we will investigate the implications of larger groups as this means we don't need to be so precise in creating groups and is also a more friendly environment.
Attendance at sessions is strictly by invitation only.
Anyone not selected for a particular date should continue to train from home, these will continue to count for 25/50/100 training session medals
Coronavirus Restrictions and Implications
All our sessions comply with current restrictions and recommendations.
For our risk assessment click here
https://www.valleystriders.org.uk/wp-content/uploads/CoVid-risk-assessment-VS-juniors.docx
Just for your general information, here is the latest England Athletics guidance regarding training
https://www.englandathletics.org/athletics-and-running/news/guidance-update-step-2/
The main restriction that affects us is that a group is limited to a coach/leader and 5 athletes. If this rule changes, we will review our plans. NB any reduction in the 2 metre rule has no effect on our plans.
IT IS ABSOLUTELY ESSENTIAL THAT AT NO TIME DO ANY GROUPS EXCEED 6 PEOPLE. This of course refers to the session groups (1 leader + 5 athletes), but also applies to the meeting places and the spectator areas. We have introduced some extra rules to cover these other groups. We have also introduced a rule that ensures that the assistants are not considered as part of a group. We want to be sure that if anyone did a spot check of our sessions, they would see a number of groups of 6, not 30+ people engaged in a common activity.
The rules for team sports announced on 22 September didn't make any difference to our plans, NOR DID MOVING TO TIER 3, as coached junior sports are allowed in all tiers.
Meeting points and Activity Areas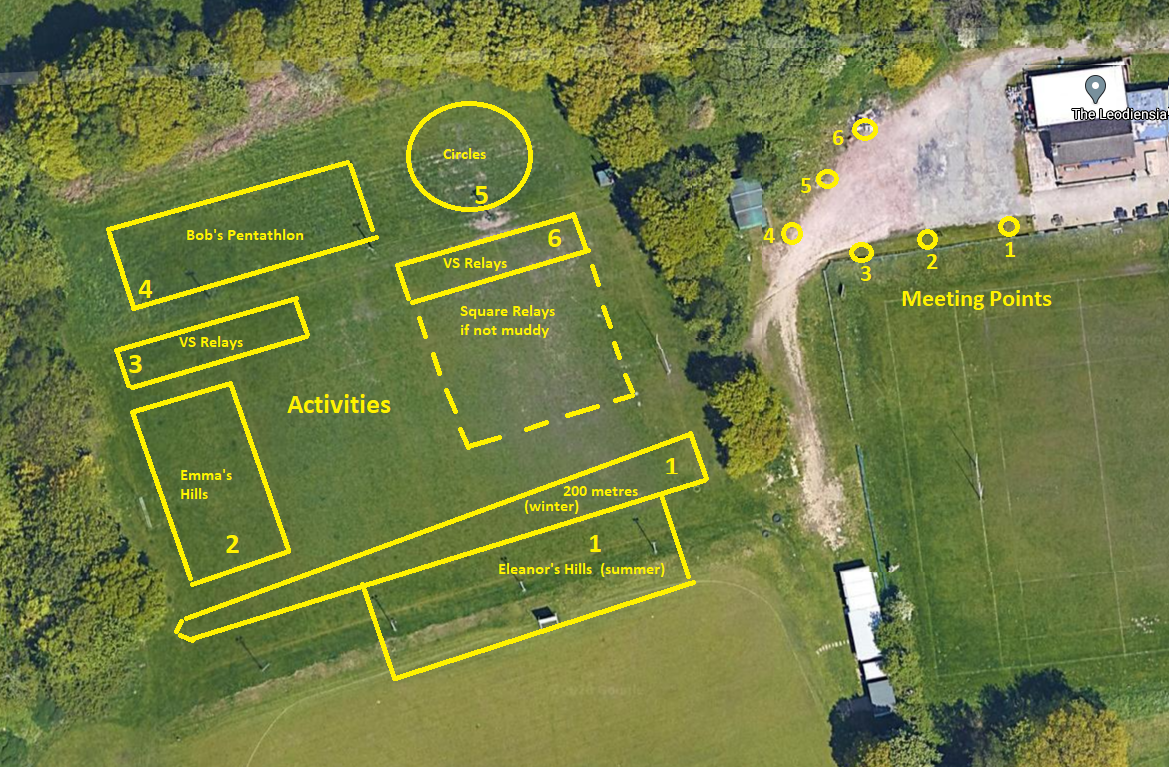 General information
Leaders (selected from a list of parents who have volunteered for this role) will be allocated to each group. A few assistants (also parents) will be allocated to specific activities for safety reasons and will be positioned about 3 metres away from the activity. Other parents should watch from the sidelines at least 5 metres from all activities.
Leaders should arrive early at the meeting point for their group.
Assistants will be nominated on the night and go to their activity.
Parents should take their children to their meeting point but (unless a leader) should then immediately leave their children otherwise the group-of-6 will be exceeded.
Parents can go to the viewing area behind the goalposts of the rugby pitch.
When the leader has their 5 junior runners, they should take their group to the first activity area and do warm-ups in this area (not using other areas of the rugby pitch or cricket pitch). NB for later sessions the leader must check that their activity area is clear of the earlier session runners before taking the group across.
Everyone should stay 2 metres apart at the meeting point and in the activity areas. Children will be told how this works for each activity before starting each activity.
No-one should touch any equipment – Bob will be solely responsible for this including collecting the equipment after the session. Anyone who touches equipment should wash their hands and/or use the sanitizer provided.
Richard and Bob will co-ordinate the session, allowing 10 minutes for the first activity (to include warm-up), 7 minutes for the middle three and 9 minutes for the last one (to include cool down). (this is based on 5 activityes)
All parents must remain on or by the rugby pitch while the sessions are going on. This is because the leaders and assistants are not allowed to come within 2 metres of any child (other than their own). So if contact is needed, be it to attend to an injury or to tie shoelaces, the parent must do this.
N.B. Toilets won't be open. If they are open and you use them, you must notify Bob or Richard so you are included in the Track & Trace sent in by Leos
Activities
The normal activities (and the activity area used) are listed below. They are all slightly modified versions of activities that we've done in the past in normal times. The diagrams also show the recommended position of the leader and the assistant.
One of the following depending on light and ground conditions
For each session, Group 1 will start with Activity 1 and then do each activity in turn, Group 2 start with Activity 2 etc
If there are 6 groups, then every group will do every activity, 6 minutes on each
If there are 5 or fewer groups, then activity 3 will be omitted, every group will do every activity, 7 minutes on each
If there are 4 or fewer groups, then activities 3 and 5 will be omitted, every group will do every activity, 8 minutes on each
Information for Leaders
Please could leaders arrive at least 5 minutes early (and preferably 10 minutes early) to assemble their group and give advice to newcomers.
It is essential that leaders arrive on time as we cannot make substitutions during the session without breaking the "group-of-6" limit..
The group leaders will be responsible for the assembly, warm-up, all four activities and cool down for the 5 children that are allocated to them (this is a big change from "normal" sessions, where everyone would meet together, everyone might warm up together and each leader is responsible for an activity not for a group).
The group leaders will also be responsible for two rules specific to CoVid – that the 2 metre rule is adhered to and that none of the group (including themselves) touch any stakes or any other equipment
Group leaders should have read the 5 activity diagrams prior to coming to familiarise themselves with the arrangements for each activity.
Information for Assistants
From 15 September we are trialling a new system for assistants.
If you look at the layout plan, you will see that the parents' area has been extended into the narrow practice pitch at the far end of Bob's pentathlon and that there is a new small parents' area at the far end of Eleanor's hills (the hills from the cricket pitch)
We are asking two parents to volunteer for these two areas and specifically look after the safety for activity 1 (Eleanor's hills or 200 metre sprints) and activity 4 (Bob's pentathlon) for the full duration of the session.
On Eleanor's Hills (the hills from the Cricket Pitch), stand near the third Up (this is just before the last floodlight post), watch that the children go round all posts (this ensures they go straight up and down the hills), watch that they go round all posts at the end so that the return route is well away from outbound, ask any interlopers (e.g. dog-walkers) to walk down the line of cones that marks the boundaries (not down the middle of the activity as one did at a previous session)
On 200 Metre Sprints, one parent at the far end to warn about slipping and ensure the athletes go round all the stakes at the far end; the other parent to do timekeeping for the sprints
On the Pentathlon, stand towards the top of the backwards running section to ensure the children head in the right direction and run safely; also observe the dips and sideways running
Also generally give encouragement!
Assistants must assist at a distance. They must not actively lead the session otherwise this compromises the group-of-6.
We will not be using Assistants on the other 3 activities
On the Circular Relays – observe the changeovers at 1->2, 2->3 and 3->4
On "Outer and Inner", the assistant should watch that everyone runs outside their line of cones. Also the assistant should watch the order of finishing to help if the leader is in doubt.
On the Hills on the Rugby pitch, ensure everyone turns when the first shouts "turn"
Information for Other Parents
It is essential that all parents are quickly accessible in case of need by their child, be it to help tie their shoelace, dress a cut or respond to a major injury. We do not have someone who has been delegated the responsibility as CoVid first aid (with full PPE) – we feel it unfair to ask a parent to do this when whatever needs doing can be done by the child's parent.
Other parents must watch from the sidelines. Please observe as we may call on you for help in future weeks!
In bad weather, parents may sit in their cars but if so must be in the west car park (between the club house and the rugby field), not in the main car park.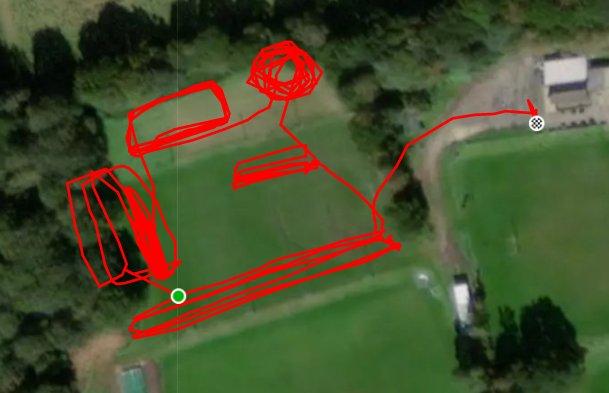 Tuesday 5 January
Note that there will be 3 sessions – 4:45, 5:30 and 6:15
Now that we have 6 activities and less of a space between them, it is essential that
the leader ensures that he/she and their athletes remain in the area of their activity and do not wander off for drinks etc

all other parents remain on the edge of the rugby pitch, or, if in their cars, their cars must be in the west car park (nearest to the junior activities) so we can find you easily in case of emergency

also, when meeting up near the clubhouse before the session starts, juniors must only go to the group they are allocated to, and parents must not go to any group unless they are to be a leader or assistant
Why?
Because with this organisation we are keeping within groups of 6. If subsequently one of the group shows signs of Coronavirus, we only need to consider isolation for that group of 6.

But if groups get bigger and/or intermingle, then if subsequently one one of a group shows signs of Coronavirus, then everyone involved in the session/timeslot (potentially 25 juniors and maybe 20 parents) will need to isolate.
Note that there are no assistants shown in the lists below. We have amended the system for assistants. Please read the section on Information for Assistants and please volunteer if you would like to do this
TUESDAY 5 JANUARY Afternoon 4:45 to 5:25
Warm up 4:45, Activity 1: 4:48, Activity 2: 4:55, Activity 3: 5:02, Activity 4: 5:09, Activity 5: 5:16, Cool: 5:23, Off: 5:25
TUESDAY 5 JANUARY Early evening 5:30 to 6:10
Warm up 5:30, Activity 1: 5:33, Activity 2: 5:40, Activity 3: 5:47, Activity 4: 5:54, Activity 5: 6:01, Cool: 6:08, Off: 6:10
TUESDAY 5 JANUARY Late evening 6:15 to 6:55
Warm up 6:15, Activity 1: 6:18, Activity 2: 6:25, Activity 3: 6:32, Activity 4: 6:39, Activity 5: 6:46, Cool: 6:53, Off: 6:55
Survey and to book for 5/12/19/26 January
If you've not filled in the January Survey and you want to attend on 12 January you must fill in the survey below by Wednesday 6 January 9pm.
which dates you are available?
which of the 3 timeslots (16:45, 17:30, 18:15) are feasible for you and which do you prefer
We now have 80 juniors who have taken part in at least one session since lockdown. If we can fill all 25 places on the "afternoon" timeslot then we can always fit nearly everyone in!.
if your child's surname is A to L, please click this link
https://www.surveymonkey.co.uk/r/GZ5DLNY
if your child's surname is M to Z, please click this link
https://www.surveymonkey.co.uk/r/BVFBD7C