Next Event – 20 to 28 March 2021
Since the first lockdown in March 2020, Valley Striders Juniors have taken part in 7 virtual events competing against other local junior clubs.
Details of the next event, organised by Leeds Athletics Network are now available. The race website is http://www.leedsathletics.net/Junior_Clubs_Virtual_Races.htm
Each junior runner needs to run for the same number of minutes as their age. They can run any time between Saturday 20 March and Sunday 28 March inclusive. They can run any route but it must be SAFE and must not be predominately downhill. They need to record the distance they've run and then you tell us the time and distance. You should email results to [email protected] or post on Facebook by Sunday 28 March 6pm at the latest.
If you don't have any way of recording distance, please look at the race website as it shows a way of doing this. It doesn't matter if they run over the time specified, just submit the time they ran and the distance they ran.
Please could all junior runners take part. Everyone counts towards the team results. The scoring system is such that two slow runners will score more than one fast runner.
There will be 10 junior clubs in Leeds taking part – Abbey Runners, Leeds City, Pudsey & Bramley, Rothwell Harriers, Otley AC, Skyrac AC, South Leeds Lakers, St Theresa's AC, Valley Striders and Wetherby Runners.
Having won none of the categories in the first 4 events, we won the younger and the older age groups at the most recent event in February 2021.
Everyone's score may be vital if we are to retain these trophies.
Please run! And please email results to [email protected] or post on Facebook by Sunday 28 March 6pm at the latest.
Previous Events
The first event, in May 2020, was based on an invitation/challenge from Pudsey & Bramley AC and Valley Striders accepted the challenge! The objective was to run as far as possible in 15 minutes. It was split into two categories, Striders won the primary school category and Pudsey & Bramley the secondary school category. https://www.valleystriders.org.uk/virtual-race-valley-striders-juniors-vs-pudsey-bramley-results/
The second event, also in May, was organised by the Peco Cross Country League to replace the Peco Relays which had been due to take place on 29 March (with a course organised by VS) but cancelled. Valley Striders had 6 teams (of 3 runners) taking part and our fastest team finished in 7th place. There were 33 teams in total, the other clubs being Abbey Runners (11 teams including 2nd place), Eccleshill (2 teams), Harrogate Harriers (7 teams including 1st and 3rd), Knaresborough Striders (2 teams) and Nidd Valley (5 teams). Details and results can be found here https://www.valleystriders.org.uk/juniors-training-2-june-virtual-race-6-7-june-peco-results-bingo-results/
Previous events – Leeds Junior Clubs
Five events have been organised by Leeds Athletics Network using a format based on that used for the first P&B vs VS event.  These events were opened up to all junior clubs in Leeds and all 10 clubs have taken part in at least one event, many in all five. 
The events in June, July and November 2020 and February 2021 were distance challenges. In June, July and November 2020, for primary school children the time limit was 10 minutes; for secondary school children the distance was 15 minutes. In February 2021 the runners ran the same number of minutes as their age. In August 2020 the event was an altitude challenge doing hill reps – how much height could be gained in 8 minutes for junior school, 12 minutes for secondary school.
Abbey Runners won the first 4 junior school events and Valley Striders the fifth.  In the secondary school events, Pudsey & Bramley won the first 3  distance events, Skyrac won the height event and Valley Striders the most recent event.  Valley Striders have also collected a number of 2nd, 3rd and 4th places.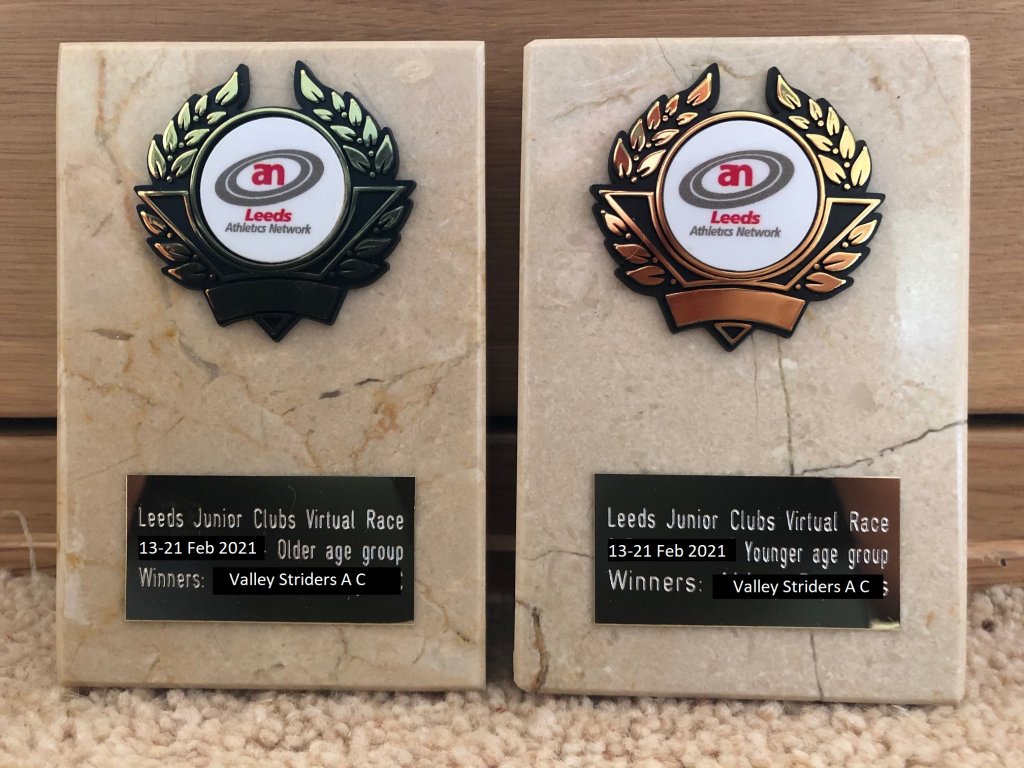 For detailed results of the five Leeds Athletics Network challenges, see http://www.leedsathletics.net/Junior_Clubs_Virtual_Races.htm