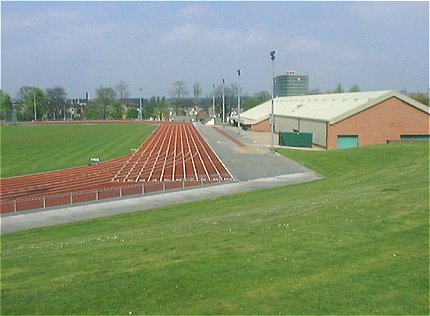 The sixth and final meeting of the West Yorkshire Track & Field League took place at the Spenborough Track on Sunday 28 July.  (The other venue used for these meetings, Wakefield, is pictured above).
Due to holidays there were only 2 Striders taking part, but there was low turnout from other clubs too with the outcome that Striders held on to their second place in division 2 and so are promoted to division 1 next year.
Relegated from division 1 were Leeds City (8th) and Rothwell Harriers (7th). Going up with the Striders are Holmfirth Harriers, and next year we will be competing against champions Wakefield, also Spenborough, Halifax, Longwood, Skyrac and Bingley.
The league tables can be found at http://www.wakefield-harriers.co.uk/wytfl/wyl19/wyl19cuteam.htm
The following represented the Striders in this year's league meetings : Tally Diamond (2 meetings), Alfie Jones (4), Leon Jones (2), Abigail Kingston (2), Holly Mackie (1), Rafferty Mirfin (3), Darcey Mollitt (2), James Preston (1), Sam Preston (2), Zak Reisman (3), Isaac Rose (2), Lily Sadler (2).
It is a condition of league entry that the clubs provide officials at the meetings. Thanks to Paul Furness and Tally Diamond for officiating at these meetings.
I'm pleased to announce that Paul Furness has now qualified as a Level 1 field judge and Tally Diamond, having attended a course in June, is well on her way to qualifying as a Level 1 track judge.
If anyone else is interested in assisting at track and field meetings, please contact me [email protected]