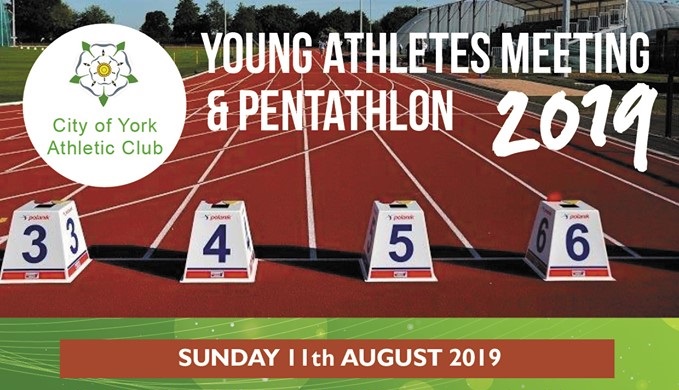 Valley Striders were well represented at the Young Athletes meeting hosted by City of York A C on Sunday 11 August.
Taking part were 6 new to track and field athletics and 6 of our more experienced athletes. There were also 2 very young runners.
Many of our athletes secured a podium place (or two). (There really was a podium!). There were also some sprints for under-9's where 3 of our athletes won lollipops.
The final events of the day were two heats of 4 by 100metres relay where 3 teams of V S runners successfully got the baton round. Which was better than the GB 4 by 400metres team competing the same day who had accidentally nominated a shot putter as one of the runners (he had a similar name to the person who should have run).
Thanks to Paul Furness and Tally Diamond for officiating and to Sarah Kingston for looking after the newcomers.
Everyone enjoyed the event and all the newcomers seemed keen to take part at another meeting.
The next events at York are on 1st September (minimum age 9) and 22nd September (minimum age 7, I think). Please contact me if interested email [email protected]
Full results at http://www.cityofyorkathleticclub.net/
V S Results
U11 F 75m
10 Sophia Leadbeater 13.30
16 Millie Leadbeater 14.70
U11 F 150m
9 Alannah Thornton 24.70
11 Abigail Kingston 24.90
16 Rebecca Kingston 27.80
U11 F 600m heat 1
2 Alannah Thornton 2:00.60
3 Abigail Kingston 2:04.00
U11 F 600m heat 2
3 Rebecca Kingston 2:21.30
6 Sophia Leadbeater 2:33.70
8 Millie Leadbeater 2:38.70
U11 F Long Jump
8 Alannah Thornton 3.40
11 Abigail Kingston 3.24
16 Sophia Leadbeater 2.71
20 Millie Leadbeater 2.29
21 Rebecca Kingston 2.20
U11 M 150m
4 Edward Nabozny 27.20
U11 M 600m
6 Aiden Thornton 2:30.80
U11 M 1000m
3 Edward Nabozny 3:45.80
U11 M Long Jump
11 Edward Nabozny 2.39
U13 M 200m
4 Rafferty Mirfin 30.20
7 William Nabozny 33.20
U13 M 800m
2 Rafferty Mirfin 2:31.30
4 Leon Jones 2:39.30
8 William Nabozny 2:51.30
U13 M High Jump
2 Leon Jones 1.27
U13 M Long Jump
6 Rafferty Mirfin 3.69
7 Leon Jones 3.61
9 William Nabozny 3.09
U15 M 300m
1 Alfie Jones 46.90
U15 M 800m
3 Alfie Jones 2:28.30
U15 M Long Jump
3 Alfie Jones 3.69
U9 60m "Lollipop Race" heat 1
1 Aidan Thornton
U9 60m "Lollipop Race" heat 4
2 Reggie Smith (3 years 10 months)
4 Ayla Thornton (2 years 11 months)
4 * 100m Relay heat 1
3 Alfie/Leon/Tally/Rafferty 1:00.60
4 * 100m Relay heat 2
6 Aiden/Rebecca/Abigail/Alannah 1:09.40
7 Millie/Edward/Sophia/William 1:11.10