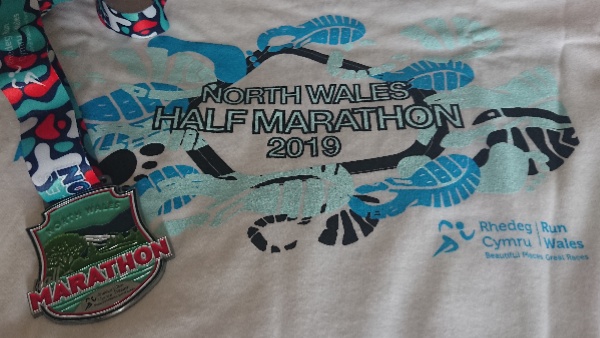 This tough half marathon was the second of two runs in Conwy for us this weekend, having taken part in the parkrun the previous day, where we coincidentally met fellow Strider Rob Marsh.
The race, organised by the excellent Run Wales, starts on the beach in Conwy, where we assembled just before 9am to the sound of the Beach Boys (get it?) on the PA system. The good vibrations didn't last long however as we set off trudging through ankle-deep sand and dodging pools of sea water for the first mile. This was followed by a good few miles of gentler terrain, following the cycle path between the beach and the busy A55 road.
At five miles in we turned to begin the day's ascent, gently to begin with before slowing to a walk up the steep Sychnant Pass road as we entered Snowdonia National Park. We went off road to reach the top of Conwy Mountain, where we were rewarded with great views over the castle and the previous day's parkrun course. A steep trail descent took us back into the town, before we retraced our steps along the beach to the finish, although the heavy sand prevented any sort of sprint finish.
We were both pleased with a second place finish in the race – Myra second lady, claiming additional race-branded kit for her efforts; and myself, second Strider…
Results:
30 Myra Jones 1:39:18
117 Sean Cook 1:57:24
365 finished.