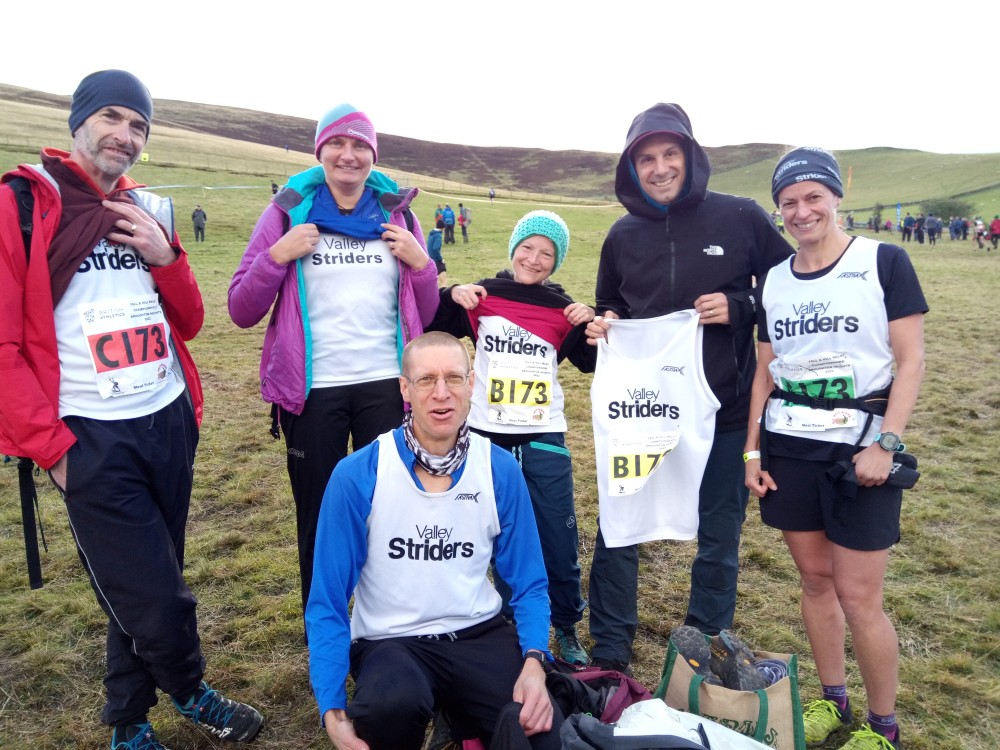 The British Fell Relays are one of the biggest events in the fellrunning calendar, attracting hundreds of teams across several categories from around the UK. While some of the bigger fellrunning clubs are able to field several teams, it's something of an achievement for clubs like Valley Striders to get one team on the start line and around the course. Particularly when the event is taking place 4 hours' drive from home! Nonetheless, on Saturday a team of 6 Striders gathered in the Scottish Borders and successfully completed the course in a very respectable position.
Following a call-out for interest, I'd entered a team into the Mixed category – 3 women + 3 men – and between us we'd tackle the 4 legs of the event – 2 solo, 2 paired. After a bit of reshuffling we were able to settle on our line-up – Liz Adams on Leg 1, husband & wife duo Dan Price & Alison Campbell on Leg 2, Simon Vallance & myself on Leg 3 and Kim Spence on Leg 4. Legs 1, 2 & 4 were set courses with route maps published in advance; Leg 3 was the navigation leg where you're handed a map shortly after the start and have to find your way round on the hoof.
The first task was simply the logistical challenge of getting all 6 of us to a remote start-line 200 miles from Leeds for an 11am start. Additionally, due to parking restrictions, the organisers were adamant that any car with less than 3 occupants would be turned away, so we had to arrive in 2 cars max. Liz, Simon & Kim decided to travel together the night before and book a glamping pod; Glasgow-based Dan & Alison were also nearby, and after much pondering I decided to drive up on the morning and rendezvous with them in Biggar, a few miles from the event. With some relief my 4.45am alarm went off and I was on the road in good time…. but then mist on the A65 and rain on the M6 slowed me down and I thought I would cause the whole house of cards to collapse before we'd even started! Fortunately, the weather cleared and I was able to put my foot down on the M74; with some relief all 6 of us met-up at the registration tent at 10.15 with time in hand.
Normally at a race you all start at the same time; not so at a Relay, and while 5 of us were busy catching up, commenting on the weather/scenery etc Liz was fretting about race number, pins, dibber etc and getting ready to run. We also had to work out where to dump our stuff. In previous years there'd been a massive marquee where you could find a corner to call base…. but this time the marquee was much smaller, although there were a number of club tents pitched up. After some banter/bribery with our near-neighbours North Leeds Fell Runners, they kindly let us have a corner of their tent (although this soon turned into a quagmire, so we found a dryer spot just outside; still, we appreciated the gesture).
Soon Liz was lining up with 180 other runners and off on the mass start for Leg 1, 7.8km with 550 metres of climb. The event field was in a natural bowl of hills and with the weather fine we were able to pick the runners out at various stages in this, nature's-own fellrunning stadium. In addition, this leg was a figure-of-8 so Liz got an extra cheer as she came through the event field halfway-round, and this also gave Dan & Alison a chance to pick a good moment to enter the start pen for Leg 2. Soon enough, we could see them handing-over in the distance. With Dan & Alison safely underway on their longer leg (11.2km, 890m), Simon and I had the chance to do a bit of "preparation" for Leg 3. The map-handout point was no great secret, so we were able to get up on the ridge and scope out the likely area. The clouds then started rolling in a bit, but fortunately Dan & Alison returned safely from the back of beyond in a sound time and it was still clear at the handover. This made the navigation quite straightforward, particularly as we could often see lines of runners in the distance. Saying that, it was still mentally taxing making sure we were on the right line, and if the mist had come down in this featureless terrain it would have been a whole different kettle of fish. Underfoot, things weren't too bad – a combination of grass and heather mainly (no rocks), maybe a little greasy in places. Overall, the leg turned out 10.8km with 725m of climb.
Indeed the first hint of rain came as we got back; to my relief Kim was waiting for us in the handover area, surely the penultimate piece of this crazy jigsaw? Simon and I went to investigate the free-meal option in the food tent, the floor of which now resembled no-man's-land. I tried to ignore the drum of rain on the canvas, trusting that a runner of Kim's experience would get round the 7.8km/520m leg OK. Sure enough, we soon spotted her coming down the final descent, making it look effortless, and dibbing for the final time. The relief of having all got successfully round that course, in an overall time of 5 hours 17 minutes. 17th place out of 31 Mixed teams, and 125th out of 181 overall. A great team effort!
It would have been nice to have soaked up the satisfaction for a while… in fact we got a soaking of a different kind as the elements finally swept in and we made a hasty retreat. Last challenge of the day – successfully exiting the car-park! I had plenty of time on the drive home though to savour the achievement, both the logistical one and the running one!
Thanks to the organisers at Carnethy Hill Runners for putting on a great event. Full results, photos, videos & maps can be linked to from their website: https://carnethy.com/carnethy-organised-races/british-fell-relays-2022/
Particular thanks though to our team members – Liz, Dan, Alison, Simon & Kim – for being where they needed to be at the right times, running well, dibbing successfully (!) and being great company. I hope you enjoyed it all as much as I did, and it would be great to hear your perspectives on the day (which may of course be slightly different from mine!). I hope this inspires us, and other Striders, towards more adventures like this in the future.
Some stats:
Leg 1 (7.8km, 550m of climb): Liz Adams – 1:01:51
Leg 2 (11.2km, 890m): Alison Campbell & Dan Price – 1:40:37
Leg 3 (nav leg, 10.8km, 725m): Simon Vallance & Dave Middlemas – 1:36:15
Leg 4 (7.8km, 520m): Kim Spence – 58:22
Total: (37.6km, 2685m): 5:17:05
1st overall: Dark Peak – 3:25
1st Mixed team: Edinburgh Uni – 3:53
(Thanks to Ross for the team photo. Many more photos & clips on the Striders Fell Facebook page).