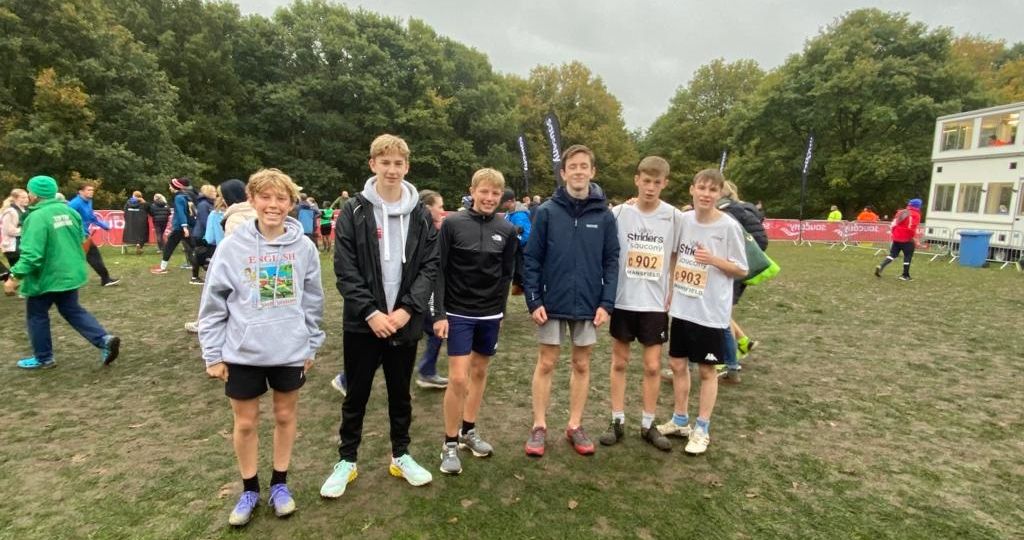 Two teams of Valley Striders under-15 boys had a very successful day out at Mansfield at the National Cross Country Relay Championships.
We had never entered a junior team before at this event (and I can't remember an adult team running recently), so the boys were venturing into new territory for themselves and the club.
Northern XC Relay at Sheffield
Two weeks previously the same two teams had competed in the Northern version of the same event, at  Sheffield, where they'd finished 15th and 20th out of 22 teams so weren't entirely new to the format. The results there were "A" team Joel Caleb 7:48, Conor Butterworth 8:15, Sam Redmond 7:41, "B" team Zak Reisman 8:37 William Caleb 8:37 Oliver Lubiecki 8:38.
Also at Sheffield, James Gostling and Simeon Tedd had taken part in the boys under-13 relay where, after 2 legs, they were 8th out of 29 teams but we didn't have a third runner.
Alex Gostling, our team manager, reported from the Northern event "The boys did really well in a strong head wind and a very hilly course. I think they all enjoyed themselves.  The B team had a tougher time of things but battled away to the end and did themselves proud."
National XC at Mansfield
Results were "A" team 43rd Sam 7.08, Conor 7.43, Joel 7.23.  "B" team 64th Oliver 7.35, Zak 7.46, William 7.59.  There were 95 teams taking part so quite an improvement from the Northerns.
Alex reported "They all ran really well and coped with the big step up in standard from the Northerns to the Nationals.  Fantastic experience for them and the rain held off."
Richard and I would like to say a "Big Thank You" to Alex for managing the teams at both events.
Now on to the Yorkshire XC Championships on 7 January at Lightwater Valley …  (this is open to school years 7 and above)