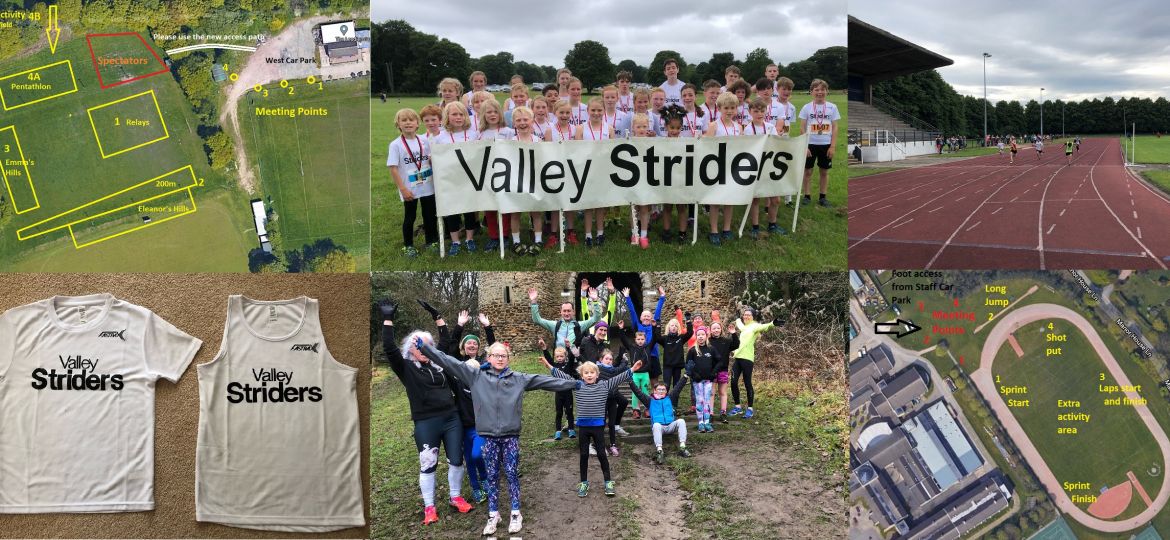 (if you want a "lighter" version, please click on this link for 10 Powerpoint slides https://www.valleystriders.org.uk/juniors-powerpoint-for-2022-agm/)
Membership
In last year's Annual Report, I said that between 1 September 2020 and 31 August 2021 our junior membership increased from 93 to 108.
During the rest of 2021 (to the end of our membership year) we recruited 21 new members who paid a small fee for the rest of the year, giving a total of 129.
From 1 January 2022 to 31 August  2022 (the end of the financial year), 32 resigned (a not unusual percentage), 3 transferred as "young adults" to the adult section, 94 renewed (including all but one of the 21 who joined in late 2021), and 36 joined, giving a total of 130, an increase of 22 members from a August 2021.
But although there has been a big increase in numbers, many have taken advantage of our more economical categories – the number of Limited Training (max. 10 sessions) members has increased by 15 and the number of Junior Social members (no training) has increased by 9, so the number of Full Members has actually decreased by 1.
During the year, 3 juniors have transferred their first claim allegiance, one each to Leeds City, Rothwell and City of York, but still remain second claim members with us.  We have 3 other second claim members, 2 with Leeds City and 1 with Skyrac. We know that we currently aren't able to offer more than one training session a week, nor experienced event coaches, nor regular higher level competition in the Youth Development Track & Field League.  So we have to be pleased that these athletes are ready to move on (but hopefully stay with us for local events such as Peco).
Our strength is to train a large number of juniors, improve their fitness and athletics skills, and offer them the opportunity to compete at whatever level suits them, from parkrun and Peco, through to West Yorkshire, Yorkshire, Northern and National Championships, also offering a wide breadth of athletics – road running, cross country and track & field.
Since 1 September 2022
As at 25 October, a further 9 have joined, so we are 10 ahead of December 2021 with 2 months still to go.
Training
Of the 52 Tuesdays between 1 September 2021 and 31 August 2022, we lost 3 training nights to weather (2 too wet and 1 too hot!) and 1 when the club went en masse to the Golden Acre Relays.  We trained 36 weeks at Leos and 12 at the Grammar School at Leeds (GSAL).
For the 48 weeks that we met to train, average attendance was 56 and the highest 85 – our all-time record.
All training counted towards attendance medals for 25 appearances (bronze), 50 (silver) and 100 (gold).  During the year, we presented 8 gold, 19 silver and 33 bronze to add to the 38 gold, 136 silver and 177 bronze since we started junior sessions in June 2012.  We passed 15,000 individual attendances in December 2021. That month we also presented an award to Felix Linley as our first junior member to reach 200 sessions.  There will be another award for 200 in December 2022.
At Leos we have continued with the 3 timeslots (4:45, 5:30 and 6:15) first introduced after in September 2020 to maximise capacity during Covid restrictions.  We have a maximum of 5 groups and 5 activities per timeslot and a maximum of 12 juniors per group. Typically 15 come at 4:45, 45 at 5:30 and 20 at 6:15.
At GSAL in the summer we had 2 timeslots (6:10 and 7:10), also with 5 groups.  4 of these groups did 4 activities – 80metres, 400metres, long jump and shot.  At 6:10 we had a 5th group of the youngest members and they did short sprints, relays, long jump and tennis ball throwing.  In the summer holidays the long jump pit was being refurbished so instead we did standing triple jump and became quite proficient.
We also had a track & field taster session at Beckett Park on a Friday evening in March when 9 juniors were in attendance to learn about competition conditions for track & field.
Since 1 September 2022
As at 25 October we've had 7 training dates and in 6 of these weeks we had over 70 attending.
At our final week at GSAL we all met at 6pm and had a sports day, competing in 80metres, 400metres, standing triple jump and shot.  We awarded trophies to those who we considered the best athlete in each gender /age group, gold medals to anyone who had won an event in their age group, and silver medals to everyone else.  81 attended the Sports Day.
Coaching and Leading
A huge "thank you" to all the parents who've helped over the last year. Prior to Covid, we used to have four groups turning up at 6pm and had four parents leading from a pool of 6 or 7 names .
Now we regularly have 9 or 10 groups, with 1 parent leading and usually 1 parent assisting each group.  It is marvellous that so many parents are actively involved and I'm sure that it doesn't happen to this extent at many other clubs.
During the year Alex Gostling and Richard Irvine have led the 6:15pm older group (mostly school years 8 and 9) several times away from the rest of the juniors, focusing on endurance and hoping many will compete in West Yorkshire League and higher in the winter cross-country season.
Development
3 of our juniors this year moved up to the Main Adult Tuesday Group or to the Intermediates Group.  This pathway is documented on the website.
Two who were in our junior group 3 years ago – Alfie Jones and Jamie Walker – are now running with the Elite Adult group, recording around 17mins for 5km, and still not yet 17.
Competition
From September 2021, the first main competition was the Peco Cross Country League of 5 races and one relay.  This was open to school years 2 and above. 77 of our junior members took part in least one race and average attendance was 41.  Imogen Burton won her age category and Bertie Bell was second in his.
In the Peco Relay we had 10 teams of 3.  Our boys year 9-11 team (which included 2 "young adults") of Conor, Alfie and Jamie were overall winners. In the Boys year 2-4 category, the winners were Arthur Venning, George Redmond and Bertie Bell.
Seven Striders – Bertie Bell, Imogen Burton, Alfie Jones, Oliver Lubiecki, Joseph Urquhart, Natalie Ward and Seb Watson – took part in all 6 events.
In the West Yorkshire XC League (year 5 and above), 14 junior Striders competed in at least one race.  There were 4 at the Yorkshire XC Championships at Rotherham and 2 at the Northern XC Championships at Pontefract.
In the summer, 15 of our junior members took part in at least one track & field meeting; on average they competed 2.8 times.  The main venue was Cleckheaton for the West Yorkshire League (7 meetings) and there were also several meetings at Wakefield and York.
33 junior Striders took part in the Eccup junior 1 and 2 mile races.  Isla Butterworth was first girl school years 2-6.
55 took part in the Golden Acre Relays (I know it isn't divisible by 3 – one team was Felix Linley, his dad and me).  Abigail Bottomley, Lucy Sheen and Imogen Burton won the girls year 2-4 category and Seth Steere, Samuel Keene and Bertie Bell won the boys year 2-4 category.
Since 1 September 2022,
9 have entered the West Yorkshire XC League and most have run at least one race. We had 2 teams of U15 boys and 1 team of U13 boys in the Northern XC Relays and 2 teams of U15 boys in the National XC Relays.  Two boys have run an indoor event at EIS Sheffield.
The first race in the Peco League is on 27 November and we hope for a large entry from our junior members.
Participation Awards
We have two awards, one for a boy, one for a girl, which we award every 6 months for participation in training and at events.  To qualify, members must have attended at least 13 training sessions and have taken part in at least 13 races (which may include parkruns) in the previous 6 months.
March 2020 to August 2021 (extended period due to lockdown lack of events) – Lars Hunter and Keira Sykes
September 2020 to March 2022 – Bertie Bell and Imogen Burton
Accounts Summary
Year end 31Aug 22
Year end 31Aug21
Explanation of change in 2022 from 2021
INCOME
Membership fees received
3910
3281
Increase in members
EXPENDITURE
Discounts – race fees paid by member in previous year
230
0
Eccup races and 3 Peco races in 2021
None in 2020
Leos hire of fields etc
2000
2000
GSAL hire of athletics track
346
211
Booked for 2 hours in 2022
Paid for 1 hour (but used 2) in 2021
England Athletics club affiliation
40
40
NB This is juniors share of club fee, not affiliation of individual members
Races paid for by the club in current year
203
123
Pecleystriders.org.uk/new/wp-ade Relays in both years
Awards – 25/50/100 medals, sports day trophies etc
228
92
Sports day trophies in 2022
Attendance medals in both years
Shirts and vests expenses
20
70
Building up stock in 2021
Miscellaneous
7
1
PROFIT
836
744
The above doesn't include anything where we collect money from the member and hand on the same money to the supplier e.g. England Athletics affiliation for individual members, race entry fees that are paid by members to us because we have to enter the teams as a club and payment for vests and T-shirts where we pay the supplier the same value
Compared with what we planned for in 2022
we had more members than planned so had greater income
costs for Leos, GSAL, race entries and awards were generally similar to planned
but we also planned to pay for coaching courses and these didn't happen
so we made a substantial profit
Forecast for 2023
I'm assuming that membership numbers will stay about the same next year and hopefully we will take up some coaching courses.  Even if we increase awards and pay for extra races, we should still be in (small) profit for the year.
Therefore I'm proposing that we make a reduction in the membership fees for 2023 for those who have been with us in 2022.
Membership Fees
Membership fees for the year 1 January to 31 December 2023 are proposed as follows
Junior full membership (weekly training) £40 (no change).

Reduced to £36 for those that were with us for the full year in 2022

Junior limited training (10 sessions or fewer) £20 (no change).

Reduced to £18 for those that were with us for the full year in 2022

Juniors school year 1 and below will also be charged £20 but with no limit on sessions – there are no races accepting this age group and we offer training sessions to them when spaces permit and when ground conditions are suitable (this was new in 2022)
Junior social membership (no training, no competition other than parkrun) £5 (no change)
Those juniors competing in West Yorkshire League and higher competition for which England Athletics affiliation is needed will pay an additional £19 to cover the EA and Northern Athletics affiliation fees. This money will be paid on to EA/NA. (Was £18 in 2022)
In addition, for those who were full or limited training members for all or part of 2022, we will refund their race fees for the last two Peco races of the 2021/22 season, for the Eccup junior races in 2022 and for the first two Peco races of the 2022/23 season in the form a discount when paying their membership fee.  This was part of the arrangement for 2022 – assuming there were sufficient funds – which there were.  There will a page on the website to say how much each person's discount will be.
A similar arrangement will apply for 2023, i.e. for juniors who are full or limited members in 2023, then when they renew for 2024 – if there are sufficient funds – they will  get the discount on the Peco, Eccup and possibly other races that they run in 2023.
Social
I'll just copy what I wrote last year … unfortunately nothing has changed.
A disadvantage of the 3 timeslots is that sometimes I feel we are three separate clubs in that those at any one timeslot have only met those in the other two at the Sports Day and at events.
I hope we can reintroduce hot food at Leos after training.  We would have to have 3 timeslots for this too, but actually this would make it more manageable for the catering staff – when we used to have just one session it uses to take a long time to serve a queue of 40.
Communication and Feedback
We have a Facebook Group for parents who have volunteered to lead groups.  This has already generated ideas for different activities.
https://www.facebook.com/groups/875346096745584/
I would welcome any other feedback for improvements – please email the [email protected] email address.
More Thank Yous
Thank you to head junior coach Richard – we frequently have chats in the evenings to plan what we're going to do next.  I look after the spreadsheets and Facebook while he looks after the coaching.
Also to Alex Gostling for developing training plans for the older juniors who train with us.
And to Paul Furness – who has travelled from Boroughbridge to support 10 sessions at GSAL this summer. Paul has also been a field events judge in the West Yorkshire T&F League for the last 4 years, enabling us to satisfy the condition of entry to the league that every club must provide 2 volunteers.
To Hannah Corne, our Junior Welfare Officer, with whom I've discussed some safety issues regarding dark evenings and car parking
And, finally, a huge thank you (again) to all the parents who have helped at the sessions on Tuesdays.
Bob