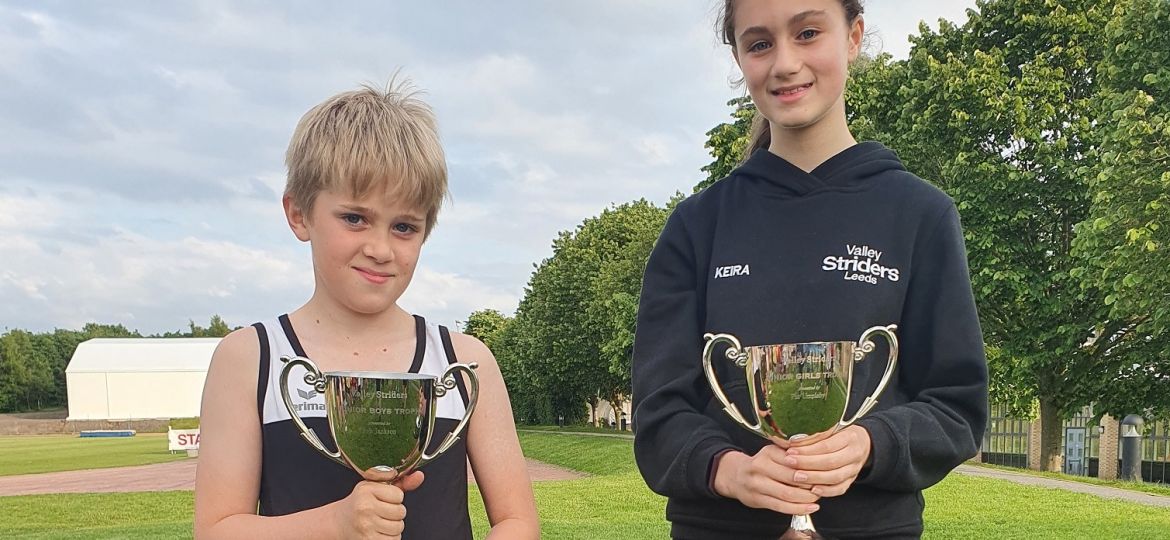 … awarded 14th June 2022
The objectives of our junior club are:
for the children to enjoy their running / athletics.
to help the children to improve via the training sessions
to give opportunities for the children to take part in running and athletics competition at a level that is suitable for them
In 2017 we introduced the Participation Awards to recognise those who come to training regularly and "race/compete" regularly. (NB I have to put the inverted commas as we include junior parkruns and adult parkruns in our list of competitive events and they aren't races). Also in the list of competitive events are Peco XC races, Peco XC relay, Pudsey and Eccup junior races and Golden Acre Relay. All of these events are suitable for all ages (6 and above) and all abilities.
We have a trophy for boys and a trophy for girls and these are awarded every 6 months – in March/April at the end of the cross-country season and in September/October at the end of the road running and track & field seasons.
To qualify for these trophies, junior members must have attended at least 13 training sessions and taken part in at least 13 competitive events (parkruns included!).
If there is more than one qualifier (which there usually is), then the awarding committee take into account the not only the number of attendances/events but also whether they are enthusiastic when training and whether they are taking part in a variety of competitive events (suitable for their ability).
To see all previous winners, click https://www.valleystriders.org.uk/juniors/awards/
The last time the trophies were awarded was in March 2020 just as we went into the first lockdown for Covid.
Since then we haven't had a 6 month period where we've had more than 13 races until the most recent 6 months (September 2021 to February 2022). We have decided who to award the trophies for this period but we'll be leaving you in suspense for a couple of months …
… because we would like to award the trophies for the "missing" 18 months from March 2020 to August 2021. During that time:
Of the 78 Tuesdays, we had 36 sessions at Leos, 10 at GSAL, and 10 training from home, 66 in total. We lost 8 due to lockdown and 4 due to weather. We've set a minimum of 30 training sessions to qualify.
When there were no competitions (which was the majority of the time) we competed in virtual events against other local junior clubs. There were 8 of these virtual competitions. We also had two internal virtual "competitions" – a treasure hunt and Strava Art. We've set a minimum of 5 virtual events to qualify
Parkrun ran for 3 weeks in March 2020 and junior parkrun restarted (but for under-11's only) in April 2021; parkrun for older runners did not restart till 24 July so there were only 6 weeks. There were also the Eccup Junior Races and Golden Acre junior relays in 2021. We've set a minimum of 5 "real" events to qualify
And the winners are … fanfare of trumpets … Lars Hunter and Keira Sykes