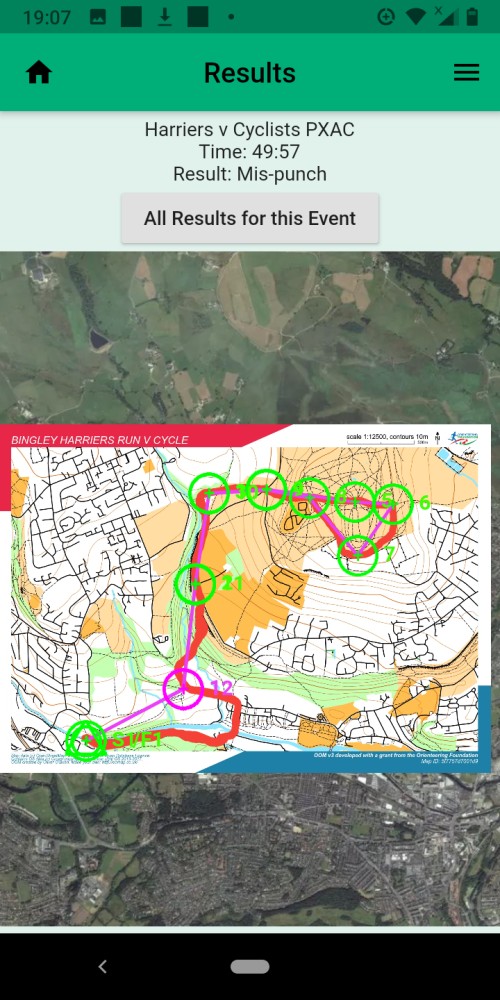 Last month I posted details of a race in the Lake District I competed in. Perhaps unsurprisingly, the window for such "official" races has closed again, and we are back to finding virtual alternatives.
Generally, I'm a bit of a luddite, uncomfortable with the faff of technology. But even I'm coming round to accepting it if we're to have any racing at all. The days of huddling together in some hall filling in registration forms, gathering for a mass start and congregating for handwritten results, cake & prizegiving after seem a long way off.
So this week I've been giving various routes using the MapRunF app a try. It's a free download used by Airienteers, our local orienteering club. But I've found it's adaptable to something more like conventional running, albeit with a navigational element.
Firstly, I used it to try a virtual equivalent of the Harriers v Cyclists race, organised by Bingley Harriers. Normally, runners and riders race together on an off-road circuit through the woods of Shipley Glen and over Baildon Moor. This year, you have the month of November to do it in your own time. Using the app, you select the Harriers v Cyclists event, and at the starting point on the canal click "Go to Start", at which point your phone beeps and you're underway. There are 12 checkpoints to visit, and the phone should beep every time you visit one. As it turned out, my phone didn't beep at one of them (in the woods). Nonetheless, I still managed to record a time and upload it to the results page (see above). I may give it another go later in the month as the riverside footpath was underwater! (I had to use the canal towpath instead).
Anyway, to my surprise I'd seemed to use the app successfully, and this encouraged me to give some of the other routes on there a try. Two off-road challenges caught my eye – the Permanent Orienteering Courses (POC) on Danefield and Ilkley Moor. Typically, in orienteering, you are presented with a map on the start line and have to navigate your way between points without prior knowledge. By comparison, the POCs allow you to recce the points (which on Danefield and Ilkley Moor are marked by numbered posts), and your routes in between them, in advance. This gives you the chance to put down a more competitive time on a separate occasion.
Danefield is a great place to run over winter, as the tree cover protects you from the wilder weather. Unfortunately, the trees also play havoc with the app, and I found I had to hang around at the checkpoints for a minute or more before the GPS found me and the phone beeped. So my run there felt more like a glorified interval session than a race! Saying that, it was still fun trying to locate the 17 posts and discovering new corners of Danefield not previously known. (And at least that probably explained the missed HvC checkpoint as well).
By comparison, I had more luck with the app on the open fell of Ilkley Moor. This time, the phone beeped on arrival at almost all the 26 checkpoints. If anything, it was preferable to use the app here, because 2 or 3 of the posts were either missing or obscured by vegetation (or I just failed to see them – perfectly likely!). After a week of wrestling with the app, it was satisfying to put down a time and, once again, discover new corners of a familiar place.
I'd recommend giving some of these routes and the app a go, particularly during this Lockdown period. As well as off-road options, there are a number of street-based urban ones closer to the city, such as Headingley, Cookridge and Bramhope. Details on the Airienteers website.