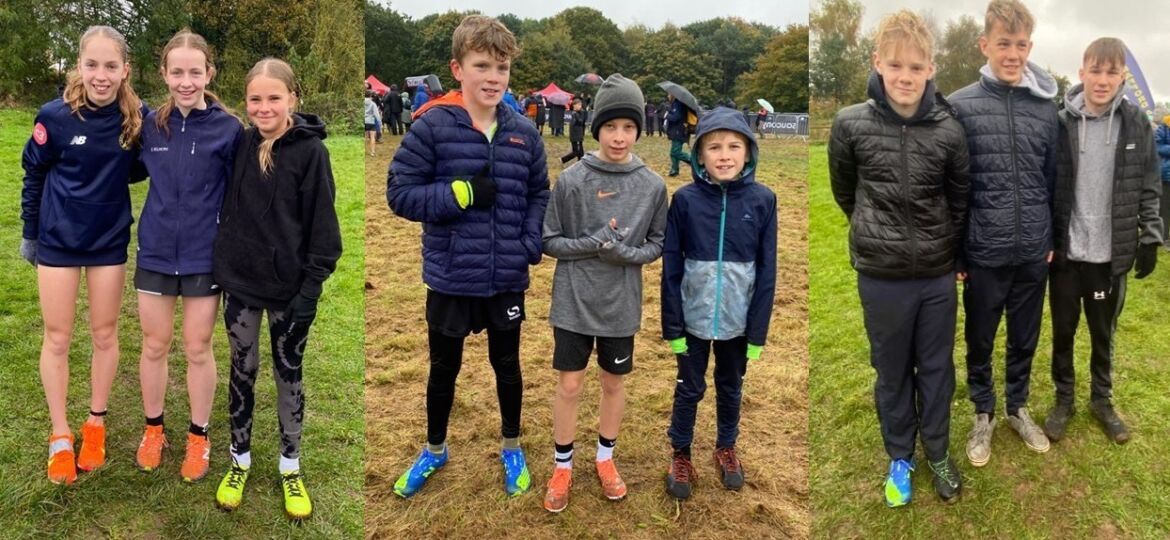 left to right – Ruth, Isla, Caitlyn, Harry W, Dan, Ewan, Simeon, Joel, Will
At Berry Hill Park, Mansfield, 4 November 2023
From Alex Gostling (juniors coach and team manager for the day)
I could not be any more proud of the children that raced today. They were all brilliant! The weather and underfoot conditions were awful and yet every one of them put in excellent personal performances.
Dan, Harry W and Caitlyn were making their debuts at a national events and more than held their own. Ewan raced despite having a heavy cold as he didn't want to let his team down, Will ran having only been asked to do it the day before, and Caitlyn was thrown in at the deep end in a strong girls U13 team. Ruth finished an amazing 2nd on 1st leg!
Well done and thank you to our 9 runners for great runs and thank you to all the parents that braved the truly miserable spectating conditions.
Results
Girls U13 each leg 2km. Ruth Friend 7:46, Isla Butterworth 8:27, Caitlyn Hartley 10:43 total time 26:58 finished 30th team (62 started, 51 had complete teams i.e. had 3 runners finishing). Winners were Aldershot Farnham & District 23:24.
Boys U13 each leg 2km. Dan Breedon 8:09, Harry Whittaker 8:32, Ewan Reid 8:34 total time 25:16 finished 42nd (63 started, 55 had complete teams). Winners were Bracknell AC 22:31.
Boys U15 each leg 2km. Simeon Tedd 7:56, Joel Caleb 7:45, William Caleb 8:23 total time 24:05 finished 51st (92 started, 77 had complete teams). Winners were Trafford AC 20:37.
There was also a V S senior men's team that finished 88th (177 started, 150 had complete teams). Winners were Cambridge & Coleridge AC.
Full results
https://results.sporthive.com/events/7126131311424531968
Full video of the event (boys U13 at 48mins into the video, girls U13 at 1hr11min includes nice picture of a big puddle at 1:18:48 immediately immediately followed by Ruth moving from 4th to 2nd, boys U15 at 2hr52min, senior men at 4hr00min, picture of stream at 4:02:25)
[Removed temporarily due to possible technical problems]