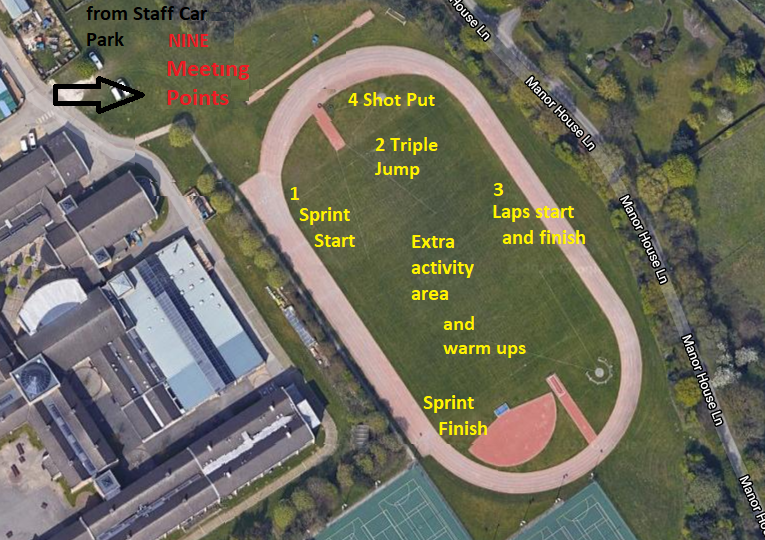 Yes, we're having a Sports Day (or to be more precise, a sports hour-and-a-bit) next Tuesday at GSAL
There are 86 booked in. Please could everyone arrive by 6pm (6:05 at the latest) so we can arrange helpers for every activity/event.
The warm-ups and practice for the youngest groups (up to and including school year 4) will start at 6:12pm; all groups will have started warm-ups by 6:24pm or earlier.
The youngest groups (up to and including school year 4) are planned to be finished by 7pm, everyone finished by 7:12pm.
There is a lot of information here, but first go to the final table on this page and check that your child /children is/are on the list to come and if not then email me straight away.
The final table also tells you which group each child is in. Then please read through the whole page as this explains how the meeting will work. We do need more activity assistants on all 3 events; also it would be good if all groups had assistant leaders. If you're able to volunteer for any of these vacancies please email me or post on Facebook.
(email address [email protected] )
Groups
I have by split by gender and school year and created 9 groups as follows.
| | | |
| --- | --- | --- |
| Group | No. athletes | Notes |
| BG0-2 | 12 | 6 boys, 6 girls |
| B3-4 | 10 | |
| G3-4 | 11 | |
| B5 | 8 | |
| B6 | 9 | |
| G5-6 | 8 | |
| B7-8 | 10 | |
| G7-8 | 8 | |
| BG9-11 | 12 | 8 boys, 4 girls |
NB The BG groups are mixed boys and girls
Events
There will be three events for everyone – 80m, 400m and Standing triple jump (standing long jump for year 2 and under). We've now added Shot Put for all groups ages 5 and above
This means that at any time,
3 groups are taking part in an event

for 80m – two heats per group (see "special notes")

for 400m – one heat per group

for triple jump – 12 in a row taking it in turns (probably two attempts)

3 groups can be preparing for their next event

for 80m – doing strides and sprint starts

for 400m – gentle jogging

for triple jump – doing some practice jumps

3 groups can do other activities (I'll set up some Adel-Alwoodley relays)
Timetable – summary for activity leaders
Planned
time
80m
400m
Triple
Shot
6:12
Warm-ups
all groups
Warm-ups
all groups
Warm-ups
all groups
6:18
BG0-2
B3-4
G3-4
6:21 B6
6:24
B5
BG9-11
G5-6
6:30
B7-8
B6
G7-8
6:33 B5
6:36
G3-4
BG0-2
B3-4
6:39 B7-8
6:42
G5-6
B5
BG9-11
6:48
G7-8
B7-8
B6
6:51 G5-6
6:54
B3-4
G3-4
BG0-2 (LongJ)
6:57 G7-8
7:00
BG9-11
G5-6
B5
7:06
B6
G7-8
B7-8
7:09 BG9-11
7:12
All groups
finished!
Special notes – 80m
Regarding 80m heats, if possible we will have all runners of the same gender and school year running in the same heat
If there are more than 8 of the same gender/schoolyear, then they will be split into two heats and the stopwatch used to determine overall positions. But if there is time, we will organise a run-off between the top 3 in each heat.
If there are 8 or 7 of the same gender/schoolyear, then we will have one heat but the starter and finish team will need to "negotiate" with the 400m event leader to ensure that there is not a 400m taking place while the inside lanes are used by 80m
Groups showing leaders, activities and times
| | | | | | | |
| --- | --- | --- | --- | --- | --- | --- |
| Group | Leader | Warm Up | First event | Second Event | Third Event | Shot |
| BG0-2 | Gemma Traviss-T | 6:12 | 6:18 – 80m | 6:36 – 400m | 6:54 – Long J | |
| B3-4 | John Keene | 6:12 | 6:18 – 400m | 6:36 – Triple J | 6:54 – 80m | |
| G3-4 | Paul Davies | 6:12 | 6:18 – Triple J | 6:36 – 80m | 6:54 – 400m | |
| B5 | Sophie Rugg | 6:18 or earlier | 6:24 – 80m | 6:42 – 400m | 7:00 – Triple J | 6:33 |
| BG9-11 | Alex Gostling | 6:18 or earlier | 6:24 – 400m | 6:42 – Triple J | 7:00 – 80m | 7:09 |
| G5-6 | Sarah Deak | 6:18 or earlier | 6:24 – Triple J | 6:42 -80m | 7:00 – 400m | 6:51 |
| B7-8 | Rachel Barton | 6:24 or earlier | 6:30 – 80m | 6:48 – 400m | 7:06 – Triple J | 6:39 |
| B6 | Alex Monaghan | 6:24 or earlier | 6:30 – 400m J | 6:48 – Triple J | 7:06 – 80m | 6:21 |
| G7-8 | | 6:24 or earlier | 6:30 – Triple | 6:48 – 80m | 7:06 – 400m | 6:57 |
Activity Teams
80m
Starter – Adam Nabozny
Starter's Assistant – TBA
Timekeeper – Steve Hunter + 1
Finish judges (keep in order at end of race) – TBA * 2
400m
Leader – Richard Irvine
Timekeeper – Tom Venning
Finish judges (keep in order at end of race) – TBA * 2
Triple J
Leader – Paul Furness
Take off and hop judges – TBA * 2
Landing judges – Jon Smith & Paul Furness
Measurement –   Jon Smith & Paul Furness
Shot
Leader – Jane Rollings
Landing Judge – TBA * 2
Groups / List of Names
Group
Gender/
school year
Name
80m heat
TJ sequence
BG0-2
B0
Hugo Traviss-Turner
1
1
BG0-2
B1
Rex Walmsley
1
2
BG0-2
B2
Fin Jones
1
3
BG0-2
B2
Kyle Reid
1
4
BG0-2
B2
Charlie Smith
1
5
BG0-2
B2
Jonah Steere
1
6
BG0-2
G0
Esther Yansaneh
2
7
BG0-2
G1
Charlotte Lyons
2
8
BG0-2
G2
Izzy Grosvenor
2
9
BG0-2
G2
Harriet Hirst-Sewell
2
10
BG0-2
G2
Tess Rudkin
2
11
BG0-2
G2
Ruby Wilson
2
12
B3-4
B3
Caleb Keene
1
1
B3-4
B3
Austin Lyons
1
2
B3-4
B4
Jenson Bennett
2
3
B3-4
B4
Thomas Deverill
2
4
B3-4
B4
Thomas Grosvenor
2
5
B3-4
B4
Samuel Keene
2
6
B3-4
B4
George Redmond
2
7
B3-4
B4
Henry Rollings
2
8
B3-4
B4
Arthur Venning
2
9
G3-4
G3
Alice Hirst-Sewell
1
1
G3-4
G4
Eve Barton
1
2
G3-4
G4
Abigail Bottomley
1
3
G3-4
G4
Evie Brown
1
4
G3-4
G4
Erin Davies
1
5
G3-4
G4
Emmy Deverill
1
6
G3-4
G4
Ruby Richardson
2
7
G3-4
G4
Bea Traviss-Turner
2
8
G3-4
G4
Lucy Walker
2
9
G3-4
G4
Dora Walmsley
2
10
G3-4
G4
Ezzie Yansaneh
2
11
B5
B5
Bertie Bell
1
1
B5
B5
Gabriel Burns
1
2
B5
B5
Benjamin Gostling
1
3
B5
B5
Freddie Jones
1
4
B5
B5
Owen Maghaireh
1
5
B5
B5
Isaac Rugg
1
6
B5
B5
Seth Steere
1
7
B5
B5
James Walker
1
8
B6
B6
Jacob Jones
1
1
B6
B6
Eaden Lyons
1
2
B6
B6
Søren Pailor
1
3
B6
B6
Harry Pick
1
4
B6
B6
Ewan Reid
1
5
B6
B6
Dillon Rollings
2
6
B6
B6
Edgar Traviss-Turner
2
7
B6
B6
Sammy Whitehouse
2
8
B6
B6
Zeekie Yansaneh
2
9
G5-6
G5
Imogen Burton
1
1
G5-6
G5
Chloe Deak
1
2
G5-6
G5
Lucy Sheen
1
3
G5-6
G5
Isabelle Watt
1
4
G5-6
G6
Grace Ball
2
5
G5-6
G6
Indi Banerjee
2
6
G5-6
G6
Jess Rollings
2
7
G5-6
G6
Matilda Walsh
2
8
B7-8
B7
Alfie Ball
1
1
B7-8
B7
Edward Nabozny
1
2
B7-8
B7
Thomas Sheen
1
3
B7-8
B7
Solomon Steere
1
4
B7-8
B7
Seb Watson
1
5
B7-8
B7
James Whittle
1
6
B7-8
B8
William Barton
2
7
B7-8
B8
James Gostling
2
8
B7-8
B8
Lars Hunter
2
9
B7-8
B8
Frankie Riley
2
10
B7-8
B8
Jamie Smith
2
11
G7-8
G7
Kirsten Brown
1
1
G7-8
G7
Isla Butterworth
1
2
G7-8
G7
Caitlyn Hartley
1
3
G7-8
G7
Lola Hill
1
4
G7-8
G7
Mary Venning
1
5
G7-8
G7
Maddie White
1
6
G7-8
G8
Alice Bonner
2
7
G7-8
G8
Natalie Ward
2
8
BG9-11
B9
Sam Redmond
1
1
BG9-11
B9
Joseph Urquhart
1
2
BG9-11
B9
Joseph Whitehouse
1
3
BG9-11
B10
Conor Butterworth
2
4
BG9-11
B10
Gus Cawcutt
2
5
BG9-11
B10
Reuben Herbert
2
6
BG9-11
B10
Felix Linley
2
7
BG9-11
B10
Zak Reisman
2
8
BG9-11
G9
Ella Jobson
3
9
BG9-11
G9
Kirsten Reid
3
10
BG9-11
G9
Keira Sykes
3
11
BG9-11
G10
Freya Hunter
3
12