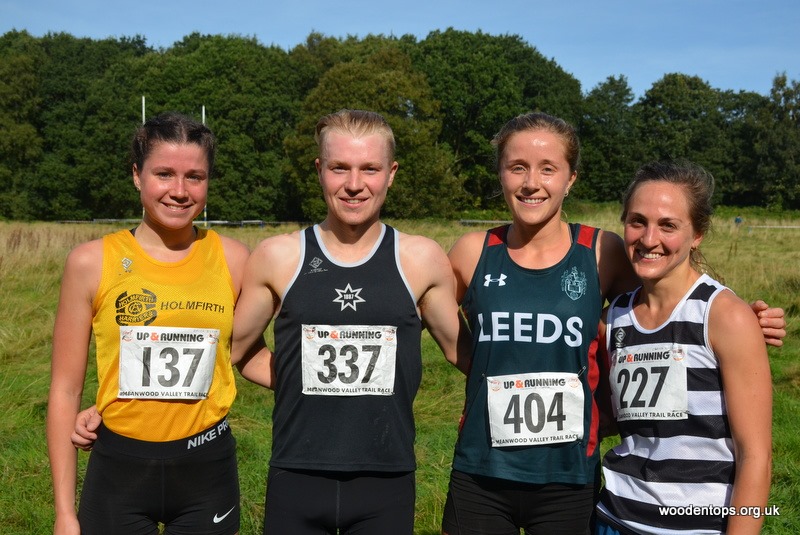 On Saturday we hosted the Meanwood Valley Trail Race. This is a 7 mile off road race starting at Leo's Rugby Club along the trails to Meanwood Park and back again, there are lots of technical rocky climbs to keep one entertained.
The weather treated us all well with little rain during the week and a beautiful sunny morning.
We thought the course record had been broken when Elliot Smales from Rotherham Harriers came flying over the finish line nearly 3 minutes in the lead in 41:41. Elliot was actually fourth fastest, the fastest is Harrogate Harriers Shaun Winstanley who completed the race in 41:30 in 2001. Beth Garland from University of Leeds was first lady in 48.50, the tenth fastest ladies time, with Lisa Mawer from Bingley Harriers holding the record from 2003 in 46:50.
Full results are here: https://racebest.com/results/69yfw
And a final thanks to Woodentops who kindly came along to take photos:
2019 Meanwood Valley Trail race – Winners & The Finish photos https://photos.app.goo.gl/FETct5xBBhY4QmUDA
2019 Meanwood Valley Trail race – Climbing Adel Crag photos https://photos.app.goo.gl/QWLj9jm2vEoi17eh9
2019 Meanwood Valley Trail race – Start, lap 1 & 2 of field photos https://photos.app.goo.gl/dESDkkvHSNebTucn7
2019 Meanwood Valley Trail race – Lap 1 of Field photos https://photos.app.goo.gl/NmcS9DKwDPeHMhS98