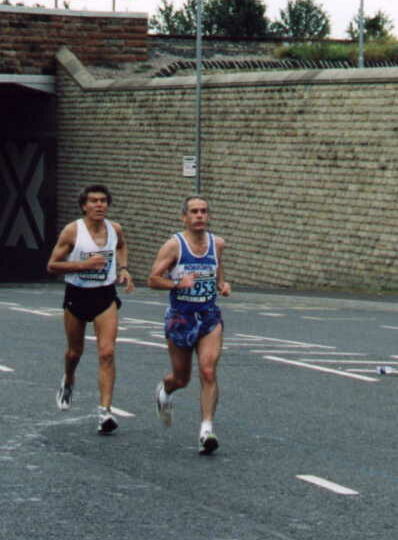 Sad news to report that Ken died of a heart attack on 26 April. He was 73.
He had had some recent illnesses but this was totally unexpected.
Ken was the youngest of 3 brothers and was brought up in Stockport. Ken and Kathy have 3 sons – Paul who has been a Valley Striders member and Neil and Matt who have guested at club handicaps occasionally. They have 5 grandchildren, 4 boys and 1 girl.
Ken and athletics
Many of you won't know Ken but, although never a first claim member, he had been involved with Valley Striders for a long time, most recently being our race adjudicator at the Meanwood Trail race last September.
Ken's wife, Kathy, joined Valley Striders in 1988. Ken was a member of Horsforth Harriers and, for childcare reasons, Kathy needed to join a different club, so she joined the V S Thursday group which had only just been started by Howard Jeffrey.
I used to see Ken at races and we were similar speed. Kathy was what we would now call intermediate but quickly got faster and was eventually faster than both of us, especially for a marathon. (Kathy's pb was 2:55, Ken's 2:57 and mine 2:59).
I have a story about how Ken, Kathy and I all finished first equal in a long distance trail race, but that is a long story and I'll put it elsewhere in this obituary.
Ken got into volunteering and officiating in the mid 1990s and became a qualified course measurer.
I remember when we designed the course for the Harewood 10 mile trail race in 2000, Ken rode the route on his bike with calibrated back wheel and I jogged alongside him (with Geoff and Sylvia too I think) – it was the most accurately measured trail race although we couldn't get a course measurement certificate for it.
Ken also measured the Abbey Dash route when it reverted to Headrow start and finish in 2017(?). It wasn't his fault that the course was short – the organisers had built the start gantry alongside the wrong lamppost.
Ken qualified to be course measurer for world athletics courses and measured many marathon courses around the UK including the new routes for the Rob Burrow Leeds Marathon and Half Marathon.
Ken was also a qualified race adjudicator – this is a quality control function – there is a checklist with about 50 items – and was race adjudicator many times for our Harewood Trail and Meanwood Trail races, including last year.
And he was also a qualified race referee, this involves judging the leading places in case of a close finish, checking athletes are in club colours, resolving disputes such as pushing or obstruction etc.
More recently, he and I officiated at several race walking meetings where I was a lap counter. For the British 35km championships at the Brownlee Centre he had measured the course (an exact 1km) and then during the race he was cycling round the route on his electric bike while the race was in progress – there were judges stationed around the course looking out for illegal "lifting" and leg action and Ken was picking up these "yellow cards" to notify the referee who would decide whether a time penalty or DQ was needed.
Ken gave up running several years ago but was still a keen leisure cyclist.
There were so many lovely comments to my post last week and I'm sure many of them triggered other memories for you.
Several of the comments came from those that joined the Striders via the Beginners Group that Ken and Kathy Kaiser started in 2011 and are still members of the club.
The beginners group trained on the main rugby pitch at Leos and several parents brought their children along who initially sat on the steps and watched, then we invited a few to join in, then I took them to a different end of the pitch to train separately. That was the start of the juniors group which now has over 100 members and a waiting list.
Ken's life outside athletics
Tony Haygarth mentioned that he was a keen golfer. (I remember they played regularly)
Paul Furness mentioned "chats about the different football teams we support". I don't think Paul can say the words "Man U". Ken was a season ticket holder at Old Trafford. (Kathy is a Huddersfield Town supporter so that was OK)
Ken was a folk music fan. Lynda and I saw Ken and Kathy at a Waterson-Carthy concert in the Speigeltent in Milliennium Square and a Kate Rusby concert at City Varieties. (I'm glad he was converted to Yorkshire folk music if not Yorkshire football).
I learnt at the funeral service of Ken (and Kathy's) love of walking in the Yorkshire Dales and Lake District. This had been inherited from Ken's dad who took the three boys walking. And there was a story from his oldest brother about the 3 boys going out on their own and being caught in a snowstorm, fortunately they found shelter otherwise his funeral might have been over 60 years ago.
Also at the funeral I heard of Ken's intense dislike of the words "fun runner" and "jogger" particularly as used by TV commentators.
And finally from there the fact that if you were looking for a partner in a pub quiz or trivial pursuit then Ken was first choice.
How Ken and I came first equal in a race
My final recollection is how Ken and I came first equal in a race. But feel free to skip over this long story to see what other Striders have said about Ken.
This was in 2002. I did write a report for "VS News" but this was a paper copy and is somewhere in the eaves of my garage so you'll just have to have what I still remember from 20 years ago.
Back in 1999, St Leonards Hospice charity in York negotiated to hold a running race on the Harewood Hill Climb motor circuit and asked clubs from Leeds whether they'd like to help. Valley Striders were the only club to volunteer and Geoff, Sylvia and myself were the race organising expertise (with Ken measuring). The following year we moved the race to Harewood Estate (Ken measuring again) and St Leonards managed it for 2 or 3 more years before handing it over for us to run on our own. (In 2001, the three Brownlee brothers all took age group first places in the 2 mile fun run but that's another story)
Another event that St Leonards Hospice promoted was the "St Leonards Way", a 20 mile long distance walk from Haworth that went out onto the Pennines past Top Withens and back via Hardcastle Crags. In 2002 they decided they would invite runners, so Geoff, Sylvia, Ken, Kathy, Madeleine Watson (Jerry Watson) and myself went across. We watched the walkers set off and waited for other runners to arrive as we were starting an hour later. There was only more runner.
I ran with Ken and Kathy as they knew many of the paths (parts of several fell races in the area). I don't remember whether Geoff, Sylvia and Madeleine were ahead or behind. We overtook most of the walkers between 5 and 10 miles, and the leading 2 walkers after 15 miles. Then with about 2 miles to go we met up with Madeleine (I think she caught us up) and we ran together for the rest of the way so all 4 of us finished first equal. Geoff and Sylvia finished about half an hour later having stopped for an ice cream in Oakworth and the other runner finished a little after them.
From other Striders
Keith Cluderay – So sorry to hear this. Ken & Kathy , both lovely people. Connie & I would like to send our condolences.
Steph Gledhill – I'm really sorry to hear this, Ken was a lovely and extremely helpful person, he will be terribly missed.
Liz Reddington – So sorry to hear this sad news. Thinking of you Kathy and all the family xx
Chloe Hudson – This is really sad. He was a lovely man. Best wishes to the family.
Paul White – Very sorry to hear the bad news, best wishes to Kathy and family at this sad time.
Grace Thomas – Such sad news. Sending love to Kathy and the family. X
Paul Furness – Bob, very sad news about Ken, he was a great guy. We had many chats about the different football teams we support. Thinking of Kathy & all their family.
Liz Ball – Very sorry to hear this sad news. Ken (and Kathy) were both very supportive when I joined VS in the early 90s. I recall running with (behind) them both, along with Geoff & Sylvia, many times. Condolences to Kathy and family.
Simon Vallance – Really sorry to hear this. Love and thoughts to Kathy Kaiser and the family.
Jerry Watson – One of the unsung heroes, who is at an event & you just don't see. His was a Key role at the race walks because race walking at the top level do laps of an exact distance. And if a record is set then the measurer needs to be there to certify. British womens 35k record set at Brownlee 2 years ago. Sad day.
Keith Cluderay replied to this "Jerry Watson Quite right. Running is not an exact science,but measuring the course is"
Sarah Shanks – Such sad news. Our thoughts are with the whole family xx
Helen Gill – I'm so sorry to hear this. Ken was such a lovely man and I have many happy memories of joining the beginners group in 2011 with Ken and Kathy as our leaders. Thinking of you Kathy Kaiser and all the family at this time xx
John Hussey – That is really sad news, he was a lovely man and kick started my running with VS-he will be sorely missed xx
Stella Cross – So sorry to read this. Heartfelt sympathy to all the family. xxx
Tracey Taylor – Such sad news . A lovely man . My thoughts are with you Kathy and all the family xx
Sarah Smith – I am so sorry to learn of this sad news, Ken was a friendly face when I joined VS and always welcoming and encouraging. Condolences to Kathy and the family
Richard Irvine – So sorry to hear this news and thinking of you at this time Kathy. Kathy and Ken were perhaps the original junior leaders – the first batch started in the beginners group prior to splitting off. Ken was such a lovely man. Sad news indeed.
Madeleine Illingworth – Such very sad news. I am sorry to hear this. My heart goes out to you and your family Kathy xx
Hayley Nancolas – Very sorry to hear this sad news. I send best wishes and condolences to you Kathy, Paul and family. Xx
Sue Sunderland – Very sorry to hear this sad news. Sending my condolences to Kathy, Paul and the family
Myra Jones – Very sorry to hear this news. Thinking of Kathy, Paul and family at this sad time.
Tahir Akhtar – Deepest sympathies to Ken's family and friends, I saw him last at TNT race at temple newsam, nice guy and a good friend.
Sarah Mann – So sad to read this. Ken and Kathy Kaiser's beginners group was my introduction to running – it was such an encouraging group. Ken was a lovely man. Huge love to Kathy, Paul and family xx
Pascale Fotherby – Sending love to Kathy, Paul and all the family. Kathy and Ken made our whole family so welcome when we moved to Leeds and first joined the club. They didn't even mind the boys (then 2 and 4) 'joining in' with the sessions and were really supportive of my running in particular. Ken was a lovely man. Xx
Simon Redshaw – Very sad news Indeed sending Kathy and Paul all my love and condolences at this difficult time.
Tony Haygarth – So very sorry to hear this. Over the years I have enjoyed many runs and games of golf with Ken. He was a determined competitor and a good lad. I will miss him.
Michael Tinker – Such sad news. Like Bob, I have had the pleasure of accompanying Ken on a Harewood Trail Race measuring "adventure". It was muddy that day and he only fell off his measuring bike once. (MIne just got clogged up with mud). Best wishes to Kathy and family.
Tim Towler – Such sad news. My thoughts are with Kathy, Paul and all the family.
Hannah Corne – So sad, sorry to hear this.
Eric Cusack – Very sorry to hear such bad news. I've many good memories of running and chatting with Ken. Condolences to Kathy and family.
Graham Jones – Shocked and saddened to hear this. Thinking of you, Kathy Kaiser, Paul and family.
Leila Kara – Sorry to hear this sad news. All my condolences to Kathy and family
Steve Webb – Very sorry to hear this news. Ken and Kathy were amongst the friendly VS members who welcomed me to the club when I joined. Over time I came to realise just how much work Ken did for grassroots athletics in the area. Heartfelt condolences to Kathy, Paul and their family.
Becky Murray – So sorry to hear this news. Ken was so supportive in the early days of the beginners group, and his and Kathy's Thursday runs introduced us to many parts of Leeds that we never knew existed! Our thoughts are with you Kathy, Paul and family xx
John Whalley – So sorry to hear that. I have good memories of Ken, particularly on the mid-week evening runs from Scott Hall. Our thoughts and prayers to Kathy, Paul and his family.
Alan Hutchinson – Kathy Kaiser Paul and family, I'm so sorry to hear this sad news. I have read it with the London Marathon on TV in the background which seems very fitting, and think of many of the good days running/racing and often seeing Ken. Our thoughts are with you xxx
Chris Glover (Kirkstall Harriers, organiser of Kirkstall 7) – We were very saddened to hear about Ken. We always found him to be a kind and generous man who gave up his time to support our club running events on many occasions. He will be greatly missed. Our condolences go to Kathy and the family."