The session we held at Grammar School At Leeds on Tuesday 7 September was the last session there this year as it is now too dark for our second timeslot that finishes at 8pm
Below are the details for that final session. We should be back there in late March or early April 2022.
There will be just one (large) session starting at 6pm.
This page now shows a link to a page which shows bookings for juniors on 7 September and allocation of parents to lead groups. You can find the link near the end of this page
Note that ALL parents will be allocated a job, so please read through the sections for Activity Leaders and Assistants. Please read all of this document, especially the introduction, before scanning down to find when you're coming and what you'll be doing.
This post also shows a link to a survey to request sessions for 4 weeks from 14 September. This link is at the bottom of this page.
Although we are now free of CoVid regulations, we still have a duty of care, this is why we are continuing with small(ish) groups and asking for everyone to take care.
CONFIRMATION and hopefully not cancellation
I will publish groups and names (based on survey responses) by Friday noon
If you want a place you must confirm (via Facebook) by Monday 6pm (but preferably by Sunday 10pm, PLEASE)
If you've confirmed your place but then need to cancel you can do so up to Monday 6pm with no penalty
I will publish the "final" list of groups and names late Monday evening
If you've confirmed your place but cancel after Monday 6pm you will have a lower priority for booking for the following week i.e. if your session is overbooked you won't get a place, but if a place then becomes free you will get it (although it may not be your preferred group)
If you've confirmed your place but cancel less than 30 minutes before the start of your session (or you just don't turn up), you won't get a place for the following week.
Cancellations should be by Facebook post or by text to my mobile if you're not on Facebook. Do not use email or Messenger to cancel.
IF there are circumstances that cause us to have to cancel the session, a message will be posted here by Tuesday 3pm to confirm or otherwise, If we can't use GSAL, we may go to Leos, with the same groups NB the 6:30 group would need to come to Leos at 6:15.
INTRODUCTION
Assuming we are at GSAL …
There are two timeslots – normally 6:10pm and 7:10pm but in GSAL school holidays (13/27 July and 10/24 August) at 5:30pm and 6:30pm
There are four groups each ideally with 10 junior athletes
There are 4 activities – sprinting, long jumping, laps and shot putting
The timetable allows for 10 minutes to meet and warm up, then 10 minutes on each activity
There are 8 parents who will be group leaders – they will collect their group together and be responsible for them being in the right place for the rest of the evening
There are 8 parents / volunteers who will be activity leaders – they will manage the activities
Most of the rest of the parents INCLUDING THOSE WHO SAID THEY WEREN'T ABLE TO HELP

are

listed to assist with the activities, e.g.

sprinting – starting, judging 1-2-3, timekeeping
long-jumping – marking landing point, raking the sand
laps – timing, running (including back-marker)
shot – safety
All those assisting will be briefed with what to do. None of it is technical (the most technical job is to recording 5 times on a phone) and no athletics ability is required except for some of those helping on laps
It is possible that someone from the GSAL staff will come and observe the session. It is therefore vital that you tell your children to always follow the instructions of their group leader and always stay within their group.
CONFIRMATION / CANCELLATION
You MUST confirm your booking either by comment on the Facebook post or email [email protected] before Monday 5pm (and preferably by Sunday evening)
If you have any queries, please comment on the Facebook post or email [email protected]
If you need to cancel, please comment on the Facebook post or text 07775 898 558 (don't use email)
GENERAL
The juniors plan to train at Grammar School at Leeds (GSAL) athletics track alternate Tuesday evenings from April to September 2021, starting Tuesday 6 April.
There will be two timeslots, normal timeslots are 6:10pm-7:05pm and 7:10pm-8:05pm but in GSAL school holidays (13/27 July and 10/24 August) these will be at 5:30pm-6:20pm and 6:30pm-7:20pm.
We will have 4 groups for each timeslot, with 10 junior members per group.
ACTIVITIES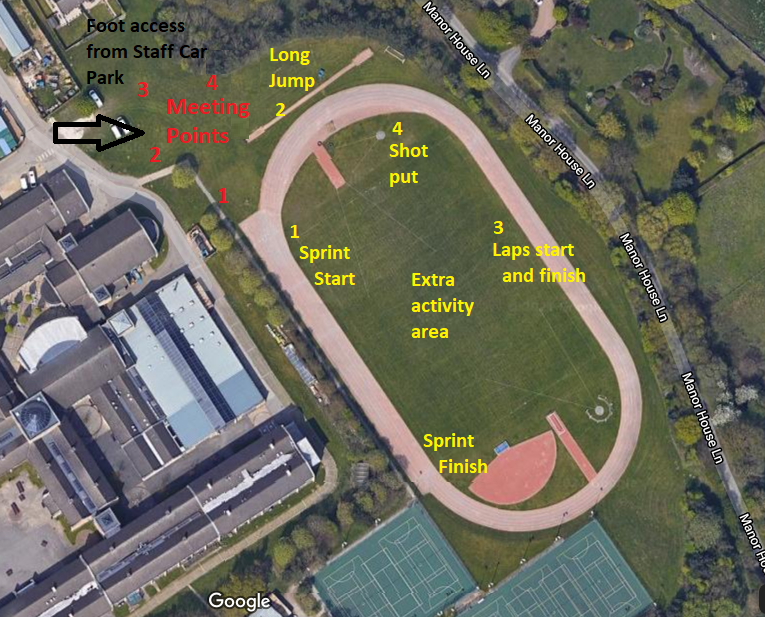 There will be 4 activities
Sprinting
Long jumping.
Endurance running (laps of the track)
Shot putting. Youngest children will "put" tennis balls, older children will "put" boules (each weighs about 800gm which is less than half the weight an 8 year old would use in competition) to practice technique.
We may do shuttle relays as an alternative to one of the above four
You can see videos of how to do long jumping and shot putting
Each group will spend 10 minutes on each activity.
We will have a group leader to look after each group (as we do at Leos), and they will receive the children at the designated meeting point when they arrive, move them between activities and be responsible for social distancing and safety.
We'll also have an activity leader to look after each activity for the whole timeslot and some activity assistants to help the leader
for the sprints, we'll have a starter (who will also be the leader), a false start judge, a timekeeper and finish line recorder.
for the long jump, we'll have a runway checker, a take-off judge (who will also be the leader), someone to record where the jumper landed and 2 rakers.
for the laps, a starter (who will also be the leader) and a timekeeper, also hopefully a couple of parents to run including one to be back-marker.
for the shot, a technique judge (who will also be the leader) and an assistant to look out for safety.
ARRIVAL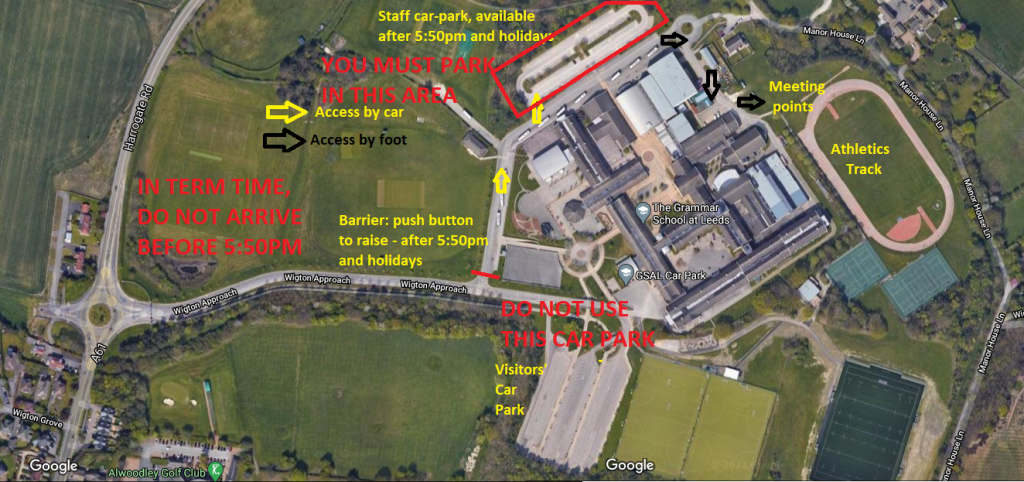 In school holidays (e.g. 10 August) you should arrive 10 minutes before your session timeslot is due to start. You must park in the Staff Car Park.
In term time you must not arrive on site before 5:50pm. In previous years you've been allowed to park in the visitors car park but under GSAL CoVid rules, those attending external activities are prohibited from site until 5:50pm.
For all sessions, you must park in the Staff Car Park.
From the roundabout on the A61, go down the main drive and turn left at the barrier. The barrier will go up automatically when you press the button. It won't go up before 5:50pm in term time (go away and come back later), but will go up at all times in the school holidays. If the barrier doesn't go up, press the buzzer.
NB don't try to tail gate after another car through the barrier. It comes down quickly. I saw someone try it a couple of years ago and it resulted in a damaged car and a damaged barrier,
Having parked, make your way to the track and find your meeting point.
Children must not warm up / play on the track, nor in the long jump area. They may warm up on the grass round the outside of the track but must obey social distancing while doing this (parent's responsibility)
SAFETY
For parents
Only park in the designated staff car park
Take care when walking from the car park to the athletics track, there is traffic e.g. buses turning round at the roundabout and maintenance vehicles near the track
On arrival at the meeting point, please leave your child with the group leader
Group leaders will remain with their group for the duration of the session. If they feel they need to wear masks they should do so
Activity leaders and assistants will remain with their activity for the duration of the session. If they feel they need to wear masks they should do so
Parents not allocated to a group or activity must stay by the side of the track while activities are taking place in case your child needs attention
Parents not allocated to a group or activity must stay at least 5 metres away from all activities unless requested to attend to their child and must practice social distancing and grouping according to current government rules
NB Dogs are not allowed anywhere on the GSAL site
For children
Obey social distancing at all times
Do not touch any equipment
Follow your group leader's instructions to move between activities
Follow your activity leaders' instructions when taking part in activities
Do not cross the track except when instructed to do so
Do not scuff the track or track markings (we want to keep it in best condition). A warning will be issued if this is done deliberately
Names for Tuesday 7 September
Click on the link in the box below
Survey to book for 14/21/28 Sept and 5 Oct
If you want to attend on 14 September (Leos) you must fill in the survey below by Wednesday 8 September 6pm. Even if you're not available on 14 September, please fill in the survey by 10 September, it helps me to have as many surveys as possible as soon as possible!
This survey covers 4 training sessions at Leos
which dates you are available?
which of the timeslots are feasible for you and which do you prefer
Our current capacity at Leos is 120 (3 sessions * 4 groups * 10 runners), but realistically smaller because fewer book on the earlier sessions
We currently have 80 junior members plus 20 on our waiting list. We expect that most weeks we will be able to accommodate all our members and also a few on the waiting list.
if your child's surname is A to M, please click this link
https://www.surveymonkey.co.uk/r/XPQHR7R
if your child's surname is N to Z, please click this link