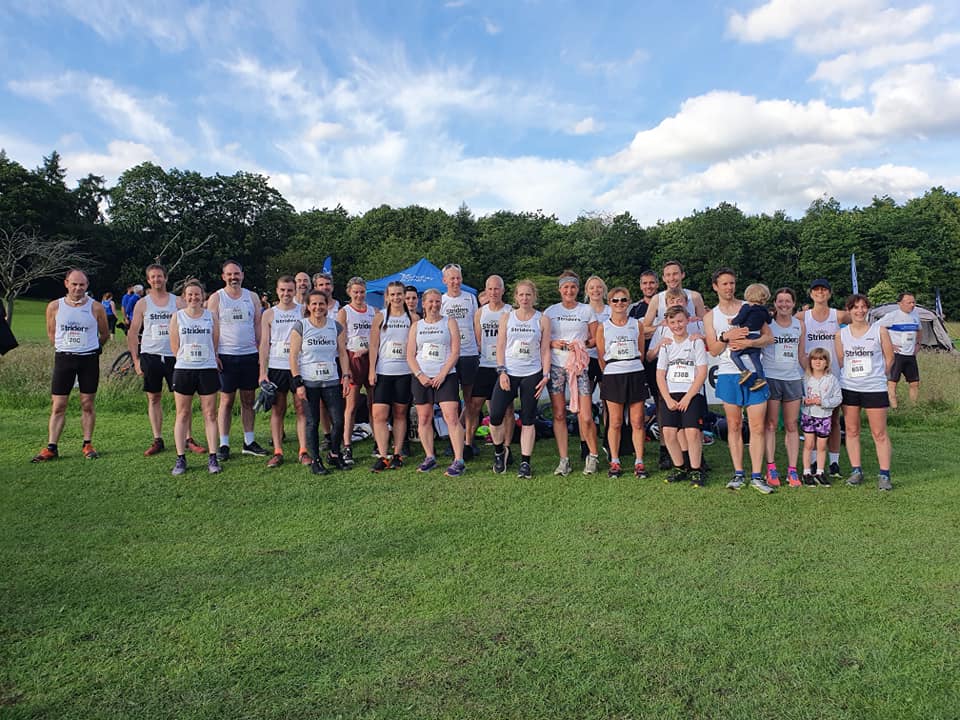 Tuesday 6th July 2021 witnessed the return of the ever-popular Golden Arce Park relay race. The evening began with the Junior Race at 18:30, followed by the Senior Race at 19:00. Both races comprised three legs over undulating trail: the juniors running 3 X 1 mile (approximately), and the seniors running 3 X 2.80 miles.
Valley Striders AC entered a total of 11 senior teams and 12 junior teams – the latter making up an astonishing 1/3 of the field!
The event provided the perfect opportunity for teams to run a competitive race, but equally a fantastic introduction to racing and relays for some of our newer members. Senior teams were organised amongst individuals, where a suite of brilliant and imaginative team names reflected in team performance that evening.
Well done to Dan Fisher, Gary Mann, and John Shanks (AKA FisherMann&Friend) for finishing in first place in the Male Vets category.
A complete set of Senior and Junior race results can be found on the Abbey Runners website: https://www.abbeyrunners.co.uk/races/golden-acre-relay/
| Leg | Individual overall position | Bib no. | Name | Team Name | Category | Time | Net time after leg | Position |
| --- | --- | --- | --- | --- | --- | --- | --- | --- |
| 1 | 23 | 11A | Daniel Fisher | FisherMann&Friend | Male Vets | 00:15:55 | 00:15:55 | 7 |
| 2 | 29 | 11B | Gary Mann | FisherMann&Friend | Male Vets | 00:16:11 | 00:32:06 | 7 |
| 3 | 19 | 11C | John Shanks | FisherMann&Friend | Male Vets | 00:15:51 | 00:47:57 | 7 |
| 1 | 91 | 45A | Simon Vallance | The Golden Achers | Male Vets | 00:17:44 | 00:17:44 | 14 |
| 2 | 48 | 45B | Tim Straughan | The Golden Achers | Male Vets | 00:16:52 | 00:34:36 | 14 |
| 3 | 52 | 45C | James Tarran | The Golden Achers | Male Vets | 00:16:58 | 00:51:34 | 14 |
| 1 | 95 | 40A | Sarah Shanks | McVittie Biscuit Trio | Female Open | 00:17:51 | 00:17:51 | 30 |
| 2 | 76 | 40B | Samantha Harris | McVittie Biscuit Trio | Female Open | 00:17:30 | 00:35:21 | 30 |
| 3 | 104 | 40C | Hannah Mcvittie | McVittie Biscuit Trio | Female Open | 00:18:07 | 00:53:28 | 30 |
| 1 | 132 | 38A | Richard Adcock | Not Last To Enter | Male Open | 00:18:53 | 00:18:53 | 36 |
| 2 | 31 | 38B | Sam Storey | Not Last To Enter | Male Open | 00:16:14 | 00:35:07 | 36 |
| 3 | 149 | 38C | Ian Sanderson | Not Last To Enter | Male Open | 00:19:16 | 00:54:23 | 36 |
| 1 | 88 | 20A | Paul Fotherby | VS: Run For Fun | Male Open | 00:17:43 | 00:17:43 | 38 |
| 2 | 164 | 20B | Sean Fitzgerald | VS: Run For Fun | Male Open | 00:19:37 | 00:37:20 | 38 |
| 3 | 93 | 20C | Vernon Long | VS: Run For Fun | Male Open | 00:17:46 | 00:55:06 | 38 |
| 1 | 203 | 51A | Stuart Wiggans | We Showed Up | Mixed | 00:20:18 | 00:20:18 | 51 |
| 2 | 125 | 51B | Rachel Bentley | We Showed Up | Mixed | 00:18:40 | 00:38:58 | 51 |
| 3 | 159 | 51C | Amelia Laxton | We Showed Up | Mixed | 00:19:24 | 00:58:22 | 51 |
| 1 | 156 | 44A | Laura Duffield | Valley Stravas | Female Open | 00:19:20 | 00:19:20 | 61 |
| 2 | 207 | 44B | Pip Trevorrow | Valley Stravas | Female Open | 00:20:19 | 00:39:39 | 61 |
| 3 | 193 | 44C | Rachel Davidson | Valley Stravas | Female Open | 00:20:07 | 00:59:46 | 61 |
| 1 | 197 | 46A | Sean Cook | Calder Valley Striders | Male Vets | 00:20:12 | 00:20:12 | 67 |
| 2 | 229 | 46B | Ian Lenihan | Calder Valley Striders | Male Vets | 00:20:50 | 00:41:02 | 67 |
| 3 | 209 | 46C | Sean Cook | Calder Valley Striders | Male Vets | 00:20:20 | 01:01:22 | 67 |
| 1 | 211 | 65A | Chloe Hudson | Valley Puddings | Female Vets | 00:20:25 | 00:20:25 | 70 |
| 2 | 192 | 65B | Stephanie Gledhill | Valley Puddings | Female Vets | 00:20:06 | 00:40:31 | 70 |
| 3 | 243 | 65C | Sue Sunderland | Valley Puddings | Female Vets | 00:21:17 | 01:01:48 | 70 |
| 1 | 314 | 41A | Rebecca Segal | Happy Valley | Female Open | 00:23:41 | 00:23:41 | 84 |
| 2 | 217 | 41B | Kinga Bugajska | Happy Valley | Female Open | 00:20:34 | 00:44:15 | 84 |
| 3 | 226 | 41C | Alex Watson-Usher | Happy Valley | Female Open | 00:20:47 | 01:05:02 | 84 |
| 1 | 306 | 119A | Leila Kara | Norfolk & Chance | Mixed | 00:23:18 | 00:23:18 | 98 |
| 2 | 172 | 119B | Andy Wicks | Norfolk & Chance | Mixed | 00:19:43 | 00:43:01 | 98 |
| 3 | 351 | 119C | Bob Jackson | Norfolk & Chance | Mixed | 00:25:25 | 01:08:26 | 98 |