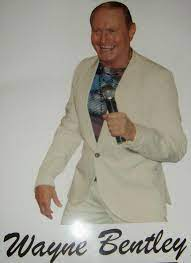 From Steve O'Callaghan
It is with great sadness that I discovered the death of a great friend of mine and ex-Valley Strider Wayne Bentley who passed away on Friday 17th September 2021 aged 74 years.  I found this information on the internet when I looked him up to see if he was still singing in the Oldham area as I was planning to travel to watch him perform with covid restrictions being lifted. Unbeknown to me Wayne has suffered with a long illness which I believe was prostate cancer.
Wayne had been a member of Valley Striders in the 1980's and 90's but moved away from Leeds to the Oldham area due to his profession as a singer. He originated from Swansea in Wales but moved to Leeds due to his theatrical agent being based here and most of his work coming from the working men's clubs in this area. He was a full-time professional singer all his life right up to around the time of his death. With the demise of the working men's club scene and live backing music Wayne had to re-invent himself with his own backing music which found him work in the pubs in and around the Oldham area to where he eventually had to re-locate.
Wayne was a formidable character with the heart of a lion and he was a well-respected member of Valley Striders with a half marathon time of 1hr 18mins and a marathon time of around 2hrs 50mins.
Myself and other running club members watched him perform on numerous occasions including once on a Striders Social evening and both as a runner and a singer he always gave his best performance.
Amongst his professional friends were the group Brotherhood of Man (Eurovision winners in 1976) and Bonnie Tyler. His death and his singing career were well reported in the Manchester Evening News and the Oldham Evening Chronicle. 
God Bless You Wayne – Legend
From Keith Cluderay
A really determined runner and a very good singer, saw him perform many times.
A sad loss .
From Tony Haygarth
Saddened to hear about the death of Wayne Bentley. He was a larger than life character who turned every training session into a battle, even keeping a notebook which contained the names of the "victims" he intended beating both in racing and training. He was also a talented singer who managed to make a good living out of a difficult profession.
He put his heart and soul into everything.

From Tim Towler
Very true Tony, there was never a dull moment spent with Wayne. A lovely man. RIP

From Eric Cusack
Always sad to hear about someone that you shared blood sweat tears and laughter with passing away.

From Paul Furness
Very sad news to hear of the passing of Wayne, he was a great guy. I went to several of his concerts, he was a talented singer. RIP Wayne.