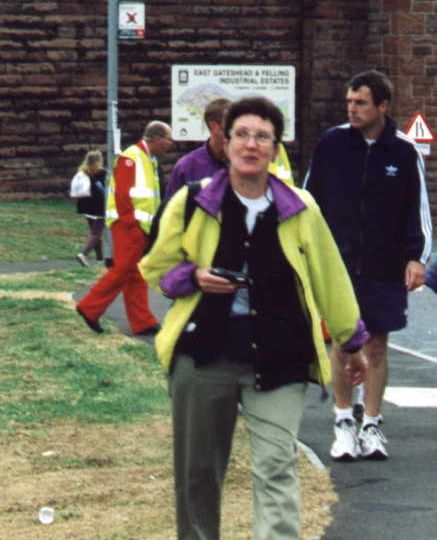 I'm writing with the sad news that Joyce passed away 2 weeks ago. She was 86 and had suffered from Alzheimer's for over 5 years.
The funeral will be held at Lawnswood Crematorium next Friday (28th October) at 12:15pm. I'm sure Peter would like to see many friends from the Striders.
Peter joined the Striders in 1991 and Joyce went to every race as his supporter, but very quickly became a supporter of all the Valley Striders runners.
Together, they supported nearly every race that we promoted – Meanwood Trail, Harewood Trail and Club Handicaps. I've browsed the club archive website and her name comes up on over 50 pages – Joyce marshalling, Joyce helping with entries, Joyce looking after key storage, Joyce handing out water at the end of races, Joyce handing out finishing tags for the club handicap.
I've also found several references to Joyce picking up prizes at races on behalf of Striders who've missed the presentations. And, a surprise for me, that she was race starter for one of Mick Helm's Save The Children (?) races – the South Leeds 5 in Middleton Park.
Joyce did a lot of supporting but did run a few races too, including, in 2001, while on holiday for Peter's 65th birthday, the Las Vegas Friendship Run 5k where she ran a very respectable 30:24 and won a mug for 1st in the F60-64 category.
Joyce was awarded Life Membership of Valley Striders in 2007. The inscription on the framed certificate reads "Valley Striders Number 1 supporter for over 15 years".
Joyce's nickname was "The Voice" and this was also her responsibility as listed within the Club structure. Peter always called himself "The Apprentice" when it came to supporting at events.
Some quotes from Club Newsletters
Leeds Half Marathon and Marathon 2002 (Bob) … Special thanks to Striders' number one supporter Joyce – everyone should have picked up at least one place on the run-in up the Headrow with that extra encouragement!
Brass Monkey Half Marathon 2008 race report (Bob) … Ian (Sanderson) now leads the Grand Prix, with Dan second and Patrick third. Peter and Joyce Lambert lead the spectators' section of the GP with 3 out of 3.
Rombalds Stride 2011 (John Wallace) … (referring to the weather) In all this we struggled gamely on with the camaraderie of lunatics, greeted along the way by many cheerful and smiling marshals taking our numbers and feeding us with cake and tea … And even better, on struggling to the dining area afterwards, there were Peter and Joyce, showing all the Striders to a seat and running off to get us cups of tea, dinner and dessert. Simply grand. Thanks very much guys.
Rombalds Stride 2013 (Ian Sanderson) … I ended up 11 minutes behind after a few navigational issues on the Chevin … But I eventually found my way out of the woods and back to Guiseley for a steak and kidney pie and a catch up with some of the other Striders there (and a hug off Joyce – the real reason we do these events).
If you reply, I will pass these comments on to Peter (who has neither Facebook nor email). If wish to write to him, text me and I'll send you his address.
The photo, from the old website, is of Joyce spectating (supporting Peter, Kathy Kaiser, Max Jones, Eric Cusack, Ian Place and Bob Wilkes) at the World Masters Marathon Championships at Gatehead in 1999. Sorry for the quality of the picture – it was a glossy print that I scanned.
(for more photos of that event see https://www.valleystriders.org.uk/archive/vsalbum/99wava/ph2wvm99.htm
Since posting this on Facebook and emailing to club members, I've received many memories of Joyce from club members
Liz Ball – "Joyce was a fantastic supporter and seemed to know everyone's name when shouting encouragement."
Patrick Barrett – "Joyce was a lovely lady, always cheerful and friendly."
Paul Furness – "She was an incredible lady & a massive fan of the Valley Striders"
Eric Cusack – "I will never forget the love and support Joyce and Peter gave to me and the club"
Alan Hutchinson – "She was a legend in the club. I once ran the Thirsk 5k with my daughter Emily who was only about 8 or 9 at the time and then Joyce looked after her while I ran the Thirsk 10k. Needless to say they were the loudest to cheer as I finished. Very fond memories as she was an ever-present at events"
Kathy Kaiser – "Joyce and Peter are very dearly loved, and very welcoming to everyone"
Tracey Morris – "She certainly did encourage everyone at races "
Hayley Nancolas – "Joyce definitely got me round many a race!"
Ian Sanderson – "When I think of Joyce, it is her and Peter turning up at unlikely, remote places during long trail races to shout a bit of encouragement at passing Striders. In Joyce's case, quite loudly!"
Paul Sanderson – "I have some wonderful memories of Joyce's support and encouragement at races"
Carole Schofield – "She was a lovely person, very chatty and kind and a great supporter to everyone."
John Shanks – "I remember when I first joined the club Joyce and Peter were very friendly and welcoming"
Sarah Smith – "I have very fond memories of Joyce, at the end of Rombald's Stride, and would add to what Ian and John Wallace have said, Joyce would literally wait on the Striders in the dining room of the school, at the end of the race. We were sat there (usually cold, wet and very tired); Joyce brought us cups of tea and took our plates away, she insisted she would bring the tea and wouldn't let me get my own! She was such a kind and lovely lady, a fabulous friend of the Striders and a sterling supporter."
Mick Tinker – "I remember "The Voice" and Peter shouting words of encouragement at several Chevin Chases."
Tim Towler – "As a member of Striders since 1986 Joyce and Peter are close to my heart. Lovely people. Joyce the voice is someone I'll never forget."
Simon Vallance – "I will miss Joyce the voice. Lovely lady and so supportive when I first joined VS all those years ago."
John Wallace – "I can think of so many races when she was there ( a freezing cold Brass Monkey run especially springs to mind). She was a wonderful person, both she and Peter, and a sad loss, slightly tempered by so many good memories. Her voice and hugs will remain legendary."
Steve Webb (and Sara Dyer) – "It was always good to see Peter and Joyce at races and I got plenty of encouragement from "The Voice""
Bob Wilkes – "Joyce was always so cheery at events whatever the weather"
And also messages of condolence from Tony Haygarth, Stuart StJohn, John Whalley and Andy Wicks who also may have written to Peter privately.