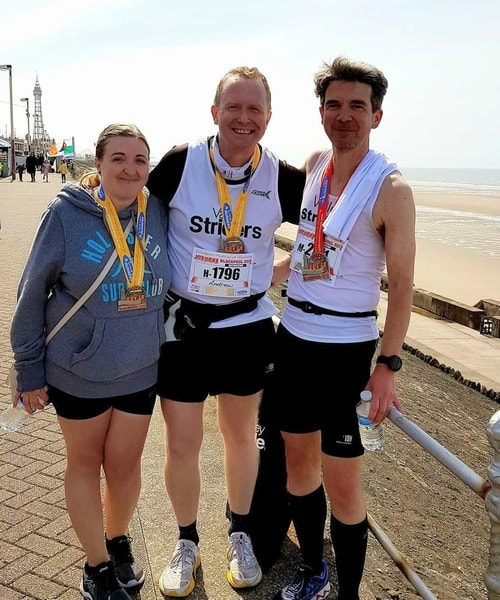 I've been lucky enough to run in the London marathon for the last five years. But after changes to the 'Good for Age' rules rendered me 'Mediocre for Age', I was in need of a plan B for this spring. It turned out that plan B was Blackpool.
I spent the sandwich year of my degree course living near Blackpool and returning 28 years later (!) it was pretty much as I remembered it – cold, grey and a bit forlorn. Somewhat smaller than London, about 500 runners took on the two lap marathon while 800 ran the half. It's an unusual start, with both races setting off simultaneously but in opposite directions! The marathon runners loop round on the prom and end up behind the half marathon runners, about one mile in. But it wasn't a problem making your way through back of the half marathon pack on the wide (closed) seafront road. The route heads south, passing the tower, all three piers and the roller-coaster before doubling back and passing them all again. Surprisingly it turns out to be a gradual climb back to the start which, with the breeze also now in my face, explained why the first few miles felt suspiciously easy.
Lap two was quiet. Very quiet. If you can't cope with the sea of bodies and the cacophony of crowd noise that is the London marathon, this is the polar opposite. Just a few runners scattered down the empty road, passing a largely disinterested smattering of tourists. If you feel the urge to walk for a bit, no-one is going to scream "Keep going! You can do this!" at you. No-one will notice. Or care. Probably not one to do as your first marathon then, but I enjoyed the solitude and the opportunity it afforded for some quiet reflection on why I wasn't going to achieve a GFA time today.
If this sounds a little downbeat, it's not because of the race. Organisation was excellent, the atmosphere at the start and finish was uplifting, the t-shirt and medal were good. The sun came out. I genuinely enjoyed the race. But Blackpool isn't London. Sadly my marathon times are a country mile off GFA, so it will be the London ballot for me (closes Friday 3rd May, by the way).
It was nice to see Andy and Charlotte, multiple times, during the race. This was Charlotte's first half marathon; she ran an excellent time and was still smiling at the finish. And thanks to Kathy for her support, pictures, and for buying my chips afterwards.
Blackpool Half Marathon:
587 CHARLOTTE ATKINSON 02:16:50.
588 ANDREW SETTLE 02:16:51.51
Blackpool Marathon:
56 IAN SANDERSON 03:24:45