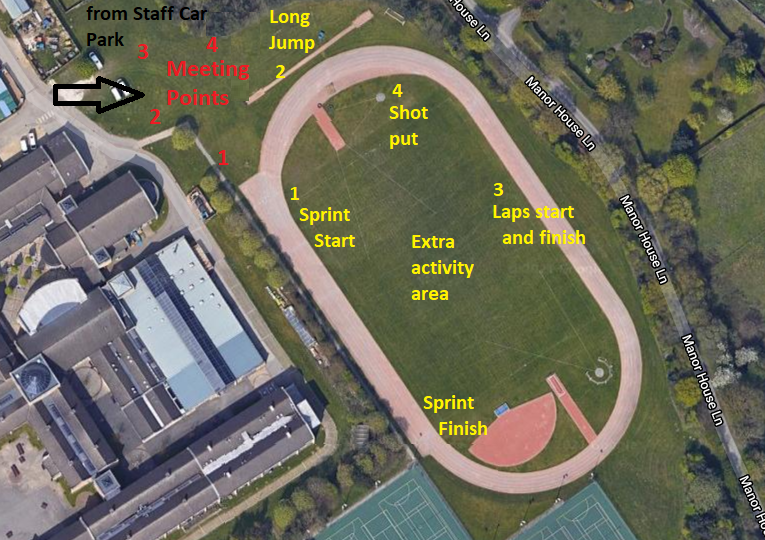 This page updated 6 May 2023 at 10:30am
This session is planned to be at GSAL – 5 groups (64) at 6:00, 1 group (18) at 6:50, 1 group (13) at 7:00
If there are any changes to location, We will notify you by Tuesday 3pm at the very latest on this web page and in the VSAC Juniors Facebook Group
Please note later start time as GSAL is in term-time. No-one is allowed on site till 5:50pm. Please do not even attempt to enter the site till 5:48pm as queuing for the barrier to open is not allowed.
After 5:48pm, from the main entrance, keep in the left hand lane and turn left at the barrier. Press the green button to raise the barrier. Please be ready to run at 6:00/7:00
All parents must go with their children to our meeting point.
We will need a lot of help to set up all the activities, please come across as soon as you arrive to see how you can help.
Parents then please register with the group leader as we need to know where you are in case of emergency; also wait to see if you are needed to help with the activities.
Tasks for activities (please volunteer)
sprinting – allocating runners to races, starting, judging 1-2-3, timekeeping, recording
long-jumping (2 teams) – runway control, checking for no-jump, marking landing point, raking the sand
laps – running (including back-marker), timing, keeping finishers in order, recording
shot (2 teams) – keeping athletes safe, calling up to putt, assistance with style, retrieving shots
Please see the site map and location of meeting points and please ensure you are aware of the rules for confirmation and cancellation in the following link https://www.valleystriders.org.uk/juniors-training-at-gsal-2023/
On Tuesday, if you need to cancel, please text 07775 898 558 (don't use any other method, not email, not gmail, not Facebook, not Messenger, not Whatsapp).
Special Arrangements for 5 May
The preferred group size is 10, the maximum group size is 12, this week five of the groups have 13 planned to come and we have 1 waiting for a space
Let's see how it goes, but if we feel there are too many, we will reduce numbers for the next session on 23 May.
Those who book a session and then fail to turn up without notifying will be the lowest priority for 23 May and those who book a session and cancel after 2pm on the day are next lowest.
Other Messages
When groups do long jump they will split into 2 sub-groups using separate pits. When groups do shot they will split into 2 sub-groups using separate throwing circles. Therefore we will need a lot more parents to help, please.
Warning – wearing of spikes is allowed but you should also bring some normal running shoes for shot put and also if there are any games
If you have any queries, please comment on the Facebook post or email [email protected]
NB Bookings for May are now open, click on https://www.valleystriders.org.uk/booking-junior-training-sessions/
6:00pm – 5 groups
Warm up 6:05, 1st Activity 6:15, 2nd Activity 6:25, 3rd Activity 6:35, 4th Activity 6:45, Cool down 6:55

Activity 1 : 80metre Sprints, Activity 2 : Long Jump, Activity 3 : Laps, Activity 4 : Shot Put
Group 1 will do activities 1,2,3,4
Group 2 will do activities 2,3,4,1
Group 3 will do activities 3,4,1,2
Group 4 will do activities 4,1,2,3
Group 5 will do relays, standing long jump, short sprints on the back straight, throwing tennis balls from the javelin runway (far end of field) and maybe relays again

ACTIVITY TEAMS
80m SPRINTS
Nicola Hartley, Gerwyn Sheen, Lisa Cooper, Michelle O'Brien + 1 or 2
LONG JUMP
Paul Furness, Tracey Ndawula, Rachel Barton, Rachel Salmon, Anthony Mulley + 1
LAPS
Tom Venning + 2 please!
SHOT
Jane Rollings, Becky Jones, Mark Bottomley, Neil Banerjee +2 for safety
GROUP 1
Leader: ALEX MONAGHAN
Assistant: MATT or KATE BALL
Alfie Ball
Bertie Bell
George Henderson
Freddie Jones
Samuel Keene
Harry Ndawula
Søren Pailor
Harry Pick
Dillon Rollings
Thomas Sheen
Seth Steere
Solomon Steere
James Walker

GROUP 2
Leader: CLAIRE DEVERILL
Assistant: KATHRYN SHARP
Jenson Bennett
Thomas Deverill
Hugo Earl
Leo Freer
Caleb Keene
Austin Lyons
Stan Mulley
George Redmond
Henry Rollings
Josh Salmon
Edward Sharp
Arthur Venning
Levi Woodger

GROUP 3
Leader: CAROL REID
Assistant: ADAM PARBUTT
Grace Ball
Indi Banerjee
Alice Bonner
Imogen Burton
Athena Cooper
Caitlyn Hartley
Tilly O'Brien
Emily Parbutt
Kirsten Reid
Jess Rollings
Lucy Sheen
Mary Venning
Natalie Ward

GROUP 4
Leader: PAUL DAVIES
Assistant: LOUISE WALKER
Niamh Archbold
Eve Barton
Abigail Bottomley
Evie Brown
Erin Davies
Chloe Deak
Emmy Deverill
Alice Hirst-Sewell
Harriet Hirst-Sewell
Ruby Richardson
Lucy Walker
Dora Walmsley
Isabelle Watt

GROUP 5
Leader: NICK SMITH
Assistant: NICOLA WALMSLEY
Relays, standing long jump, short sprints on the back straight, throwing tennis balls from the javelin runway (far end of field) and maybe relays again
Poppy Bennett
Betsy Earl
Poppy Freer
Fin Jones
Grace Keene
Charlotte Lyons
Kyle Reid
Reggie Smith
Connie Steere
Jonah Steere
Rex Walmsley
Barney Woodger
6:50pm – 1 group
Leader: RICHARD IRVINE
Assistant: ALEX GOSTLING
Conor Butterworth
Isla Butterworth
Joel Caleb
William Caleb
Gus Cawcutt
Harry Durbin
Ruth Friend
James Gostling
Reuben Herbert
Ella Jobson
Felix Linley
Eaden Lyons
Ewan Reid
Zak Reisman
Keira Sykes
Joseph Urquhart
Joseph Whitehouse
Sammy Whitehouse
7:00pm – 1 group (NB group 2 is at 6:50pm)
Warm up 7:05, 1st Activity 7:15, 2nd Activity 7:25, 3rd Activity 7:35, 4th Activity 7:45, Cool down 7:55
ACTIVITY TEAMS
80m SPRINTS
tba
LONG JUMP
tba
LAPS
tba
SHOT
tba
Please note – all parents except those who are designated to lead groups will be expected to help in some way with the activities

Activity 1 : 80metre Sprints, Activity 2 : Long Jump, Activity 3 : Laps, Activity 4 : Shot Put
Group 1 will do activities 1,2,3,4

GROUP 1
Leader: NICOLA BROWN
Assistant: CLAIRE WHITE
Kirsten Brown
Owen Maghaireh
Freya Nicklin
Freddie Portman
Isaac Rugg
Alfred Thomas
Angus Thomas
Maddie White
Harry Whittaker
Louis Williamson
Esther Yansaneh
Ezzie Yansaneh
Zeekie Yansaneh